UMB celebrates 100 years
Welcome to the new UMB Blog! The UMB leadership team and I plan to use this blog to communicate our ideas and perspectives in an effort to humanize an industry that struggles with a negative reputation (for good reason). We are here to remind the world that there is so much good happening in the private sector. Jobs are being created and capitalism is something to be celebrated, not feared.
As UMB celebrates its 100th anniversary, I reflect on the principles that got us here, and one thing is clear. Doing what's right is the only option. It's our responsibility and it is non-negotiable. I believe the values that we have followed over the last century are deeply rooted at UMB. We have had continuity of leadership and as cheesy as it sounds, our entire team is like family.
Continue Reading
The right thing is not always the popular choice. I've come to believe that what becomes popular in business is often what is easiest. We should always be suspect of easy paths. I don't understand why, but some people can get sucked into doing what's wrong because it's easy. Or perhaps because it provides instant gratification.
Additionally, I find that far too often businesses hide behind the law. Just because something is "legal" does not make it the right thing to do. A person's legacy is based on what kind of moral compass they lived by. I am incredibly thankful to have multiple role models that have taught me so many valuable lessons. My dad has passed down his principles to me just like his father did with him, and his father did for him. I'm proud of the legacy they have left at UMB.
I'm not saying we are perfect. We have certainly made mistakes. But our guiding principles remain strong and our commitment to doing what's right will not waver.
Today, I had the opportunity to open the Nasdaq. The moment represented not only a commemoration of UMB's success, but a celebration of a free market system and the positive impact banking has in America. It was a moment to pause and appreciate all that UMB has done over the last 100 years and what the individual associates and customers have meant to the company. It was also an opportunity to envision the next 100 years. We have a lot of work to do to repair the public's trust in our industry and reestablish the benefits the financial industry provide our economy and our society.
Thank you to all of our customers, associates and communities for an amazing 100 years! We look forward to another 100 years of providing our customers with the same high level support, stability and integrity that you've come to expect from us. And I look forward to interacting with you all on this blog!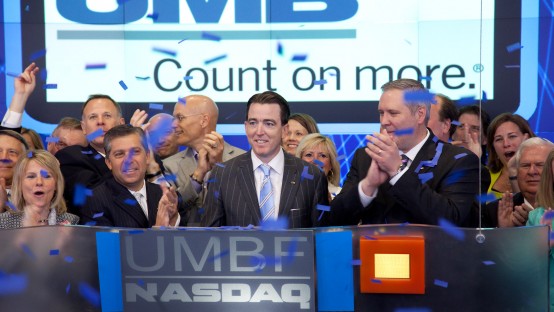 Bank deposit products provided by UMB Bank n.a., Member FDIC. Equal Housing Lender
---
Mr. Kemper is the chairman and chief executive officer of UMB Financial Corporation and UMB Bank, n.a. He joined UMB in 1997. Mr. Kemper is active in both civic and philanthropic endeavors. One of the causes he is most passionate about is the arts. He currently serves as a trustee and executive committee member for the Denver Art Museum and is a past board member for The Arts Council of Metropolitan Kansas City.