Mariner Kemper – 2014 Chairman of the Board of the American Royal
Mariner Kemper is taking the reins of the America Royal. He will be continuing a family tradition of involvement in this organization with his father, R. Crosby Kemper, Jr. serving as chair in 1991 and 1992. The building itself, Kemper Arena, was named in honor of Mariner's grandfather, R. Crosby Kemper, Sr. Below is an excerpt from his speech at Tuesday's annual meeting.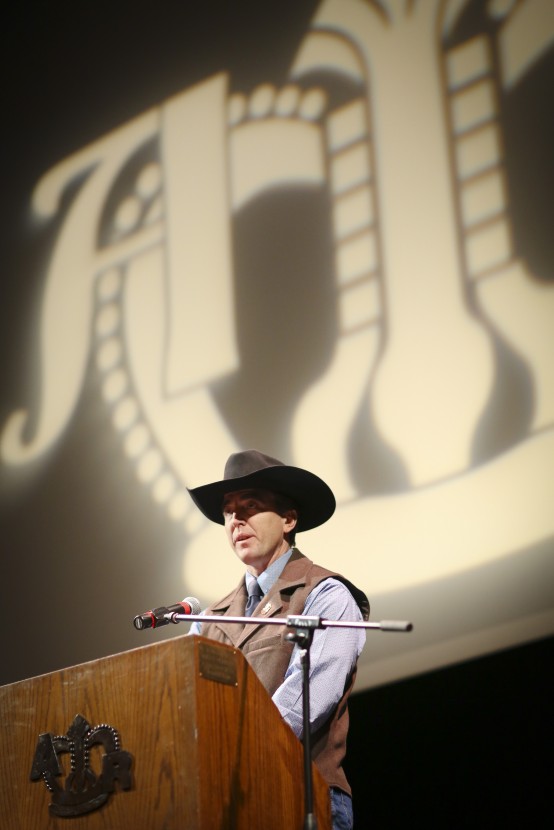 It is truly an honor to continue the tradition of The American Royal. The mission of The American Royal is—
To promote and celebrate the excellence in agricultural progress and to develop future generations of leaders through agrarian values.
My personal interest in this mission dates back to the lessons I learned from my father. My childhood and adolescent memories are filled with a connection to land, nature, animals and getting your hands dirty.
Sure they wore suits and ties, worked in office buildings, and helped people manage their money – the RIGHT way. But at the end of the day, and most Saturday afternoons – ties were replaced by hats, hallways replaced by fences and ceilings became the blue sky.
My father truly loved the American Royal as did his father before him. I share that love and understanding of the agrarian lifestyle and values.
The example of Eisenhower
This philosophy really hit home this past Thanksgiving as I was reading the biography of President Eisenhower by Stephen Ambrose.
President Eisenhower. Here's a man who served as Supreme Commander in Chief of World War II and President of the United States. And when he could find time to take a break from serving our nation, what did he do? He returned to his roots in Abilene, Kansas. Put on his boots, saddled a horse, talked about the weather and last year's alfalfa crop, and voiced his opinion on John Deere vs. International Harvester. He put himself in an environment that he believed in:  the values, the sensibility and self-reliance born from an agrarian lifestyle. He embraced and understood the work ethic and ambition that is formed from living off the land. And then carried those principles and experiences in leading people and our nation to peace and prosperity.
I believe we need to "act like Ike," as many have said before. Lead with that work ethic and ambition. Self-reliance. Values matter.
State of The American Royal
Today, The American Royal enters the 115th year of serving and celebrating agriculture. And the core of our mission is to support the future of agriculture. We cannot, and must not, lose sight of this purpose to serve current and future generations. Every year we are introduced to some of these inspirational leaders, The Royal Scholars, and are captivated by their accomplishments and what is important to them.
It's motivating.
And when we listen to them, it's not about their farm, their town, their county or their state. Their vision is about our future and our country – and this reinforces what The American Royal stands for.
The American Royal is not an isolated activity for Kansas City or the Midwest. It is the AMERICAN Royal. You can build a case that every person, every company, every community is touched by and obligated to play a role in our agriculture system. After all, our economy and livelihood are reliant on a functional and safe agricultural system.
We are lucky to have such a rich ag history in Kansas City that gives us the platform to not only provide leadership but to celebrate what Kansas City and our surrounding regions mean to our national food and agrarian culture.
As Greg Maday once coined, the American Royal is truly Kansas City's most authentic asset. Every city has a performing arts center. Every city has a football team, but there are only a handful of cities in America that have something as special as the American Royal.
The American Royal is a critical piece in that food chain. We have done a great job as a supporter and advocate of agriculture throughout the years. The American Royal livestock shows, rodeos, educational programs, scholarships and world-famous barbecues are a foundation we all can take pride in.
Our Barbecue is the world's largest, but in my opinion, it is still Kansas City's best kept secret. When visitors come to town, what's the first thing they want to do? Hit up a world-famous Kansas City barbecue joint. We have a better reputation nationally than we recognize locally. We are continually listed on every Best Barbecue list and the Food Network does regular exposés on Kansas City barbeque. The American Royal barbecue should be THE event in Kansas City. It's one of our best assets.
And now is the time to think and act deeper than our roots and beyond our fences. But before we do that, we must have a heightened focus on cultivating our community. It is essential for us to involve a broader base of individual, civic and corporate support for The American Royal.
We need to act and think like Louisville, Kentucky when it comes to the Kentucky Derby. Or like Austin, Texas when it comes to the South by Southwest Festival. Or Mardi Gras in New Orleans. Those communities not only rally around the purpose–they also captivate the attention and participation of people throughout the U.S. and internationally.
And that's what we need to do. That's what we CAN do. The American Royal is valuable, unique and important—and it's up to all of us to make sure others have the opportunity to know the purpose it serves and the benefits it provides.  This will be part of our mission for 2014, and we need your help to make it happen.
The American Royal in 2014
Many believe no other city in the U.S. can claim an agricultural history as rich as Kansas City's. From Lewis & Clark, to The Oregon Trail to one of the country's biggest railway hubs, Kansas City has served as a focal point for transporting grains, animals and freight. A recent report estimated the total value of freight handled within the Kansas City area each year is more than $800 billion. 
Thanks in large part to the entrepreneurial vision of Kansas City Southern Railway, Kansas City has direct access to markets throughout the southern U.S., Mexico and the Pacific region.
This intersection of transportation and commerce has fueled entrepreneurial opportunities established by the Greater Kansas City Chamber of Commerce's Big 5 initiative. In fact, Kansas City has now established a global reputation as the center of the Animal Health Industry, and hosts several important international animal health conferences every year.
Given this, here are my three priorities for 2014:
Capitalize on location in the Heartland –

We have an opportunity to rally around what is unique in Kansas City and become recognized nationally. I also want to expand scholarship and educational activities.

Secure broader engagement and endorsement from corporate and civic leadership

– The impact of the American Royal is undeniable. Compared to the MLB All-Star Game that brought $60 million to the local economy ONCE, the American Royal does this every year. We need to remind the community of this impact to engage more advocates. Our ultimate goal is for the entire city to feel ownership of the American Royal.

And finally, create a collaboration between Kansas City and American Royal for new facility —

A new facility will breathe new life into the American Royal and agriculture. The American Royal will remain the inspiration for the future of agriculture. Rather, it will SAVE the city money. All while catering to constituents, community and ag-related interests from across the country.
As we look to the future, our role is not to defend The American Royal, but rather to promote it and build excitement for what we offer. We have an obligation and a responsibility before us.
President Eisenhower once said, "Whatever America hopes to bring to pass in the world must first come to pass in the heart of America."
Well America, here we are. The American Royal. 
---
Mr. Kemper is the chairman and chief executive officer of UMB Financial Corporation and UMB Bank, n.a. He joined UMB in 1997. Mr. Kemper is active in both civic and philanthropic endeavors. One of the causes he is most passionate about is the arts. He currently serves as a trustee and executive committee member for the Denver Art Museum and is a past board member for The Arts Council of Metropolitan Kansas City.