Community Partnerships: The key to your diversity and inclusion plan
So your company has created and implemented a comprehensive diversity and inclusion plan. Now what? A key component of your company's plan is choosing community partners. These partners provide an expertise and insight on how your company can succeed from a diversity and inclusion perspective.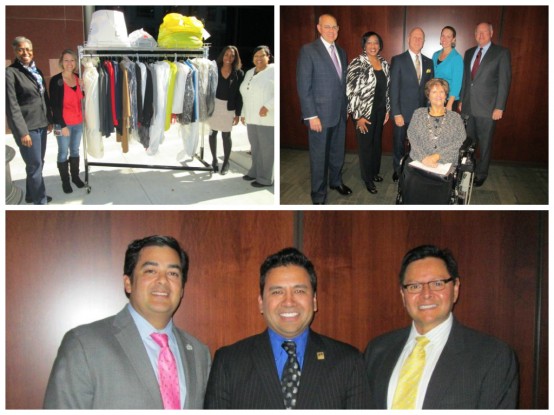 At UMB, we choose organizations and groups that have been identified through our diversity council as major contributors to our strategy. Our goal is to have these organizations enhance our diversity and inclusion strategy in four ways:
Talent acquisition and development – We build a stronger company by hiring and retaining talented, high-performing associates with diverse backgrounds.
Associate engagement – We demonstrate inclusiveness by ensuring each of our associates has a voice and opportunities to share ideas.
Corporate community involvement and volunteerism – Our associates regularly volunteer at the organizations who are our collaborative partners.
Regional cohesiveness – We try to find organizations that have outreach in multiple cities across our footprint (Black MBA Association‡ in Kansas City‡ and St. Louis‡, Urban Financial Services Coalition‡ in Kansas City‡, St. Louis‡ and Omaha‡). But we also will work with independent organizations (The Regional Business Council of St. Louis‡).
So how do both the company and the community organization benefit from these partnerships?
Continue Reading
Within the company, community partnerships help make associates aware of diversity. Additionally, they help associates stay educated about their community. Some organizations even offer training programs for associates, like a Lunch and Learn, so they can get a better understanding about the community organization and the work they do. For example, UMB works with the Hispanic Chamber of Commerce in Greater Kansas City and they provide our associates with training about how to work with Hispanic businesses.
The company benefits externally from these partnerships by helping us connect with our community. They help us connect with people, resources and other businesses. They help share our vision, mission and values in the diverse communities that we serve.
Community organizations benefit from these partnerships depending on the company. At UMB, we provide them with financial education programs. We also have company officers who serve on boards for the organizations. And we encourage our associates to volunteer for their various programs.
Ultimately it's important for both the company and the organization to feel like the partnership is bringing some value to them. Both parties should be involved, creating mutually agreed upon activities and goals. Representatives from both organizations should meet regularly to discuss whether or not the partnership is on track. In fact, at UMB we require our collaborative partners to submit an annual report, as well as a scorecard that gives information about their website traffic, how many scholarships they gave out and the amount (if applicable), how many programs they organized during the year, etc.
With the help of these community partners, your company's comprehensive diversity and inclusion plan will be complete. With your unique combined perspectives, you can be more competitive and create stronger connections within your markets.
When you click links marked with the "‡" symbol, you will leave UMB's website and go to websites that are not controlled by or affiliated with UMB. We have provided these links for your convenience. However, we do not endorse or guarantee any products or services you may view on other sites. Other websites may not follow the same privacy policies and security procedures that UMB does, so please review their policies and procedures carefully.
---
Dr. Hendricks serves as senior vice president of Diversity and Inclusion at UMB. She is responsible for the corporate-wide diversity and inclusion strategy. She joined UMB in 2006. Dr. Hendricks earned a Bachelor of Science in Human Development Psychology and Mass Communications and a Master of Science in Counseling Psychology from Kansas State University in Manhattan, Kan. She also earned a Doctorate in Educational Psychology and Policy Analysis from the University of Missouri-Columbia.