Thank you to our veterans
I was recently at an event hosted by Facing History‡, an organization that creates history curriculum that teaches kids to be more tolerant. One of the speakers at the event was a girl who received an award for an art project. Her guest that evening was her grandmother, a holocaust survivor. They told an amazing story and I walked away from that event with a renewed commitment to never forget our men and women in uniform.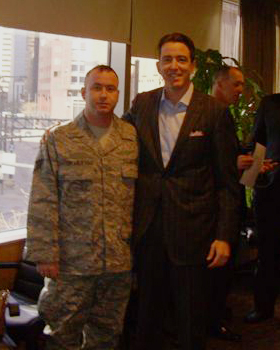 UMB Bank Colorado honored veterans,
including Staff Sergeant James D.
Shearer, United States Air Force.
As the last of the World War II survivors pass on, I am reminded that my children, and frankly anyone younger than 60, don't really know what it is to sacrifice in a time of war. We are currently in at least two wars right now. But do you notice on a daily basis? The answer is probably no. There are no food rations. Or fuel taxes to support the war. It is a shameful reality of our society.
As our men and women return from combat duty, they are not greeted with a hero's welcome. We expect them to reintegrate into a society that has not acknowledged their sacrifices. Or the sacrifices of their families. These people have volunteered to put themselves in harm's way to protect us. To protect our children. They ensure we can continue to live our lives uninterrupted.
My father served in the Navy and he still maintains the sense of pride they instilled in him so many years ago. It is incredible to see how these veterans have somehow managed to maintain the lost art of social graces and respect. They stand when someone enters the room and say sir and ma'am, while the rest of us seem to have forgotten how to treat each other.
So, what can we do to support these fine men and women? First and foremost, we can say thank you. We can give up our prime seat on an airplane or offer to pick up their sandwich at the local deli. A thank you can go a long way. But it's not enough. There are numerous organizations in your communities that are specifically designated to assist veterans and their families, especially those in need. Below you will find a list of websites and resources in your community.
This has always been a passion of mine, and of UMB's. We celebrate veterans with an annual event across our footprint and help the Marines with their Toys for Tots program. We hire as many veterans as possible. But we could, and should be doing more. Send us your ideas on how we can support veterans in our communities. This is a group effort. We should find as many ways to show our gratitude as possible.
And to veterans past, present and future: Thank you. Thank you for volunteering to protect millions of people you have never met. Thank you for ensuring we have the freedom to express our thoughts and for protecting our rights and liberties. There is no other place in the world where you have the ability to build something; to create a business in our unique free market system. And it is because of these brave men and women. Thank you, from all of us.
Resources:
When you click links marked with the "‡" symbol, you will leave UMB's website and go to websites that are not controlled by or affiliated with UMB. We have provided these links for your convenience. However, we do not endorse or guarantee any products or services you may view on other sites. Other websites may not follow the same privacy policies and security procedures that UMB does, so please review their policies and procedures carefully.
---
Mr. Kemper is the chairman and chief executive officer of UMB Financial Corporation and UMB Bank, n.a. He joined UMB in 1997. Mr. Kemper is active in both civic and philanthropic endeavors. One of the causes he is most passionate about is the arts. He currently serves as a trustee and executive committee member for the Denver Art Museum and is a past board member for The Arts Council of Metropolitan Kansas City.