UMB associate inspires, gives back through Abilities group
UMB recently created Business Resource Groups (BRG) for our associates to encourage engagement and add value to UMB businesses and talent practices. BRGs serve as a catalyst for innovative ideas focused on recruitment, retention, talent development, community and client connections.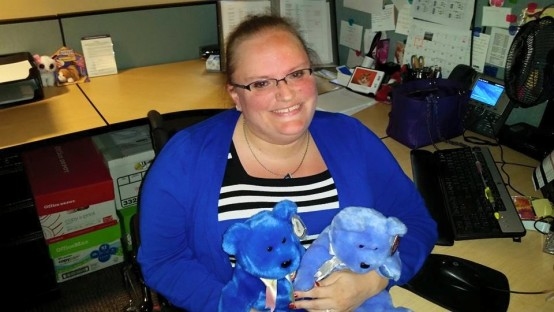 Through BRGs, our associates are making significant impacts on UMB's culture, promoting a work environment that values diversity and inclusion. The eight resource groups include Abilities, Asian American, Black/African American, Hispanic Latino, LGBTQIA, Millennials, VET and Women. Hopefully you saw our VET group showing off their push-up skills recently with the ACP Give Them 20 challenge‡ in support of veterans. One of our associates, Jennifer Hertha, shares what the Abilities BRG has been up to this summer and why it has personal meaning for her.
Jennifer's story
Have you ever encountered someone with a disability and instantly thought they would be unable to do something? I think we all have at some point or another. Even though I have a disability, I've caught myself thinking those kinds of things.
I would like to share a little bit about my story:
I was born with a rare bone disease called Osteogenesis Imperfecta (OI). Only 30,000–50,000 people in the United States have this disease. Some types are so mild that those individuals are still able to walk and live fairly "normal" lives. Then, there is a type that is so severe that it can cause a child to die shortly after birth. My type is in the middle of the severity—I'm 33 years old, and I've had more than 100 broken bones. Because of the numerous breaks I've had, I have used a wheelchair to get around since I was 10. Using a wheelchair can make things challenging, and sometimes make things feel almost impossible to accomplish. However, I was always taught if you really want something in life, you'll find a way to make it happen. The same goes for my career.
More than eight years ago, I applied for a teller position at UMB Bank. I didn't know if it was truly something I could do because every bank I've ever been in had high counters at their teller line. But, I thought I would at least apply and see what happened. To my surprise, I was brought in for interviews and eventually offered the position contingent on whether accommodations would be able to be made for me to do the job. The tricky part was identifying possible accommodations. The people who hired me met several times to review options. They discussed lowering a counter, which they decided wasn't a good idea due to security reasons.  Another option they looked at was building a ramp behind the teller line; however, in order to get the ramp high enough and still meet ADA standards, there wasn't enough room. Finally, the team discovered an electric wheelchair that would raise the seat up by 12 inches and purchased it for me. This purchase opened up the doors to start my career with UMB.  Since then, I've had the opportunity to advance in my career four times. Because UMB invested in me from day one, not knowing if I would still be with the company six months down the road, it has made me even more passionate and invested in working here. In my current role as a recruiter, I've had the opportunity to be a co-chair of our Abilities Business Resource Group.
As part of the Abilities BRG mission, we want to increase awareness of various disabilities and to challenge people to create an environment of acceptance. Recently, the group sponsored a Share-A-Bear campaign. We asked for donations of small stuffed animals (like Beanie Babies) and stickers to send to the Alle Shea Project‡; a project that has dedicated its time to raise awareness about OI and send care packages to children who have this bone disease.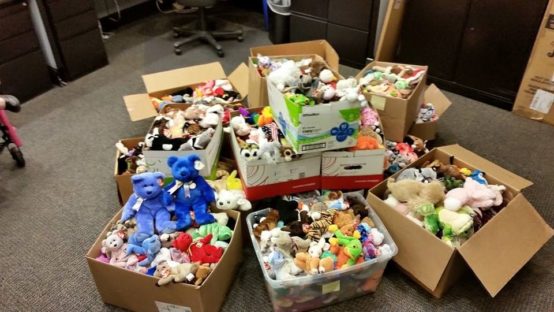 This campaign was obviously near and dear to my heart. Most of my breaks occurred when I was under the age of 18. There were several times I was taken by ambulance to the hospital and a few times I had to undergo surgery for treatment of a broken bone. During a few of my experiences, I received stuffed animals which not only helped me to take some of the focus off of the pain, but also let me know that there were others out there that cared about what I was going through. I've kept some of those animals to this day because they were a significant piece in my recovery as a child.
Through the generosity of UMB associates, the Abilities BRG collected more than 1,100 stuffed animals and 100 sheets of stickers! Many days felt like a celebration because I would come into my office and there would be another package of animals waiting to be opened. My office became so full that I had to strategically place boxes filled with stuffed animals so that I could maneuver my wheelchair around—a very welcomed challenge! The Abilities BRG and I are extremely grateful for their support in this campaign.
I hope that by sharing my story, it will encourage others to share experiences and to remind others that whether someone has a visible or invisible disability, we all bring something to the table. Those with a disability just might have to take a different path to get to the same end result.
When you click links marked with the "‡" symbol, you will leave UMB's website and go to websites that are not controlled by or affiliated with UMB. We have provided these links for your convenience. However, we do not endorse or guarantee any products or services you may view on other sites. Other websites may not follow the same privacy policies and security procedures that UMB does, so please review their policies and procedures carefully.