EVP/Executive Director of Investor Services and Corporate Trust Austin Braithwait shared with us how his goal of running a marathon in every state has impacted the way he sets goals at work. Nearly twelve years after setting his goal, Austin is set to achieve this accomplishment in June 2019. 
Why did you decide to run a marathon in every state?
I happened on this goal by accident. I ran my first marathon in 1996—the Kansas City Marathon‡. I had started running with coworkers during our lunch and it grew to entering weekend 5Ks, 10Ks, a half marathon and then finally a full marathon. Unfortunately, my first marathon took place during an ice storm! Needless to say, the experience was miserable and I never thought I would do 26.2 miles again. However, in 2004 I had the opportunity to run the Boston Marathon‡ to raise funds for Boston Children's Hospital. I was drawn in by supporting a good cause and then I was hooked.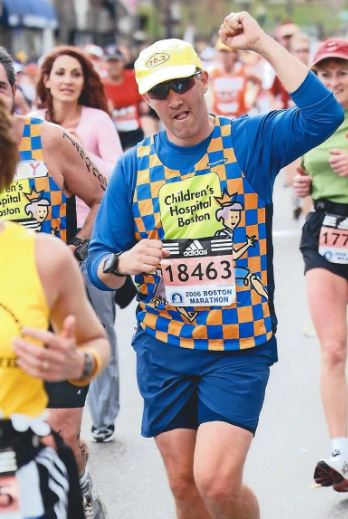 I became more consistent, running the Boston Marathon annually after the financial crisis started in 2007. At that point, running became my outlet for stress relief. I ended up running three marathons that year and started including my friends from college. During a marathon with one of those friends, I mentioned it would be fun to do one in every state….and it stuck.
Anyone who has trained for a marathon will tell you it is very time-consuming. Regardless of what you have going on each day, you must try to fit in your training. It can be difficult to stay disciplined and in recent years I have relied more on experience than training.
What has enabled you to stick to your goal?
My friends told too many people about it! I knew my goal of running a marathon in every state was going to be challenging and require time away from my family. In gaining my family's support and telling all my friends about my goal, I knew I couldn't quit.
I also set milestones along the way. Mine was not a goal I could accomplish overnight. It's been a very long journey. In addition to trying to check off four states each year, I set Hawaii and Alaska marathons as milestones, knowing they would be harder to travel to and fit into my schedule. In celebration of reaching those milestones, I took my wife with me to Hawaii (as a thank you for her patience and holding down the fort on numerous weekend trips!) and my dad to Alaska, which was also a very special trip. I was able to tie these milestones to an opportunity to spend quality time with people I care about. There are huge advantages to setting milestones and rewarding yourself for reaching them. Instead of being overwhelmed by a goal that sometimes felt unattainable, I was able to look forward to the next milestone.
What advice would you give to someone with a big goal?
1. Involve and help others while working towards your own goal.
I have run marathons in intense heat and violent winter storms and, for some reason, lots and lots of rain. Training in crazy weather conditions has always helped me be prepared. I have made some great long-distance friends as a result of my being prepared for all conditions. Newer runners are often surprised by extreme weather and almost without fail, I will assist someone late in the race by giving them an extra set of gloves, band-aids, pep talks or anything to keep them from throwing in the towel. When you get discouraged about your progress towards a big goal, take some time to think about everything you're learning along the way. Little things like sharing a pair of gloves can lead to periodic check-ins from someone thousands of miles away who has become invested in your success. Don't take the little things for granted you accomplish along the way—you might surprise yourself with the progress you've made.
2. Bring a deeper meaning to your goal by raising the stakes.
As I closed in on my last four states (three remain), I issued a challenge to my teams in Corporate Trust at UMB to make a pledge for each state I have remaining with the proceeds going to college education funds for Ryan Owenby's two young daughters, Claire and Cate. Ryan was a fantastic UMB teammate, wonderful husband and father who passed away last May after his second battle with cancer. I told the team I would match all donations pledged if was unable to complete my 50th state (Minnesota) on June 22. This added element has motivated me to make it across the finish line.
3. It's as much about the journey as the destination.
I didn't think of my goal that way at first, and I wish I had. Now, I reflect on my experiences and recognize the many relationships I've built and the time I've been able to spend with old friends (while also making some new ones) solely as a result of this goal. I now realize this experience has not only been about running a marathon in every state, but so much more.
Want to learn more about what it's like to work at UMB? Check out current openings and follow UMB on Instagram for an inside look. 
---
Based on this post, we think you might also be interested in reading the following content:
* Notable women throughout UMB history
When you click links marked with the "‡" symbol, you will leave UMB's website and go to websites that are not controlled by or affiliated with UMB. We have provided these links for your convenience. However, we do not endorse or guarantee any products or services you may view on other sites. Other websites may not follow the same privacy policies and security procedures that UMB does, so please review their policies and procedures carefully.