Addressing the financial literacy gender gap
The financial literacy gender gap is one of several powerful issues that can affect a woman's education, personal health and life skills, but when do these inequalities actually begin?
We've all heard about glass ceilings, disparate pay and other issues affecting women‡ as they enter and grow in the workforce. And while these serious challenges continue to be examined, addressing the financial literacy gender gap means we need to take a step back and ask ourselves, "When do some of these inequalities actually begin?" It starts in childhood. The financial literacy gender gap‡ unintentionally begins at home for many, and, if not corrected, can negatively affect how women manage‡ money their entire lives. Financial literacy is one of several powerful tools that can positively affect education, personal health and life skills. When people understand how money plays a role in their lives, they feel empowered to make better decisions—and that knowledge further boosts their self-esteem.
Who is (and isn't) teaching financial literacy
Statistics have shown‡ teen boys are more likely than teen girls to report that their parents/guardians teach them how to keep track of money. Research also shows‡ only one-third of U.S. states require high school students to take a course in personal finance. Therefore, in many cases, the kids who aren't learning about finances at home, aren't learning it at school either.
How we're addressing the financial literacy gender gap
By dedicating time to financial education and the addressing the financial literacy gender gap, UMB's goal is to teach people about the importance of financial management with lessons in budgeting, saving and understanding money.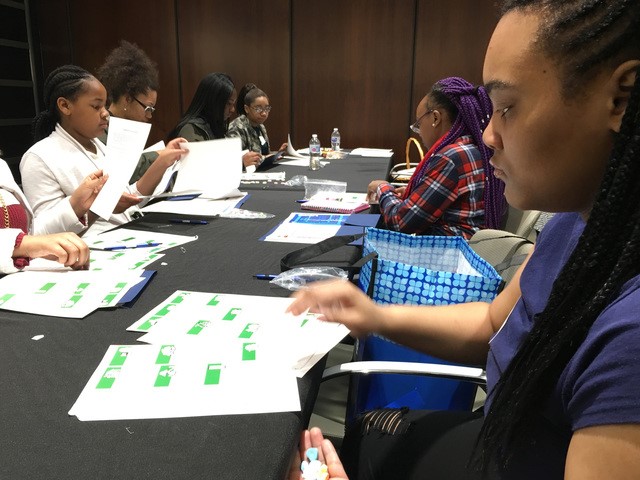 In February 2018, UMB partnered with Awesome Ambitions‡ to host a special financial literacy gender gap event‡, with the goal of elevating and empowering women and girls in the workplace and community.
Forty-five young women attended the all-day session where they had the opportunity to participate in role-playing, games and interactive financial lessons. At the event, the girls participated in an exercise that explained the difference between wants and needs. For many, discussing whether to buy a new outfit versus paying bills was a light-bulb moment. This type of knowledge can help provide the autonomy to make good financial choices, while emphasizing successful money management, which can mean both freedom and responsibility.
Financial literacy has the ability to empower women and girls with the knowledge and skills necessary to make sound decisions regarding saving, borrowing and investing for a promising future of financial wellness. By introducing young women to the importance of financial literacy, we are helping them to develop a lifetime of healthy financial habits.
Follow UMB on LinkedIn, Facebook‡ and Twitter‡ to see regular updates about our company, people and timely financial perspectives.
When you click links marked with the "‡" symbol, you will leave UMB's website and go to websites that are not controlled by or affiliated with UMB. We have provided these links for your convenience. However, we do not endorse or guarantee any products or services you may view on other sites. Other websites may not follow the same privacy policies and security procedures that UMB does, so please review their policies and procedures carefully.
UMB Financial Corporation
UMB Financial Corporation (Nasdaq: UMBF) is a financial services company headquartered in Kansas City, Mo. UMB offers personal banking, commercial banking, healthcare services and institutional banking, which includes services to mutual funds and alternative-investment entities and investment advisory firms. UMB operates banking and wealth management centers throughout Missouri, Illinois, Colorado, Kansas, Oklahoma, Nebraska, Arizona and Texas.