Normal Shape to Yield Curves
Before turning to specific ideas, let's set the stage by taking a look at current yield curves. Two things stand out about the set of curves in the chart below. First, the normalcy of the curves; in fact most have some appreciable slope. The green line, for example, displays U.S. Treasury bonds, for which the 10-year is a fairly normal amount higher than the 2-year. Second, the strikingly low rates; despite what appear to be fairly typical interrelationships, the curves are extremely low on an absolute level. The 10-year, for example, registers at about 0.75 percent in the chart below. The 2-year stands at well under 0.25 percent.
Yield Curves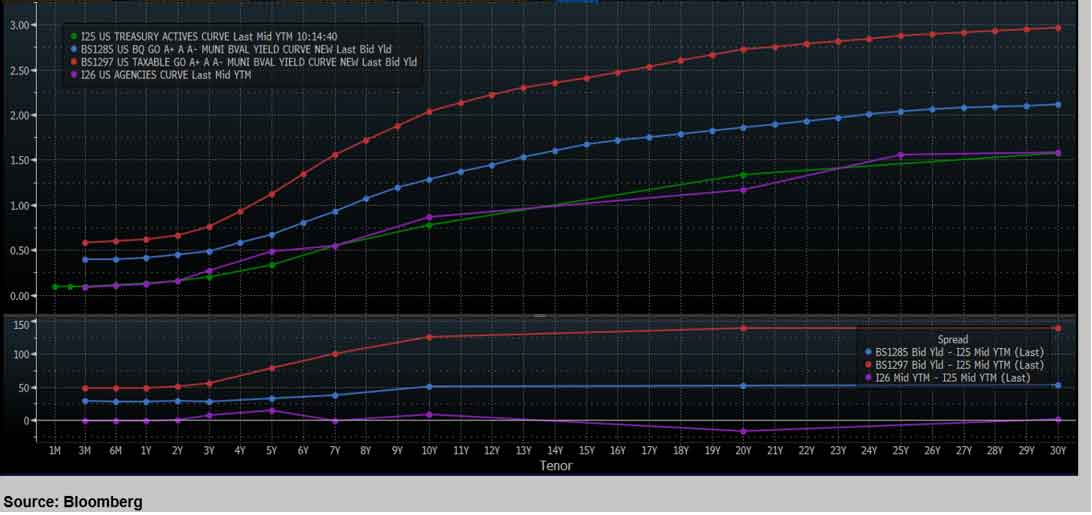 As our team has said before, we need to do whatever we can to "avoid zero." We see three options rising to the surface to help pick up additional yield over Treasuries—without stretching outside of established comfort zones.
Value in Government Sponsored Agency Bullets and Callables in the 5 to 7-year Timeframe
With Treasury yields so depressed, every basis point (a hundredth of a percentage point) counts. Government Sponsored Agency Bullets and Callables offer a slightly higher return without adding outsized risk, in our view. At present, the five to seven-year time frame looks particularly attractive, with the following yield advantages versus same-dated Treasuries.
Five-year bullets pick up 10-12 basis points
Seven-year bullets pick up 18-20 basis points
Five-year Agency Callable Securities can pick up between 15-20 basis points—potentially with some call protection as well.
15-year and 20-year Mortgage Backed Pools
We also see attractive options agency mortgage-backed securities. In particular, we like 15-year and 20-year mortgage pools for an opportunity to add some yield without going too far on the maturity timeline. Historically, we prefer to look for some seasoning when analyzing a pool to get a feel for historical performance. However, with homeowners taking mortgages at all-time lows, the safest option may be the newest pools.
In our view, most of the value right now is in pools with 2.0 and 2.5 percent coupons, which are offering net yields above one percent (taking into account their average lifespan of about three to five years), which amounts to about 75 to 85 basis points of spread over Treasury notes for an equivalent timeframe.
When considering mortgage pools, we suggest targeting Weighted Average Coupons (WAC) below 3 percent and those pools with lower loan balances in an effort to achieve more prepayment consistency.
Municipal Bonds between 10-20 years, Both Taxable and Tax-Free
Finally, we believe municipal bonds offer some of the best options in the quest to "avoid zero." As my colleague Tom Massey stressed in a recent blog post, it's essential to know and understand the municipal credits you are purchasing. Don't rely on assumption such as performance of a particular credit's peer group when making investment decisions.
Our guidance on munis is to focus on strong credits with call protection. We particularly like the 10 and 20-year timeframe at present; depending on your risk tolerance and ability to extend the portfolio.
The municipal bond market weathered a major storm at the start of the COVID crisis in the US. Since that time, capital markets have been relatively steady. What's more, new issuance has been strong. One reason for that is municipalities' efforts to replace older bonds with higher interest rates with newer bonds at lower rates. Some are now offering taxable bonds rather than tax-exempt bonds as they conduct these refundings, because 2017's tax reform prohibited the latter. These taxable bonds are drawing both traditional muni-bond investors and "crossover" investors from other asset classes.
To learn more, watch the UMB-sponsored webinar, Credit Challenges and Investment Opportunities in the Municipal Market, available here.