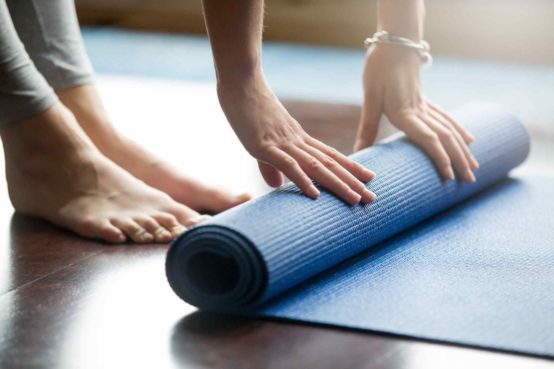 This post is part of our "Inside UMB" series, offering a look at our company's culture and stories about our people.  
Cathy Tadlock is an Executive Assistant at UMB and the instructor for the company's onsite yoga classes for associates, which offer modifications to postures to be inclusive of all attendees.
The benefits of yoga
Cathy started her yoga journey a few years ago, searching for a way to add physical exercise into her busy schedule without having to go to a gym. Through her yoga practice, Cathy has discovered more than she anticipated and is now sharing this passion with her colleagues, in hopes they gain the same benefits.
"I used to suffer from terrible migraines multiple times a week. This has been greatly reduced and is now easily managed. I'm in better shape now than I was at age 20 and have a greater sense of community through teaching," Cathy said.
"Associates can gain better concentration and focus through practicing yoga at work. A happy person feels better, is more relaxed and can counteract some of the effects of sitting at a desk."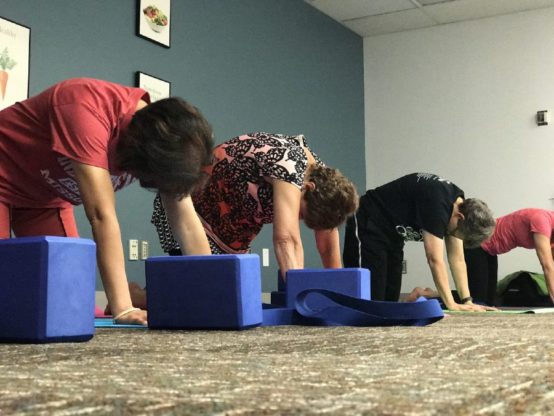 Onsite yoga classes at UMB
UMB's onsite yoga classes are offered twice per week for associates during the lunch hour in the downtown Kansas City office. With a UMB's focus on associate health and wellness in mind, these classes provide a break in the workday routine and exposure to co-workers who might share similar interests.
At UMB, Cathy teaches Vinyasa Flow, a form of yoga for any skill level, which focuses on breathing and posture techniques. Cathy explained, "We don't do the complex postures you see on social media—we focus on linking movement with your breath."
"I love that yoga can be adapted for anyone, and it is a very personal journey. Each day is different when you step on your mat. I have learned to set aside my ego and competitive self while practicing yoga," Cathy shared.
"I was so excited when I learned I would be able to share yoga with fellow UMB associates. I have the best of both worlds: I work with a great group of people and get to meet new faces from across the company through yoga."
Learn more about UMB's associate benefits at umb.com/careers.