Black History Month: 'Heroes who look like me'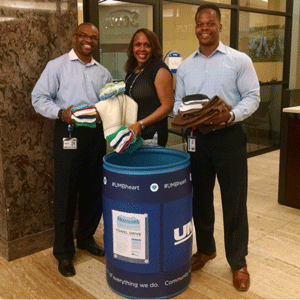 In honor of Black History Month, Sylvester Pearl and Carm Spencer—members of UMB's resource group for empowering black associates—share their perspective on this month of celebration in a Q&A session.
Q: What does Black History Month mean to you?
Carm: Black History Month is about celebrating and recognizing the contributions of Black Americans through legislation, activism, the arts, sports and more. It's important to understand that Black History is American History; you can't study one without the other.
Sylvester: When I was a child, I remember Black History Month making me feel empowered. It was a time when the media and school curriculum focused on people who look like me and the great things they've done. Learning about black martyrs and heroes who helped get us where we are now inspired me to be sure we are celebrating their accomplishments, and building on them, every day.
Q: Why should all people celebrate Black History Month?
Carm: We should never get to the point where we are not celebrating all cultures. The United States is truly a melting pot—a product of the contributions of people from all backgrounds, races and religions. We should take the time to be thankful for all of these people, including Black Americans.
Sylvester: For hundreds of years, people of color were marginalized. While that is still sometimes the case, we've made huge progress as a country thanks to the hard work of many people. Black History Month is a time of year to reflect on the efforts of these people and our progress towards forming a 'more perfect union.'
Q: Why is it important to have opportunities to celebrate and embrace diversity at work?
Sylvester: We spend a lot of our time at work. You should get to know your work family, including their backgrounds, what's important to them, etc. At UMB, we do this through business resource groups for associates which are focused on different aspects of diversity. With support from company leadership, we've been able to make a big impact in a short amount of time, both with our associates and in our communities. However, there's always more work to do.
Learn more about diversity and inclusion at UMB and follow @UMBBank on Instagram for more photos of the company's Black History Month celebration.
UMB Financial Corporation
UMB Financial Corporation (Nasdaq: UMBF) is a financial services company headquartered in Kansas City, Mo. UMB offers personal banking, commercial banking, healthcare services and institutional banking, which includes services to mutual funds and alternative-investment entities and investment advisory firms. UMB operates banking and wealth management centers throughout Missouri, Illinois, Colorado, Kansas, Oklahoma, Nebraska, Arizona and Texas.