A vision for clean drinking water and the launch of a nonprofit
In 2015, three UMB associates launched a nonprofit organization aimed at providing clean drinking water for families in Southern Nicaragua.  Buena Agua‡ is dedicated to improving the quality of life for families in Southern Nicaragua who do not have access to clean drinking water. We achieve this goal by providing portable water filters to the families of villages that need them. The three founders‡ of the organization, John Heddens (left in photo), Ryan Gardner (center in photo) and Sean Tokic (right in photo) all began their careers at UMB as part of the Emerging Leaders Program. Today, they work in Credit Underwriting & Administration (John), Corporate Risk Services (Ryan) and Corporate Strategy & Development (Sean).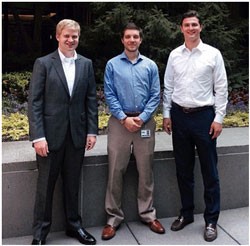 Ryan lived in Nicaragua for 10 months during 2012 where he volunteered at an orphanage outside of the city of Jinotepe. During this time, he witnessed the extreme levels of poverty that impacts a large majority of Nicaragua's population. To put into perspective, Nicaragua is the poorest country in Central America and the second poorest in the Western Hemisphere. In fact, in rural areas, 40 percent of the population earns only $1 a day. In addition to poverty, there is limited access to affordable clean water with only 68 percent of people in rural areas having access to safe drinking water. Ryan's wife, Stephany, actually grew up in one of these rural communities and knows first-hand the difficulties these families are faced with. In the following video‡ Stephany talks about what it was like as a child without clean water. Through her experiences, it became very much apparent how dire the need is. That's where Buena Agua steps in. Buena Agua's inaugural trip to Nicaragua kicked off on November 7, 2015 as our team of four (Ryan, Sean, Tim and Adam) headed down for a week with the goal of providing the most basic of necessities—clean water—to those needing it. With us, we had equipment to build 100 water filtrations systems which provide 100,000 gallons of clean water to each of the families.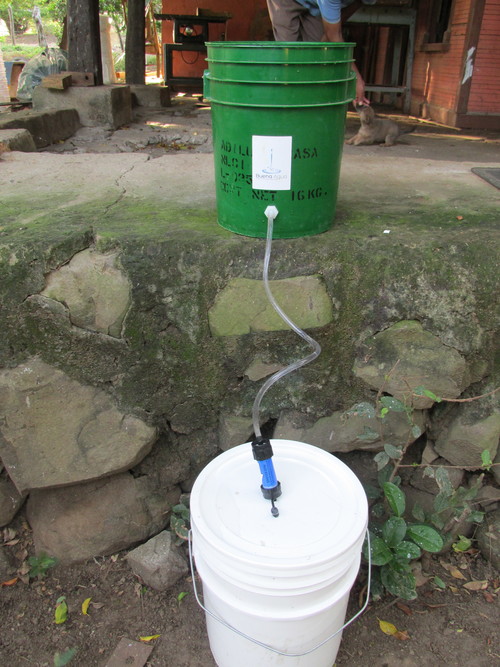 Upon arrival in the capital of Managua, we met up with Ryan's father-in-law, Alfredo. Alfredo is a crucial component of Buena Agua's operation. Not only did he help in procuring materials, he also identified the recipient families, set up various distribution times in the village of Cangrejal, and hosted us at his farm off Lake Nicaragua.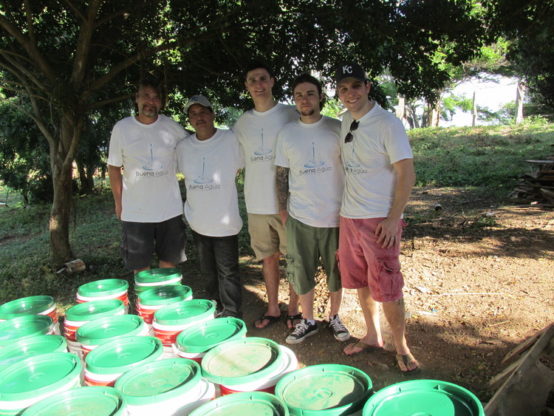 The next morning, we immediately got to work, waking up early to prep the buckets for distribution. These buckets provide a family of six with enough clean water to last an entire day without having to refill. The communities we visited had no addresses, limited or no access to electricity and certainly no system for accessing safe drinking water. In fact, the families walk to gather their water from the same rivers and lakes in which they do their laundry and their animals cool off in. This trip was one of mixed emotions. To experience the beautiful culture, landscape and tradition in the communities of Southern Nicaragua was truly a gift. However, to realize first-hand the extreme poverty many citizens of the world live in and the lack of resources so many children face wore heavy on our hearts. It takes just a short time to understand the courage and the grit these communities deploy to survive and remain hopeful on a daily basis.Throughout the course of a few days, our team had many meetings with the villagers to distribute the filtration systems. At these meetings our team would show the filter in action, demonstrate how to build the system, and most importantly, explain the benefit of the filters to encourage their use. To demonstrate just how effective the filter is, we would grab a big ball of mud and mix it into the dirty water to turn the water jet black. It was a powerful moment when the families saw crystal clear water come out the other end. Our team's first trip was a success, but this was just the beginning. There is much more that can be done for the people of Nicaragua. After taking a small break in 2016 for the arrival of our team's newest member, Ryan and Stephany's daughter, Mia, we are ramping back up and preparing for our next fundraising campaign for our 2017 trip. We would love for you to be a part of our journey.  For even more information, photos or to support our cause please head to buenaagua.org‡. Also, follow us on Facebook‡ for updates and events.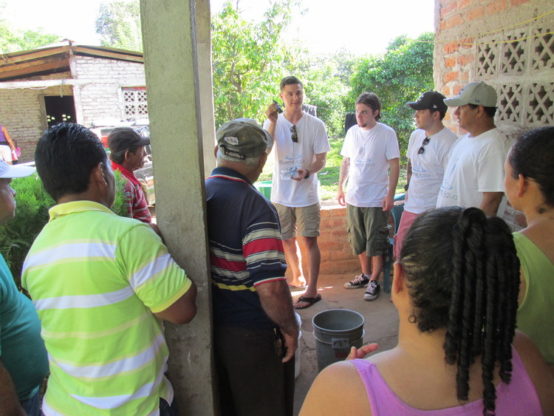 When you click links marked with the "‡" symbol, you will leave UMB's website and go to websites that are not controlled by or affiliated with UMB. We have provided these links for your convenience. However, we do not endorse or guarantee any products or services you may view on other sites. Other websites may not follow the same privacy policies and security procedures that UMB does, so please review their policies and procedures carefully.  

Ryan Gardner
Mr. Gardner is a Vice President/Third-Party Monitoring Manager for UMB. He is responsible for support of UMB Financial Corporation's Information Security Program through ongoing development, implementation and administration of the Company's formal Fraud Risk Management Program. He joined UMB in 2014 and has six years of experience in risk management.