2020 has been a year unlike any other. Unforeseen circumstances have thrown a wrench into many plans and expectations. The old saying that the only certain thing is uncertainty has been reinforced during this past year.
Starting in early March, the United States experienced a time unlike any other in recent history, or at least since the global flu pandemic of 1918. Students attended school virtually, many Americans started working from home, businesses shut down or dramatically scaled back operations, and the world as we knew it was seemingly put on pause.
One thing that has been consistent, dependable and steady during the past six months is the reliable availability of food production from American farmers. For that, there is much appreciation and gratitude to the farmers in our country.
A herculean feat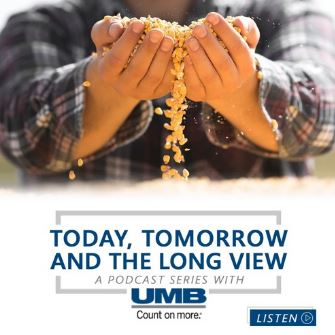 It is easy to forget where our food comes from and how it gets to our grocery stores and tables every day. Producing food for the United States, and many other parts of the world, is no easy undertaking. But just how big is this job that American farmers and ranchers take on each day? Here is a bit of perspective about this herculean feat.
Americans, now 330 million of us, typically consume about one ton of food per person per year (by weight). This ton of food per person historically breaks out to the following percentages in each category: dairy (31%), meat and poultry (10%), fruit (14%), vegetables (21%), wheat and other grains (10%), sweeteners (8%) and fats (6%).
All of this food is produced on approximately 900 million acres of land, which is about 47% of the land mass in the continental United States. Two million farms collectively produce America's food and go well beyond that as we also export a large amount of our production. In fact, agricultural exports have grown at a steady clip thanks to the hard work and innovation of the ag industry in the U.S. In 1994, American agriculture exported a total of $46.1 billion in products. By 2019, this number had surged to $136.7 billion.
The future of production
While the American agriculture industry has grown exponentially during the past 20 years, there are no signs that the growth will slow down anytime soon. According to the United States Census‡, the U.S. population is expected to grow by 79 million people by 2060, crossing the 400-million threshold in 2058. That means we will need more food and ag productivity to feed the growing population. This does not account for continued population growth around the world, considering our ag exports to other nations make up a large part of our U.S. production.
For American farmers and ag organizations, this means there will be a concerted effort in the coming years to prepare for this growth. This will include investment in new crop technologies, a focus on retaining farmers and families in the ag industry, a focus on food safety – and many other considerations.
A testament to the hard work of farmers
Here's what we know today – the American farmer never hits snooze and almost always lends a hand to neighbors in need. The food produced in our nation is a testament to the hard work and ingenuity of the ag industry, and the way the work is done is something that all farmers can be proud of. For that, we are all thankful for what they do, and how they do it.
So, the next time you sit down for dinner or drive by a farm out in the country, take a moment to appreciate the importance this industry has on our country, our families and our economic future. Wishing everyone a safe and bountiful fall harvest.
Listen to Lance talk about the stability ag has provided during the pandemic in this latest podcast episode from Brownfield‡.
Our Agribusiness Division serves all areas of agriculture, including producers, processors, suppliers and manufacturers of equipment and goods, throughout a 12-state area. Learn more about how we serve agribusiness or read more articles about ag. 
---
When you click links marked with the "‡" symbol, you will leave UMB's website and go to websites that are not controlled by or affiliated with UMB. We have provided these links for your convenience. However, we do not endorse or guarantee any products or services you may view on other sites. Other websites may not follow the same privacy policies and security procedures that UMB does, so please review their policies and procedures carefully.