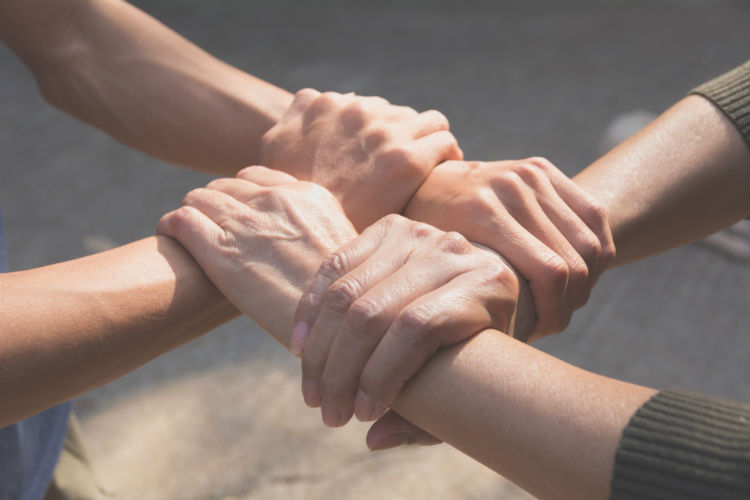 Join us in the stand against cancer
Peter Blumeyer, president of UMB Bank St. Louis, is joining forces with the CEOs Against Cancer Missouri Chapter to support those who are directly impacted by cancer. Learn how you can actively take part in the fight against cancer in a new way.
When someone says the word cancer, most people have an immediate reaction or feeling. From angst and dread to fear and grief, this one word generally brings with it a torrent of tumultuous emotions. My goal is to add another instant emotion—will.
Personally, and professionally, I've seen the battles.
At work, several of our associates have been directly impacted by cancer. And I'm so proud that our UMB family rallies around and supports them however we can while they fight. Personally, I've also watched my close friends lose a child to cancer – something no parent should have to endure. It seems we can't go any length of time without learning of someone else who is affected by this disease. And it's time we take an even stronger stance to help.
This disease touches all of us in some way, which is why we commit our time and resources to support organizations fighting for a cure. And I believe by working together, we can all make a significant difference. Together, we can help propel awareness, change and hope. And will – the will to educate ourselves, the will to invest in preventative measures, and the will to support each other (and ourselves) if we find ourselves on the cancer battlefield.
Join the Fight – Become an ABOA Member
I recently had the honor of speaking at Busch Stadium on behalf of the CEOs Against Cancer Missouri Chapter, where we introduced the new American Cancer Society (ACS) Associate Board of Ambassadors (ABOA) group. This group emerged through the CEOs Against Cancer Missouri Chapter, and while there are several ABOA chapters throughout the country, we are the first St. Louis chapter.
The purpose of the group is to bring young philanthropic professionals together with the goal of supporting networking and career development opportunities, while bringing awareness to the ACS through social events, informational series talks and advocacy.
Our team in St. Louis has been an active partner with the ACS for several years, and we are excited to become even more involved with ABOA and CEOs Against Cancer in the future. There are several fun events and advocacy opportunities on the horizon so stay tuned. Or, contact us and learn how you can become involved now!
Learn more about UMB and how "More defines us.".
Also, stay informed on industry trends and noteworthy company news by visiting our UMB in the News section on umb.com or following UMB on LinkedIn.

Based on this piece, we think you might also be interested in reading the following blog posts:
* Find a cause you care about and make it your passion
* Life is why: Heart-led event raises over $1 million
* Three keys to cultivating a LGBTQ-friendly workplace
When you click links marked with the "‡" symbol, you will leave UMB's website and go to websites that are not controlled by or affiliated with UMB. We have provided these links for your convenience. However, we do not endorse or guarantee any products or services you may view on other sites. Other websites may not follow the same privacy policies and security procedures that UMB does, so please review their policies and procedures carefully.

Peter Blumeyer
Mr. Peter Blumeyer is President of the St. Louis marketplace for UMB. He is responsible for overall commercial growth in the St. Louis metropolitan area and works closely with other lines of business leaders to drive overall growth in the region. He joined UMB in 2006 and has 10 plus years experience in the financial services industry. He currently resides in Glendale, MO with his wife and two small children.