Cyber security: 10 ways cyber criminals try to steal information
Did you know that 378 million adults were victims of cyber crime* and more than 13 million consumers suffered from identity theft** in 2013? October is National Cyber Security Awareness Month, and just as in previous years, we've joined other organizations, including the Department of Homeland Security to support the Stop.Think.Connect.‡ campaign to help the American public better understand cyber threats and ways to be more safe and secure online.
This month, we'll be bringing you a series of tips to help you stay safe when banking online, starting with today's: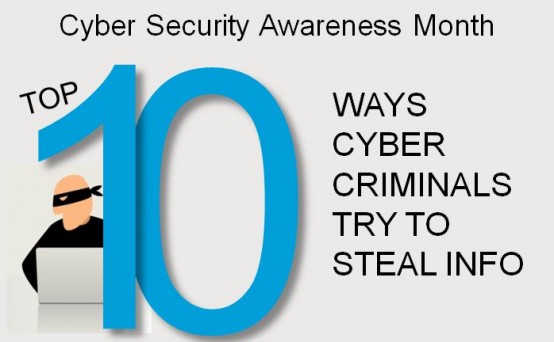 Phishing – Phishing is a form of social engineering that uses a sense of urgency, personalization (often gleaned from information found on social media) or masquerades as a legitimate business to convince victims to provide information like bank account numbers, online banking user IDs and passwords or credit card information.
Malware – Malicious software has evolved into stealthy, complex arsenals that are widely used and easily accessible to experienced cyber criminals and novice identity thieves alike. Malware can attach to browsers, steal keystrokes to send back to the attacker or intercept security codes on mobile devices – all of which can be used to steal your information.
Email hijacking – You've all seen this one, even if you didn't have a name for it. Remember when you received odd emails from your friends (which you hopefully deleted), later to get a frantic message from them saying "I was hacked!" Cyber criminals are able to hijack email accounts by guessing passwords, using phishing techniques or installing malware on the victims' computers. Once they have access to your email account, the cyber criminal may be able to gain access to online banking or social media accounts. They may even begin emailing your contacts requesting money or account information, making you an unwilling accomplice to cyber crime.
Mobile devices – Did you know that your mobile device is no different than your desktop or laptop computer when it comes to malware? Your mobile device can be infected just as your desktop or laptop would. In addition, mobiles devices can be easily lost or stolen. Once a device is obtained, the content of your device, browsing history, account IDs and passwords, may be accessed by the thief. In some cases, malware can even be planted on the stolen device and returned to obtain additional data. We'll be bringing you more tips specific to your phone later this month.
Eavesdropping – "Sniffing" is a common word used for searching out potential eavesdropping victims. One of the easiest places to sniff is an open Wi-Fi (Wi-Fi networks that don't require a password) such as hotels, coffee shops and sporting arenas. Once a target is identified, cyber criminals can easily intercept personal or financial information being transmitted over the open Wi-Fi network. Cyber criminals will also set up their own unsecured Wi-Fi connection to lure unsuspecting victims.
Online gaming –Playing games online can often involve a social network and customizable content requiring downloads or computer updates. These can be used to phish for personal or financial information or infect systems with malware. In many cases, online gaming accounts are tied to payment information as well.
Drive-by downloads – It's easier than you realize to become infected by malware. A drive-by is malware that is automatically downloaded to your computer or device. These downloads occur without your knowledge and don't require you to click a file, button or link to begin. These infections can be delivered simply by viewing a website, checking an email or clicking a pop-up window.
Merchant breaches – As we've seen in the news lately, these breaches occur when a merchant's security system is compromised. Capable hackers are able to crack the security of the merchant and access large volumes of card or account data. This information can then be sold to create new cards for fraudulent use or commit other financial crimes.
Pretext Calls – One of the oldest tricks in the book is the telephone scam. These veteran social engineers call posing as computer technicians offering to help update your computer, remove a virus or sell you software. Once they've established a rapport with the victim, they can ask for credit card or bank account information or direct them to a website to download malware.
Dumpster diving – Believe it or not, this is still a common method of identity theft that happens when thieves go through garbage in search of financial statements, receipts and letters with personal information. Surprisingly, some people still toss personal data in the trash can rather than using a shredder or shred bin.
Next week, we'll bring you 10 tips for protecting your mobile device.
Sources: Buzz Hilestad, Principal Consultant Partner, Secure Healthcare Solutions
*American Bankers Association
**Javelin Strategy
When you click links marked with the "‡" symbol, you will leave UMB's website and go to websites that are not controlled by or affiliated with UMB. We have provided these links for your convenience. However, we do not endorse or guarantee any products or services you may view on other sites. Other websites may not follow the same privacy policies and security procedures that UMB does, so please review their policies and procedures carefully.
Sara Flores
Ms. Flores serves as senior vice president and Chief Information Security Officer, providing oversight of UMB's information security and privacy programs. She joined UMB in 2010 and more than 15 years of experience in information technology and information security. She attended Kansas State University with a focus on management information systems and is a Certified Information Security Manager (CISM), Certified Information Privacy Professional (CIPP/US) and Certified Information Systems Auditor (CISA).