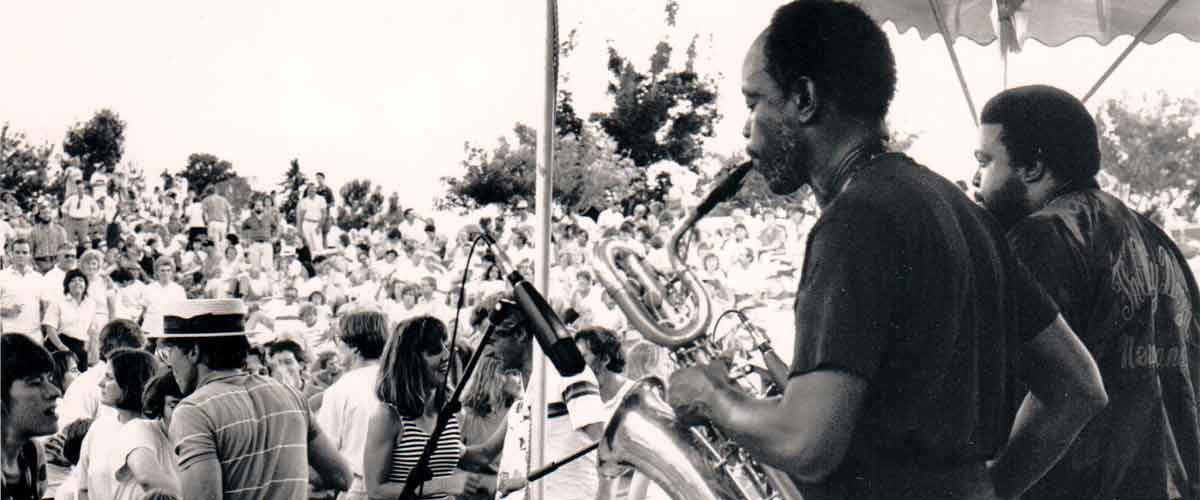 1980s Throwback: Denver Botanic Gardens Summer Concert Series
Queue the squeal of the cassette tape as we rewind the tunes. Denver Botanic Gardens' Summer Concert Series began in 1980. As we are currently in the middle of our 40th concert season and our 10th year with presenting sponsor UMB Bank, we thought it would be fun to look back on how the series has grown over the years.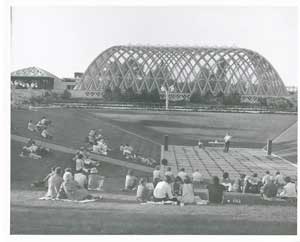 As it can be assumed from this 1980 photo, the inaugural concert season was an intimate and informal affair. Local classical and jazz musicians played on the amphitheater concrete pad, without a stage or lights and minimal amplification.
By the mid-1980s, we partnered with Colorado Public Radio (CPR) for programming and promotional support. At this time, the concerts were a free offering for members of both CPR and the Gardens. It soon became a public ticketed event.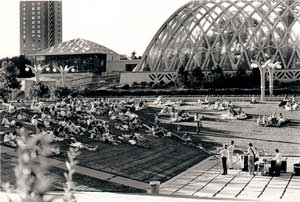 The caliber of the artists grew, along with attendance and visibility. The musical offerings were diverse and included some artists that still play at the Gardens such as Béla Fleck and Judy Collins. Colleagues also remember seeing Beausoleil, Modern Jazz Quartet and international artists such as Olodum and Marianne Faithfull.
The Gardens concluded the partnership with CPR in 1992 and worked with several booking partners before starting our current production partnership with Swallow Hill Music in 2010.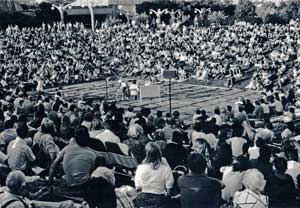 It has been incredible to see the caliber of artists and production, along with audiences grow over the past 39 years. We are grateful for UMB's ongoing support that allows us to host local, national and international artists on the UMB Amphitheater stage. We look forward to many more nights of incredible live music set against the beautiful backdrop of Denver Botanic Gardens. We can't wait to see what the 41st season brings in 2020!
Learn more about Denver Botanic Gardens' Summer Concert Series‡ as UMB celebrates its 10th year as presenting sponsor.
Stay informed on industry trends and noteworthy company news by visiting our Industry News section on umb.com. Follow UMB on LinkedIn, Facebook‡ and Twitter‡ to see regular updates about our company, people and timely financial perspectives.
When you click links marked with the "‡" symbol, you will leave UMB's website and go to websites that are not controlled by or affiliated with UMB. We have provided these links for your convenience. However, we do not endorse or guarantee any products or services you may view on other sites. Other websites may not follow the same privacy policies and security procedures that UMB does, so please review their policies and procedures carefully.
The Denver Botanic Gardens
Denver Botanic Gardens was founded in 1951 and is considered one of the top botanical gardens in the United States and a pioneer in water conservation. Accredited by the American Alliance of Museums, the Gardens' living collections encompass specimens from the tropics to the tundra, showcasing a plant palette chosen to thrive in Colorado's semi-arid climate. The Gardens is a dynamic, 24-acre urban oasis in the heart of the city, offering unforgettable opportunities to flourish with unique garden experiences for the whole family as well as world-class education and plant conservation research programs. For more information, visit us online at www.botanicgardens.org.