Each quarter, our economic and investment team creates a comprehensive overview of market conditions. Below is some of our Q2 economic market analysis, with an invitation to download the complete report here. 
Our road to economic recovery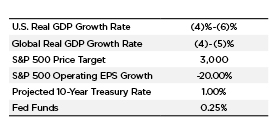 Early in the second quarter, the world adapted to closed economies and shelter-in-place orders. By the end of the quarter, the world adapted to massive fiscal stimulus and the reopening of economies with restrictions galore. Second quarter U.S. GDP contracted by 32.9% – something the U.S. economy hasn't experienced since the 1940s.
For our Q2 economic market analysis, we expect the recession to be short-lived, with the recovery beginning in the third quarter. We expect the economic recovery to be an upward sloping "L" shape. We had a sharp economic drop off due to a pandemic, a global societal shock, a public health crisis, and we anticipate a slow recovery. Numerous risks abound and stimulus casts a shadow over the sustainability of improving economic activity.
Economic data
The economic data in April and May indicated the economy was facing headwinds. However, as the economy reopened later in the quarter, the June data suggested economic activity had a tailwind. The data remains a bit cloudy as government stimulus may be skewing the results.
Economic activity: Global economies reopened in Q2 and fiscal stimulus supported the consumer's consumption behaviors. We expect a double digit increase in Q3 and Q4 GDP. However, if there is a resurgence in COVID-19 cases and consumption plateaus, the risk to our forecast would be to the downside in the second half of the year.
Initial unemployment claims: An unprecedented number of workers filed for initial unemployment claims since the pandemic shut down economies in March. Claims peaked in April at 6.9 million in one week. To put in perspective, during the Great Recession, the peak initial unemployment claims was 665,000. Throughout the second quarter, 38.5 million workers in the U.S. filed for unemployment benefits. Due to the abrupt shutdown of the economy, businesses were forced to lay off or furlough millions of workers. Numerous fiscal stimulus programs supported the labor market in the short run. Many programs helped put workers back on the payrolls, yet not actually doing any work. Unemployment peaked in April at 14.7%, and swiftly recovered by the end of the quarter, down to 11.1%. We do expect unemployment to continue to recover in the second half of 2020, closing the year around 8-9%.
Consumer confidence: Confidence is driven by the labor market, asset prices and interest rates. Consumer confidence improved as the unemployment rate recovered and the stock market saw a "V" shaped recovery. Stimulus, which boosted confidence, is now in jeopardy. As stimulus programs expire and are potentially replaced with less generous plans, confidence may stall. In this cycle, confidence may be driven by COVID-19 solutions: a vaccine, a treatment, wide-spread testing and health care facility capacity.
Monetary and fiscal stimulus: Fiscal stimulus (the CARES Act) has supported consumption. However, many of the benefits terminate in Q3, presenting
some risk to the recovery. More stimulus will be required to support growth. The Federal Reserve (Fed) has implemented stimulus programs that have successfully
ensured that the credit markets have liquidity and function smoothly.
Risks: Numerous uncertainties remain: the COVID-19 virus, reversing reopening plans, changing stimulus plans, high unemployment, trade tensions with China, an upcoming presidential election and dislocations in the financial markets.
Economic outlook
After a severe, yet short-lived recession, we expect a recovery in the second half of the year. 2020 annual gross domestic product (GDP) will contract between 4 and 6%. We do expect the second half of the year to be much better for economic growth. All of this assumes the COVID-19 virus is under control. We expect the Fed to take no further action in 2020, leaving short rates at virtually zero. We expect the S&P 500 to remain in a trading range between 2800-3300.
Equity market analysis
In the second quarter, the S&P 500 rose 20.5%, one of best quarterly returns in market history. The market rallied due to the Fed's backstop, vast amounts of cash on the sidelines and increased visibility of an earnings recovery. The Fed has aggressively supported the equity and credit markets through cutting interest rates, quantitively easing and buying corporate bonds. Investors have been bearish during the market advance in the second quarter with lots of cash on the sidelines. The rally in the market has forced some of this cash into equities as investors chase performance. Positive vaccine news and a gradual re-opening of the economy has given investors increased visibility into an earnings recovery in 2021.
Government impact on the stock market
The Fed has put a backstop on the equity markets through highly accommodative monetary policy. The Fed cut interest rates at the end of the first quarter and have bought individual corporate bonds in the second quarter. Low interest rates support elevated valuation multiples. Additionally, fiscal policy has remained very supportive for risk assets as well with the passage of the CARES Act that supported both businesses and consumers.
Are the tech companies becoming too big?
As large companies become influential, we see two challenges:
Lack of market breadth
Anti-trust
As a reminder, the S&P 500 is a market cap weighted index, meaning the largest companies have the highest weight in the index. Currently, the index is very top-heavy with the five largest companies accounting for nearly 25% of the index. Additionally, to confirm a healthy rally, we like to see broad participation. The current rally has been led by the largest tech stocks, which signals weak breadth and an unhealthy market at risk of a correction. As these companies get bigger and bigger, anti-trust issues become a concern. Currently, several large cap tech firms are meeting with Congress regarding some of these anti-trust issues.
Other equity market risks
Presidential election and the potential for higher taxes: The results of the election could bring higher taxes to consumers and businesses. This would further pressure our corporate earnings forecast.
Trade tensions with China: China is the world's second-largest economy and a key growth driver for many S&P 500 companies. A fractured relationship with
China could put growth estimates at risk.
Valuation: Valuation levels remain elevated at over 21 times earnings. Over the last several years, we've consistently argued the market can maintain a 17-20 times price to earnings (p/e) multiple due to the low interest rate environment. Earnings need to recover sharply in 2021 to justify the current valuation level.
Equity market forecast
Our revised S&P 500 forecast is 3000 for 2020. Our 2020 forecast represents approximately 20 times our 2021 (EPS) estimates of $150. While a higher multiple is
justified due to the Fed and low interest rates, our short-term forecast is for the market to be in a trading range of 2800-3300. Our 2021 S&P 500 price target is 3250.
Bond market analysis
After the first quarter gave us the wildest ride any of us have ever seen, the massive wall of fiscal and monetary stimulus from Washington successfully stabilized the markets and helped drive an impressive rebound in prices. The long list of special "vehicles" created by the Fed and the Treasury provided a lender-of-last-resort to virtually the entire investment grade bond market. Bond market participants quickly adjusted to the belief that the Fed will not allow investment grade issuers to default due to the pandemic. The sentiment switched from "sell it all" to "buy what the Fed is buying"—which lead to a feeding frenzy directed at virtually anything that wasn't already distressed before the crisis started. This drove a massive rebound in prices and an exceptionally strong performance for the quarter in the credit markets.
The Fed has also made it very clear that they intend to hold rates near zero through all of this year, and likely all of 2021. This helped push treasury rates even lower—delivering solid returns in the government markets. In aggregate, bond market returns for the year-to-date (YTD) are exceptional—and unexpected. The shockingly aggressive fiscal and monetary rescue plan has, at least for now, brought the recession to a quick close and delivered strong investment returns to market participants.
Central banks are now dabbling with strategies from the modern monetary theory playbook, which calls for zero interest rates and massive fiscal spending at nearly unlimited levels. This is a deep, complicated and controversial topic, which is beyond the scope of this quarterly piece. The debate over this topic will be front and center for years to come and we will address it in detail in future publications that are dedicated to this topic.
High-yield spreads
After a massive selloff in the first quarter, high yield traded in sympathy with the stock market during the second quarter. The stimulus-driven rebound in risk assets drove stock prices higher and helped lift high yield bond prices simultaneously. However, the Fed's numerous programs to support the bond market are not available to sub-investment-grade (high yield) issuers. Anything that was below investment grade before the crisis started was excluded from the long list of rescue programs unleashed in March and April.
Consequently, the high-yield market did not recover as fully as the investment grade sectors. Prices definitely rebounded and the overall outlook improved, but the sector only recovered about half of the losses endured during the first quarter. High-yield spreads recovered about halfway back to where they began the year. In terms of performance, high yield posted very strong returns for the second quarter but has suffered losses year-to-date.
Bond market forecast
It appears the recession will end during the second quarter, with the second half of the year ushering in an economic rebound. The Fed will stand firm on the pledge to  keep rates close to zero for this entire year, and likely all of 2021. If we are correct about a modest recovery throughout the second half of the year, the 10-year Treasury could make its way back up to 1.00% by year-end. We believe the Fed will fulfill its pledge to support the investment grade bond market, including another potential round of additional stimulus.
The Fed balance sheet sat at roughly $4 trillion before the crisis—and we think it could easily move above $10 trillion by early next year. This raises long-term questions about debt levels, currency stability, inflation, etc. Stabilization of the credit markets is crucial to a sustained recovery. The Fed has succeeded in stabilizing most of the credit sectors and we believe they will continue to do so until we've pulled fully clear of this pandemic. Returns have been outstanding for the year already—the remainder of the year will likely be an exercise in simply collecting yield.
Download the complete 2020 Q2 Economic Market Analysis
To access more of our Q2 economic market analysis, please download the complete overview. In addition to our overall forecast and evaluations of the equity and bond markets, you can explore our notes on:
Real GDP and fiscal stimulus
Labor market updates
Consumer and business confidence
Fed impacts and S&P 500 trading range
Market breadth and COVID-19 trends
National debt, money supply and inflation
U.S. market performance
If you're interested in receiving economic updates straight to your inbox, please consider subscribing by completing the form at the bottom of this page. 
Follow UMB‡ and KC Mathews‡ on LinkedIn to stay informed of the latest economic trends.
---
Disclosures
UMB Investment Management is a division within UMB Bank, n.a. that manages active portfolios for employee benefit plans, endowments and foundations, fiduciary accounts and individuals. UMB Financial Services, Inc.* is a wholly owned subsidiary of UMB Financial Corporation and an affiliate of UMB Bank, n.a. UMB Bank, n.a., is a subsidiary of UMB Financial Corporation. This report is provided for informational purposes only and contains no investment advice or recommendations to buy or sell
any specific securities. Statements in this report are based on the opinions of UMB Investment Management and the information available at the time this report was published.
All opinions represent UMB Investment Management's judgments as of the date of this report and are subject to change at any time without notice. You should not use this report as a substitute for your own judgment, and you should consult professional advisors before making any tax, legal, financial planning or investment decisions. This report contains no investment recommendations and you should not interpret the statements in this report as investment, tax, legal, or financial planning advice. UMB Investment Management obtained information used in this report from third-party sources it believes to be reliable, but this information is not necessarily comprehensive and UMB Investment Management does not guarantee that it is accurate.
All investments involve risk, including the possible loss of principal. Past performance is no guarantee of future results. Neither UMB Investment Management nor its affiliates, directors, officers, employees or agents accepts any liability for any loss or damage arising out of your use of all or any part of this report.
* Securities offered through UMB Financial Services, Inc. Member FINRA, SIPC or the Investment Banking Division of UMB Bank, n.a.
Insurance products offered through UMB Insurance Inc.
SECURITIES AND INSURANCE PRODUCTS ARE:
NOT FDIC INSURED • NO BANK GUARANTEE • NOT A DEPOSIT • NOT INSURED BY ANY GOVERNMENT AGENCY • MAY LOSE VALUE
When you click links marked with the "‡" symbol, you will leave UMB's website and go to websites that are not controlled by or affiliated with UMB. We have provided these links for your convenience. However, we do not endorse or guarantee any products or services you may view on other sites. Other websites may not follow the same privacy policies and security procedures that UMB does, so please review their policies and procedures carefully.