The "money talk" is no longer taboo
Money has traditionally been a taboo subject, but we're seeing a change among current generations.
Discussing money with children, grandchildren or other potential heirs has recently become more socially acceptable. And, so has the reverse, with adult children broaching financial subjects with aging parents‡. When it comes to estate plans and inheritance money, people are working with their wealth advisor to include a communication strategy as part of their estate plan which can help ensure a successful wealth transfer.
A communication plan that relays and explains the estate strategy to beneficiaries can reduce confusion, frustration and hurt feelings, resulting in a more successful transition for all involved. It is important to work with a wealth advisor to establish dialogue throughout the entire wealth transfer process.
Below are a few tips for successful communication to inheriting generations.
Emphasize Responsibility
Educate the beneficiaries on the responsibilities that come with inheriting wealth. This is particularly important for those who have created wealth. When beneficiaries understand how to manage their bequest, they are better able to achieve financial security and stability, which can extend the estate legacy for generations.
Start the Conversation Early
Start teaching children about money at an early‡ age and include conversations about philanthropy with grade school children. One idea to engage young children is to let them research and select a philanthropic organization and then to make donations on behalf of the child. These early lessons can pave the way for heirs to understand the process and responsibility of an inheritance.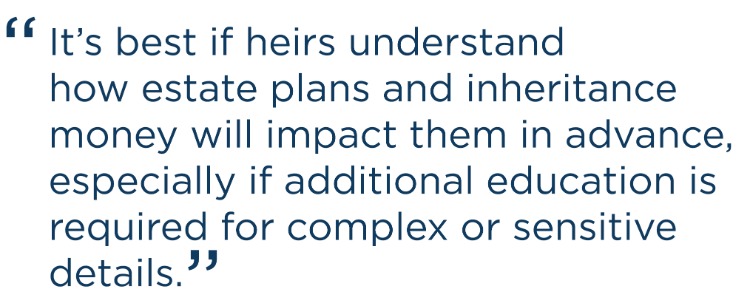 For teenagers, financial advisors can help introduce fundamental concepts such as budgeting and money management. Then, as they enter their twenties, conversations about the specific structure of the estate plan can occur.
And don't delay the conversation even if heirs are already adults. It's best if heirs understand how estate plans and inheritance money will impact them in advance, especially if additional education is required for complex or sensitive details.
Share the Strategy
Wealth advisors usually plan how to share the estate details with the inheriting generation. This is one of the most significant services wealth planners bring to the table, because they not only assist in explaining the estate plan structure, but many times facilitate the conversation about the strategy—particularly, why the plan is built the way it is.
This is important as inheriting generations may have initial negative reactions to the overall strategy. In these situations, wealth advisors can be a neutral party who mediates the conversation about estate plans and inheritance money to help everyone understand the grantor's wishes.
 Learn more about using a wealth advisor to help create a communication strategy for your estate plan.
Interested in learning more about our Private Wealth Management division? See what we mean when we say, "Your story. Our focus."


Based on this piece, we think you might also be interested in reading the following blog posts:
* Exit your business with confidence
* Establishing a trust: Planning for the future with intention
* Preparing for the business succession boom: Four actions every owner should consider
When you click links marked with the "‡" symbol, you will leave UMB's website and go to websites that are not controlled by or affiliated with UMB. We have provided these links for your convenience. However, we do not endorse or guarantee any products or services you may view on other sites. Other websites may not follow the same privacy policies and security procedures that UMB does, so please review their policies and procedures carefully.
Brent Nicholson
As a Private Wealth Management regional manager, Brent is responsible for the growth and support of new customer relationships as well as supervision of regional sales associates. He is also responsible for oversight and delivery of the financial planning discipline within the region. With nearly 30 years of experience private wealth client relationship management, Brent is a seasoned banking professional with deep Texas roots. He attended the University of Texas at Arlington, where he earned a bachelor's degree in finance, and is a Candidate for CFP® certification. He serves as a board member of the Dallas Parks Foundation.