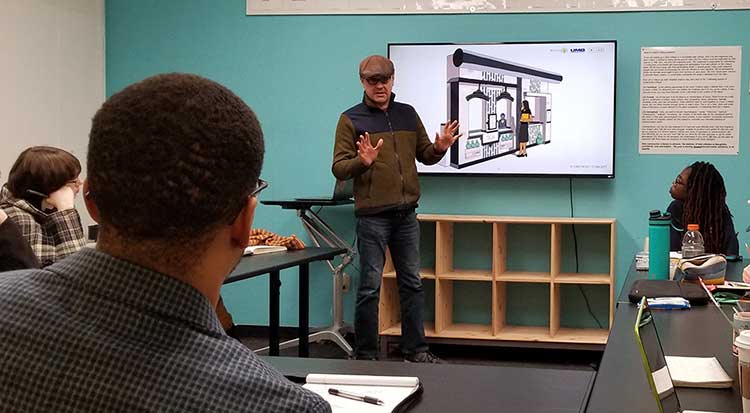 "Bring your child to work" days are significant and meaningful memories from my early education. My dad was an engineer and visiting job sites to see firsthand how things come together was exciting. It set the stage for my future. I've been working on various UMB projects for the past two decades, including recent updates to branches. When the opportunity to work on the School of Economics at UMB (SOE at UMB) project came my way, I jumped at the chance to get involved.
Storytelling through architecture and design
I have a master's of fine arts degree in theater design as well as bachelor's degrees in interior and architecture design. My style is somewhat unique as I try to approach interior design like telling a story. For example, when designing branches, I am intentional about understanding how a client enters the branch, is greeted, and moves through the space. An equally important consideration was how UMB associates use it. I love the challenge of balancing UMB's philosophy of providing its customers a personable banking experience with the technical needs for compliance, security and safety.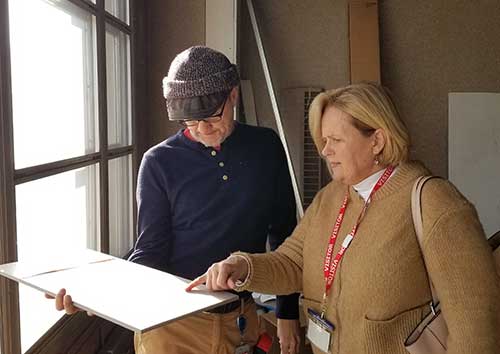 Sue-Ann Johnson, executive director of SOE and the entire SOE team have such a clear vision that I found it easy to construct a narrative for the design of the new facility. The story we're telling with SOE at UMB is that of a busy street nestled between storefronts. The background murals of Kansas City are my interpretation of looking out a window over the skyline. I hope the students are excited to discover new parts of the design every time they turn a corner of our SOE "city."
Being involved in a project that gives so many local students a chance to discover marketplace economics in a fun way has been an exciting challenge.
To be successful in any venture, it's important to know the changing world we live in technologically, but the person-to-person interaction is equally critical to success. Whether it's caring for people's money as a teller or rolling puffed rice-marshmallow "sushi" at one of the SOE restaurants, we all have roles to perform. I hope the students come away with this understanding and remember the excitement they felt while visiting the SOE at UMB.
Stay informed on industry trends and noteworthy company news by visiting our UMB in the News section on umb.com or following UMB on LinkedIn.

When you click links marked with the "‡" symbol, you will leave UMB's website and go to websites that are not controlled by or affiliated with UMB. We have provided these links for your convenience. However, we do not endorse or guarantee any products or services you may view on other sites. Other websites may not follow the same privacy policies and security procedures that UMB does, so please review their policies and procedures carefully.