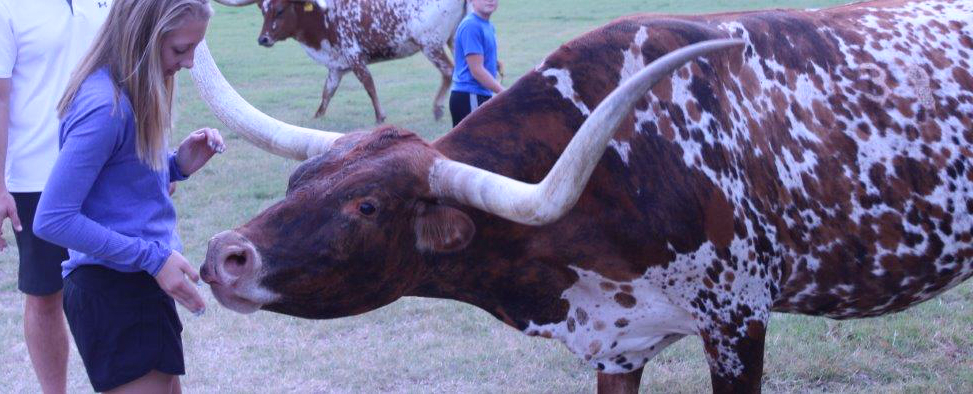 Historic auction returns to Fort Worth
If you asked someone who had no experience with longhorn cattle to describe them, the words "friendly," "affectionate" and "tame" probably wouldn't come to mind.
However, for those that have grown up around them and the Fort Worth Stockyard Auction, such as UMB Fort Worth Commercial Lending Officer Brady Beal (pictured right), these are qualities that he may never forget to include.
"My family became involved with longhorns about 30 years ago when my mother and stepfather built one of the premier longhorn herds in the country here in Texas," says Brady. "They are remarkable animals. They're resilient, very well adapted to Texas conditions, and surprisingly tame."
"In fact, there was actually a longhorn bull that I helped halter break many years ago, named Funny Face," Brady continued. "He always wanted to be pet on the top of his head like a dog. It was a lot of fun, but I can also tell you that having a longhorn that is so friendly and affectionate can be a little dangerous. Imagine a dog that comes up and wants to be pet, but has two feet of horn sticking out each side of his head. I was accidentally wacked on more than one occasion. I don't think Funny Face ever realized he was a longhorn."
UMB is proud of its long history as a lender to both ranchers and farmers alike (recently recognized as a top 20 ag lender in the United States) and many of our associates, like Brady, have deep connections and understanding of the industries they're involved in, including commercial, industrial and agriculture. This enables them to better understand and serve a wide range of customers and their needs.
"I like being able to drive around North Texas and see a customer's place of business and reflect on the stories, how they began, how they expanded, grew and adapted. I think this is the most interesting part of the job. I enjoy getting to know these people as I try to help them with their businesses – I become personally and emotionally invested in the success of these companies."
Just as Brady continues to build relationships with his customers, UMB also continues to build its relationship with the Fort Worth community, which includes sponsoring the signature Hudson-Valentine‡ Fort Worth Stockyard Auction, on September 22.
"The Fort Worth Stockyard Auction and Longhorns are big part of Fort Worth's culture," says Brady. "This sponsorship helps preserve the rich history of the Fort Worth Stockyards by bringing back the same type of cattle auction you would have seen in the area over 100 years ago."
While Brady will be there on the first night of the Fort Worth Stockyard Auction, his days of working with cattle are now limited to attending the auction and helping his mom with the few head of cattle that she keeps at her place in Aledo, Texas.
"Oddly my work with cattle inspired me to choose a banking career. Ranch work is HARD. It's a 24-hour, seven-day-a-week job, and you still never get it all done. My work with cattle pushed me to know that I wanted a position, where I could help people. At UMB there is an entire culture from the top down that cares about its employees and its customers and wants what's best for all involved.  In my opinion, the feel of UMB 's culture is that it is a family owned organization, which sets it apart as an employer and for our customers."
Learn more about commercial lending at UMB and our growing presence in Fort Worth.
Learn more about what ag means to UMB and see some of our clients in action.

When you click links marked with the "‡" symbol, you will leave UMB's website and go to websites that are not controlled by or affiliated with UMB. We have provided these links for your convenience. However, we do not endorse or guarantee any products or services you may view on other sites. Other websites may not follow the same privacy policies and security procedures that UMB does, so please review their policies and procedures carefully.
UMB Financial Corporation
UMB Financial Corporation (Nasdaq: UMBF) is a financial services company headquartered in Kansas City, Mo. UMB offers personal banking, commercial banking, healthcare services and institutional banking, which includes services to mutual funds and alternative-investment entities and investment advisory firms. UMB operates banking and wealth management centers throughout Missouri, Illinois, Colorado, Kansas, Oklahoma, Nebraska, Arizona and Texas.