From 19 to Retirement…a look at a life-long UMB career
A letter from Rosie, reflecting on her time at UMB:
It's hard to imagine how much has happened during the last 45 years of my time at UMB. I started at the age of 19, on July 17, 1968.
We now have UMB Bank branches in eight states; 112 branches total. I've worked for City National Bank, United Missouri Bank, United Missouri Bancshares Inc., UMB Financial Corporation, and UMB Bank, n.a—all the same organization, but with name changes over the years. With each name change, UMB has had six different logos, my favorite being the Indian Scout. What an accomplishment for me to be able to work for such a stable company.
With my first job, we didn't have computers—a fact that is difficult for my two grown children to comprehend. I started in the Stock Transfer Department working on a posting machine. We actually had to type certificates for the new stockholders on manual typewriters! (After a few years we graduated to electric typewriters.) It's hard to believe where we came from looking at us now, with all the modern technology UMB Bank has today.
While working at UMB Bank, I was able to meet each of the Kempers who were president or CEO. The first was Mr. R. Crosby Kemper, Sr. who officially retired shortly after I was employed by the bank. Then I met Mr. R. Crosby Kemper, Jr., Sandy Kemper, R. Crosby Kemper III and Mariner Kemper. I would encounter them on the elevators, and each one was so friendly. They thanked me for being part of the UMB family. I especially remember Mr. Kemper, Jr. buying his breakfast in the cafeteria and going to each of the tables to say good morning to everyone. I remember the famous Kemper smiles. They all seemed to have that same smile that reached out to everyone they saw or met.
Mr. R. Crosby, Jr. was a big fan of the University of Missouri Tigers‡. I remember the day I went to the 928 Grand tellers and saw a huge, beautiful tiger in the lobby. Yes, a real tiger. Sometimes I wonder if I really saw that tiger or if it was just a dream, but some of my fellow co-workers also remember the "Tiger in the Lobby" day.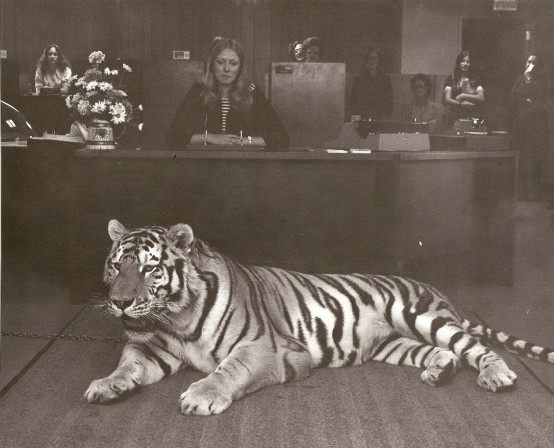 In my time here, I witnessed the construction of the 1010 Grand UMB building in 1986 and the Technology and Operations Center in 1999. I saw old buildings being demolished, the resulting big hole in the ground, and then the new completed bank buildings that take up one square block. I loved being there for that history and now getting to tell my grandchildren about it.  Sometimes it pays to be old. You see so many things happen during your life.
As my 45 years are coming to a close, I look back upon a career that has really flown by. There have been ups and downs just like in life, and you become one big family.
I realize that soon I will not be seeing and greeting my work family. Over the years I have made a lot of friends, some gone, some still here and I get a little emotional because I will be leaving part of my family behind.
Once I retire, I will be volunteering for my church and Alexandra's House‡, which provides perinatal hospice support, watching my grandchildren while they are out of school and trying to keep busy.
I am saying goodbye now and leaving you with these paraphrased words: "Live. Laugh a lot. It's good for the soul. And last of all, love your job, because one day you too will be walking down the hallways for the last time."
With fondest memories,
Rosie Corral
When you click links marked with the "‡" symbol, you will leave UMB's website and go to websites that are not controlled by or affiliated with UMB. We have provided these links for your convenience. However, we do not endorse or guarantee any products or services you may view on other sites. Other websites may not follow the same privacy policies and security procedures that UMB does, so please review their policies and procedures carefully.
Rosie Corral
Prior to her retirement, Ms. Corral was an operations associate for UMB. She worked in the settlement department, receiving and settling buys from brokers. She joined UMB in 1968 and has 45 years of experience in the financial services industry. As of April 30, she retired after a long career at UMB.