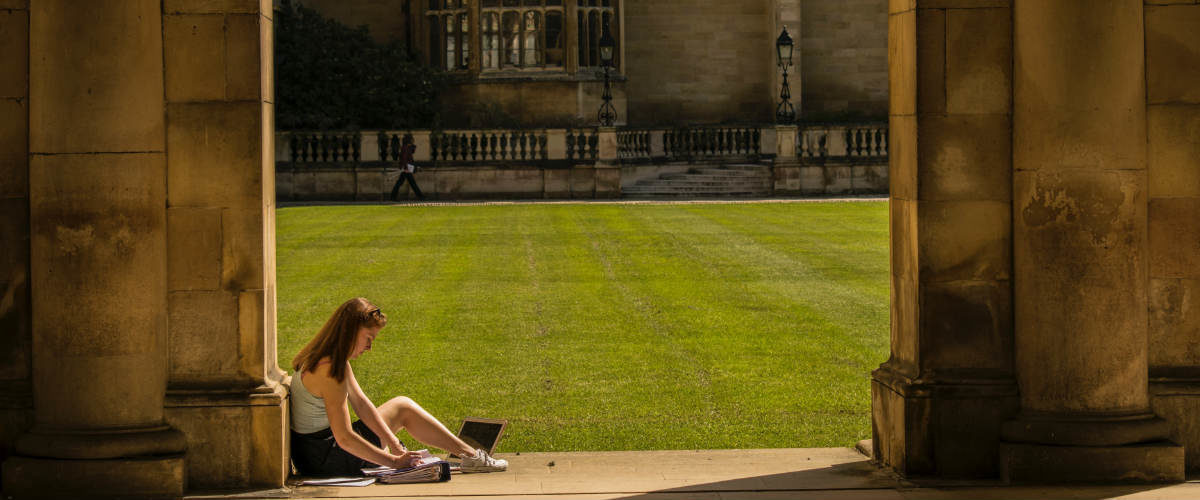 College students: Start building your legacy now
Steve Kitts, executive vice president of Investment Banking, was recently selected as the Spirit of Maryville Dean's Recipient alum honoree. Learn how his college experience has helped shape his career, and why he continues to be committed to the community that surrounds the college.
The word "legacy" tends to make people think of something they achieve when they are older. But, legacies need to have their foundations laid long before. How do you build a legacy? My education was a critical part of my legacy-building, and the doors that opened for me at Maryville University while I earned my bachelor's degree in business administration have helped propel my career.
However, getting to this point has meant taking certain steps from very early on.
Find your community
Selecting a college is how you begin to gather your lifelong community— a strong community can serve as a great support as you move through life. I chose Maryville University for several reasons, first and foremost being its connection to my family. Initially, the college was an all-female university, and my mother attended in the '50s. She had a great experience, which encouraged me to check it out when I was applying. Second, the class sizes were small, which meant I could benefit from focused attention from the professors and a close-knit community atmosphere. Finally, Maryville offered me an opportunity to play soccer, which let me align my academic goals with my passion for sports.
Personally invest in your community
My Maryville experience did not end when I graduated; instead, I became part of an active alumni organization that continues to network, share knowledge and support future university grads. Together, we share in the continued legacy of the school and our academic achievements. The bottom line is that your choice in community will have a lasting impact on your life and career, so find one that fits you and supports your goals.
Roll up your sleeves
A degree and a network are just the beginning in your pursuit of a successful career. I started out in a training program that helped me learn new skills while working full time. That first opportunity led me from sales to sales management and finally into my current position at UMB where I've been for the past 11 years. It was tough to balance the demands of the job while also trying to master new skills. Sometimes that meant doing the grunt work—the tedious tasks that no one wants to do—but they helped me learn. I had to roll up my sleeves and commit to the program, and I believe if you work hard and are a good and trustworthy person, the right things will happen.
Take, or make, your chances
I was working as a chef at a regional bank when that spot was offered to me in the training program. I could have turned it down, but it was an opportunity for career growth, and I took it. Taking changes like these are how we learn and grow that is how we learn and grow. Come in with an open mind and an attitude to work hard. If you do those two things, doors will open for you.
So, as you are building your legacy, remember to take advantage of breaks that come along, and don't be afraid to create your own opportunities – everyone must begin somewhere. The key is to just begin.
Learn what it means to be a Spirit of Maryville Dean's Recipient alum‡ honoree.
Learn more about starting a UMB career and how "More defines us." Also, stay informed on industry trends and noteworthy company news by visiting our UMB in the News section on umb.com.
Based on this post, we think you might also be interested in reading the following blog posts:
* A summer of concerts and community support
* Thank you to America's farmers on National Ag Day
* Life is why: Heart-led event raises over $1 million
When you click links marked with the "‡" symbol, you will leave UMB's website and go to websites that are not controlled by or affiliated with UMB. We have provided these links for your convenience. However, we do not endorse or guarantee any products or services you may view on other sites. Other websites may not follow the same privacy policies and security procedures that UMB does, so please review their policies and procedures carefully.
UMB Investment Banking Division is a division of UMB Bank, n.a., that provides integrated fixed income investment products and services to community banks, financial institutions and institutional investment clients.  UMB Bank, n.a., is an affiliate within UMB Financial Corporation.  UMB Financial Services, Inc., is a wholly owned subsidiary of UMB Financial Corporation and an affiliate of UMB Bank, n.a.
Securities offered through the Investment Banking Division and UMB Financial Services, member FINRA, SIPC, are:
Not FDIC Insured * No Bank Guarantee * May Lose Value

Steve Kitts
Stephen Kitts joined UMB Bank in August of 2007 as Executive Vice President of Investment Banking. Mr. Kitts brings 25 years of banking experience, all primarily in the investment area. He spent his early years on the trading desk followed by 5 years in sales, and has spent the last 12 years in management of the bond department. Stephen Kitts was an Asset Liability Committee member and has been a part of the Senior Management Team of a 15 billion dollar banking institution.