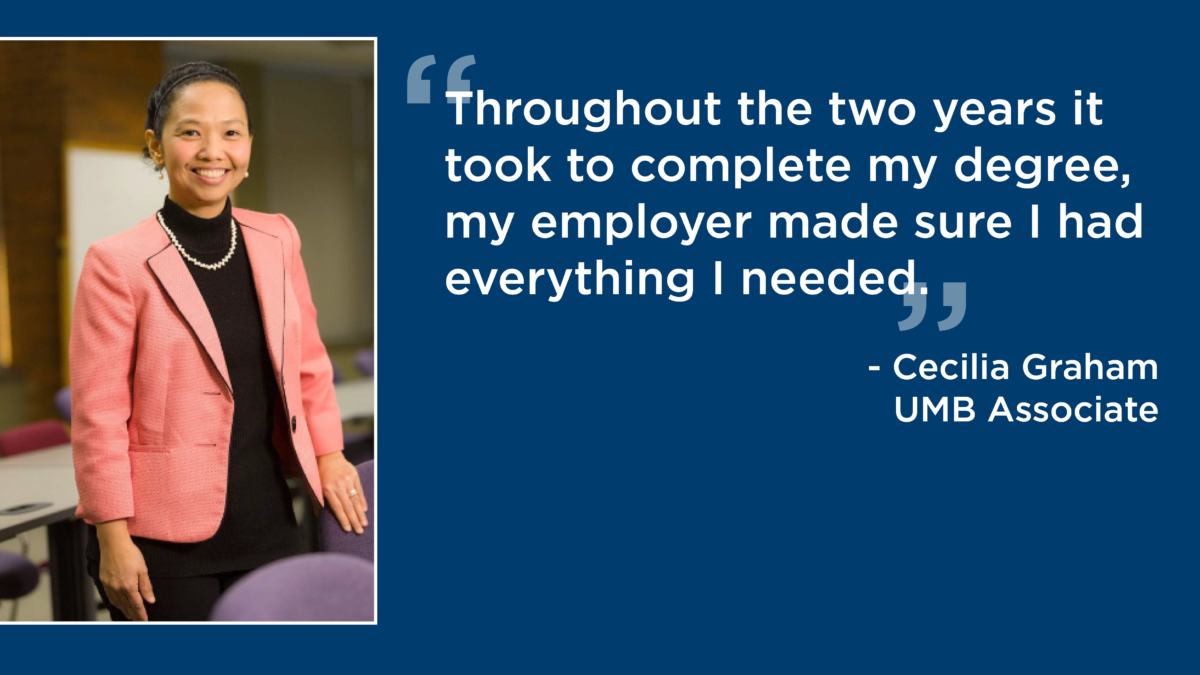 Inside UMB: Why your employer should support your education.
Loan Specialist Cecilia Graham recently utilized UMB's associate tuition reimbursement to complete her undergraduate degree and is now pursuing a Masters of Business Administration. UMB's association tuition reimbursement covers a predetermined monetary amount per year with reimbursement levels based on academic success. Cecilia recently shared her story with UMB to encourage others to pursue further education.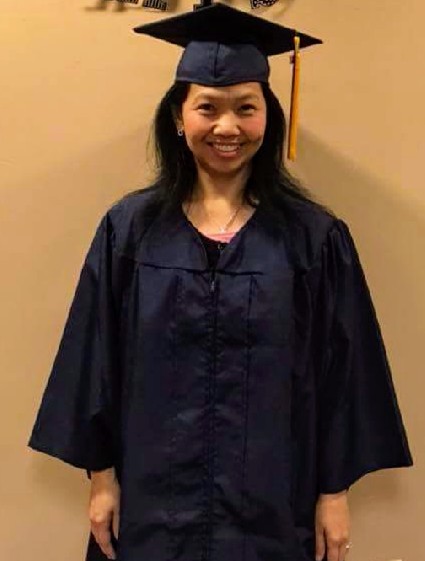 Cecilia's story
I started college in the Philippines on a full-tuition scholarship. When I started exploring how to complete my education in the United States, I was pleased to find most of my college credits were transferable but was blown away by the costs I would be incurring. When I found out about UMB's tuition reimbursement for associates, I knew I had found the last piece of the puzzle. With the financial support I needed, I was able to complete my Bachelor of Arts degree in Organizational Leadership in just two years, graduating Magna Cum Laude from Graceland University—while being a mom to two kids!
Despite having 17 years of professional experience, along with attending a lot of training and seminars, I knew the knowledge I would gain from going back to school would be invaluable. The skills I learned while completing my education have empowered me to work productively, both in my career and in my personal life.
When I tell my family and friends UMB is supporting me financially to continue my education, they are amazed at our company's commitment to its people. Throughout the two years it took to complete my undergraduate degree, my employer made sure I had everything I needed—up until graduation day. Now, I am continuing to utilize UMB's associate tuition reimbursement to pursue my MBA at Northwest Missouri State University.
What would you like to say to those who are considering continuing their education? 
If finances are the only thing stopping you from higher education, there are many options available to you. However, if fear is what's stopping you…don't let it! If I can do it, you can too. My father shared a piece of wisdom that has never left me: "Education is a wealth that cannot be taken from you. It is yours to use forever so you can be a good citizen and live a better life."
Learn more about the benefits available to UMB associates and view current career opportunities. Not ready to apply? Become a UMB Insider to keep in touch and learn more about roles that interest you.
UMB Financial Corporation
UMB Financial Corporation (Nasdaq: UMBF) is a financial services company headquartered in Kansas City, Mo. UMB offers personal banking, commercial banking, healthcare services and institutional banking, which includes services to mutual funds and alternative-investment entities and investment advisory firms. UMB operates banking and wealth management centers throughout Missouri, Illinois, Colorado, Kansas, Oklahoma, Nebraska, Arizona and Texas.