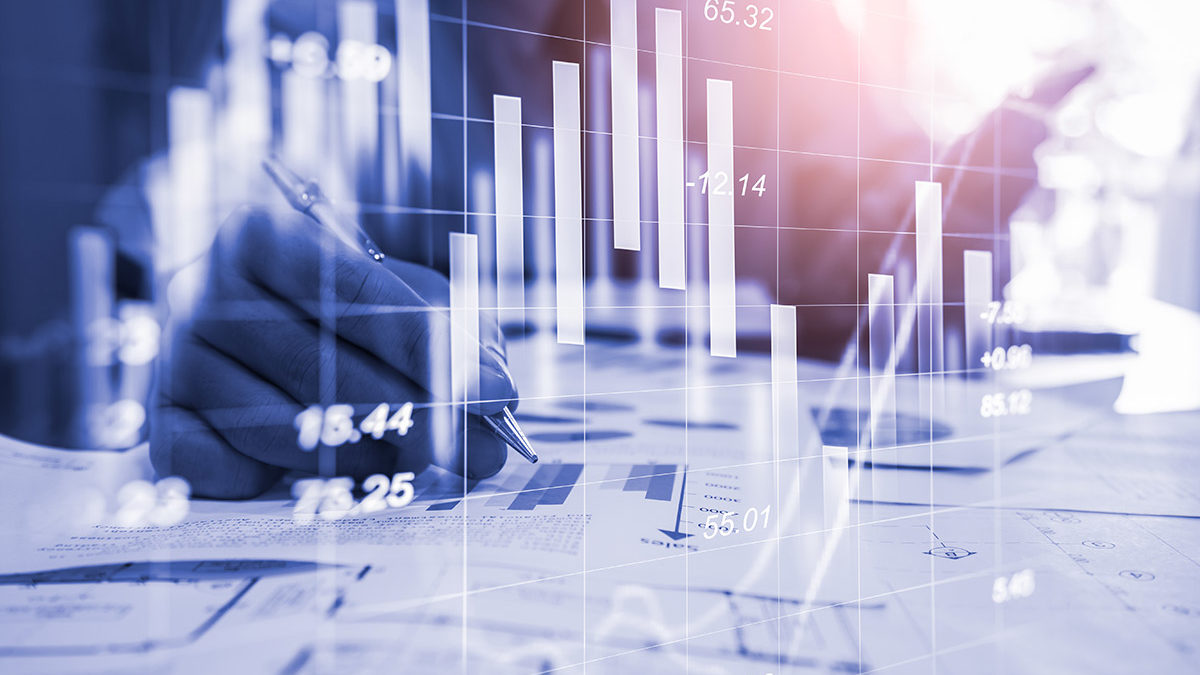 Inflation in the economy: Where do we go from here?
What a wild ride it has been! The beginning of this year saw 10-year Treasury notes above 1.80%, the stock market had reached all-time highs and unemployment was at generational lows. Fast forward a few short months and the entire world has been turned upside down in the wake of the COVID-19 pandemic. With the U.S. economy amid a full-blown recession, the likes of which we have never seen, what does the inflation path look like going forward?
Fed and Government Stimulus
An unprecedented global shutdown resulted in an unprecedented stimulus in an attempt to ease the suffering. On March 27, President Donald Trump signed the Coronavirus Aid, Relief, and Economic Security (CARES) Act. This more than $2 trillion stimulus package is by far the largest emergency relief bill in U.S. history and focuses on helping families, businesses and the economy weather the devastating effects of the pandemic.
The CARES Act allocated $560 billion to individuals, $500 billion to large corporations, $737 billion to small businesses, $340 billion to state and local government, $154 billion for public health and $44 billion for education. These programs include the individual Economic Impact Payment (EIP), also known as stimulus payment, Paycheck Protection Program (PPP) and Economic Injury Disaster Loan Program (EIDL).
In March, there were severe dislocations in financial markets, including many fixed-income categories. The Federal Reserve (Fed) stepped in to prevent a full market failure by announcing they would execute recurring bond purchases in the U.S. Treasury, mortgage-backed security (MBS) and corporate bond markets to quell fears of a liquidity crisis.
The Fed's balance sheet surpassed $7 trillion last month, nearly doubling over the span of a few months. In addition to this quantitative easing, the Fed dropped the overnight borrowing rate to 0%, and, evident in the previous FOMC meeting, expects borrowing rates to stay near its lower bound until 2022. Federal Reserve Chairman Jay Powell has reiterated time and time again that the Fed is committed to using its full range of tools to support the U.S. economy during this challenging time.
What unknown consequences will this stimulus have on the economy and inflation as we move forward?
Federal Reserve Balance Sheet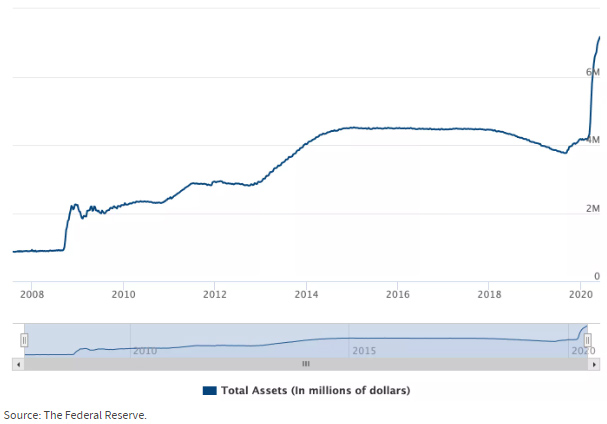 Inflation
The Fed's long-term inflation goal for the economy remains at 2% with an acceptable deviation of 0.5%. The Fed's preferred inflation gauge is the core personal consumption expenditures price index, known as PCE, which excludes the volatile subsets of food and energy. The reasoning for the exclusion is to reduce anomalies and outliers that can muddy data. Anomalies were evident earlier this year as a sharp decline in consumer demand, due to shelter-in-place orders, combined with a pricing war among some OPEC members to flood the global markets and collapse oil prices. The collapse pushed the U.S. benchmark, West Texas Intermediate, to negative territory for the first time ever.
While the cost of fuel fell 18.9%, the cost of groceries rose 4.1% in April, marking the largest one-month increase since February 1974. This increase can be contributed to increased demand due to the closure of in-house dining and supply constraints as food processors reacted to outbreaks and social distancing measures. While both energy and food costs are considered, filtering them out is an important step to understanding general trends and providing a more relative picture.
Anomalies aside, the question remains: will the measures put in place to shore up the economy combine with fundamental changes to result in a resurgence of inflation?
Path of Inflation
Will the influx in the money supply coupled with supply chain disruptions result in higher levels of future inflation? There is no clear answer here, but we can dissect some qualitative factors to garner an educated guess. First, while there has been a lot of money pumped into the economy to protect individuals, companies and investors, a lot of the money lacks velocity. For example, while the Fed expanded its balance sheet, the asset purchasing has put downward pressure on the velocity of M2 money stock supply‡ which has a disinflationary impact. An exception here is EIP money, which went directly to the consumer in the form of direct deposits and checks. This money will likely have a much higher velocity as it supports discretionary spending among consumers.
EIP, barring an extension and/or expansion, may provide transitory, inflationary pressure as it props up consumer demand for goods whose supply chain disruptions have crimped output. However, with the economy in a recession and a high unemployment rate, these inflationary pressures will likely give way to the deflationary pressure of weak demand—which is typical in a recession. Consumer demand is a major input in inflation and the consumer is inextricably linked to the health of the economy.
In aggregate and in the intermediate term, there does not seem to be a ton of imminent inflationary pressures. However, a faster than anticipated economic recovery with another round of stimulus may alter this. Longer term, there may be structural changes that prove inflationary. For example, the importance of domestic supply chains has become evident and manufacturers may look to expand their onshore manufacturing capabilities. Onshoring will likely result in increased costs of goods sold, which will be passed to the consumer in the form of higher prices. Will the calls for inflation be similar to the inflation predictions in the wake of the 2008-09 financial crisis, only to see inflation continuously fall short of the Fed's 2% target, or will this time be different?
UMB Bank Investment Banking Division delivers a comprehensive suite of solutions, including market data and modeling, technology platforms and fixed income sales. Visit umb.com to learn how UMB Bank Investment Banking Division can support your bank or organization, or contact us to be connected with an investment banking team member.
---
This communication is provided for informational purposes only. UMB Bank, n.a., UMB Financial Services, Inc., and UMB Financial Corporation are not liable for any errors, omissions, or misstatements. This is not an offer or solicitation for the purchase or sale of any financial instrument, nor a solicitation to participate in any trading strategy, nor an official confirmation of any transaction. The information is believed to be reliable, but we do not warrant its completeness or accuracy. There are risks associated with all transactions involving investment securities. As with any investment, please read all offering information, prospectus, or any other required disclosures before initiating any transaction. Past performance is no indication of future results. The numbers cited are for illustrative purposes only. The opinions expressed herein are those of the author and do not necessarily represent the opinions of UMB Bank, n.a., UMB Financial Services, Inc., or UMB Financial Corporation. Future results may vary.
Products offered through UMB Bank, n.a. Investment Banking Division and UMB Financial Services, Inc. are:
NOT FDIC INSURED | MAY LOSE VALUE | NOT BANK GUARANTEED
When you click links marked with the "‡" symbol, you will leave UMB's website and go to websites that are not controlled by or affiliated with UMB. We have provided these links for your convenience. However, we do not endorse or guarantee any products or services you may view on other sites. Other websites may not follow the same privacy policies and security procedures that UMB does, so please review their policies and procedures carefully.
Nick Meletio and Tucker Brown
Nick Meletio joined the UMB Bank, n.a. Investment Banking Division in 2012. He is responsible for investment portfolio strategies, fixed-income securities selection and asset-liability management. He has more than 8 years of experience in the financial services industry. Nick received his Master of Business Administration degree from the University of Massachusetts- Amherst. Nick holds the FINRA Series 7 and 63 licenses. Tucker Brown is an investment officer at UMB Bank, n.a. He is responsible for helping community banks manage their investment portfolios, interest rate risk and ALM. He joined UMB in 2017 and has more than 3 years of experience in the financial services industry. He earned an economics and business degree in 2016 from Hampden-Sydney College. Tucker holds the FINRA Series 7 and 66 licenses.