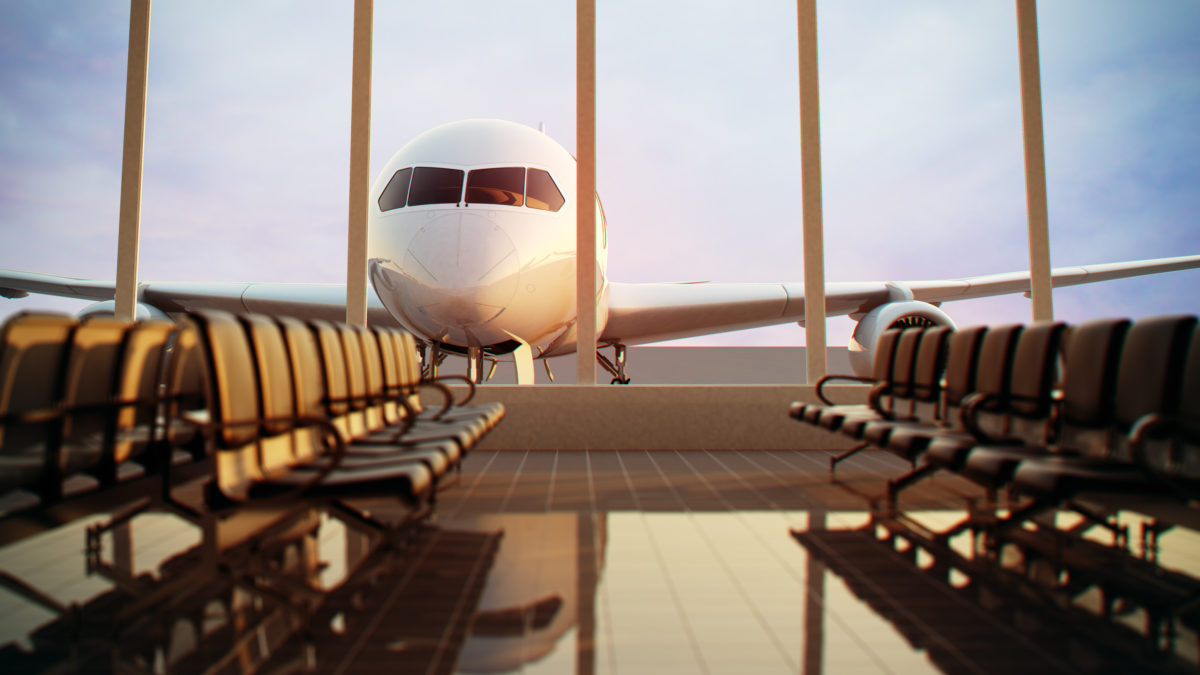 Strength in the airport bond market
For more than a year, airport enterprise leaders have diligently developed initiatives to adapt to the pandemic's headwinds and crosswinds. Now, with the vaccine rollout well underway, airports are seeing encouraging signs. That's reflected in feasibility consultant reports for recently issued airport bonds. For example, a UMB Bank, Capital Markets Division Public Finance Group review of these reports suggests an average projection that enplanements will return to 2019 levels by the 2024-25 timeframe. While there are a number of factors that will impact the pace of these projections, it's definitely encouraging to see solid investor interest in the airport bond market.
For example, 20 individual airports issued bonds totaling more than $2 billon during the first quarter of 2021. (excluding notes, variable rate and special facility bonds.) The $2 billion in issuance breaks down as follows:
Tax Characteristics. Tax-Exempt AMT bonds: $1.02 billion; Tax-Exempt non-AMT bonds: $591 million; Taxable bonds: $771 million
New Money vs. Refunding. New Money: $1.801 billion; Refunding: $581 million.
Issue Size. <$100 million: 13 issues; $100-$250 million: 3 issues; >$250 million: 4 issues.
Among these was the highly rated (Aa3 (Moody's) / A+ (S&P) / AA- (Fitch)) $893 million financing issued by the Los Angeles World Airports (LAWA or LAX), including Subordinate AMT, non-AMT and taxable bonds.
As Fitch reported: "The ratings reflect the LAX's superior credit characteristics, including a strong underlying air trade service area, significant operational activity supported by a diverse mix of domestic and foreign-flag carriers, favorable rate agreements with airlines and very strong financial metrics over time…."
It is worth noting that, reflecting strong investor demand, LAWA was able to both upsize the financing (increase the amount of bonds offered to investors) and lower the interest rate on certain bonds.
Airport investor comment
More broadly, investors in airport bonds continue to receive relative value. For example, for the one year period ending March 31, 2021, the S&P index total return for airport bonds was 6.94%, versus 4.42% total return on municipal general obligation (GO) bonds. The chart below illustrates the relative value returned to airport bond investors vs. an alternative investment in GO bonds from April 2020-March 2021.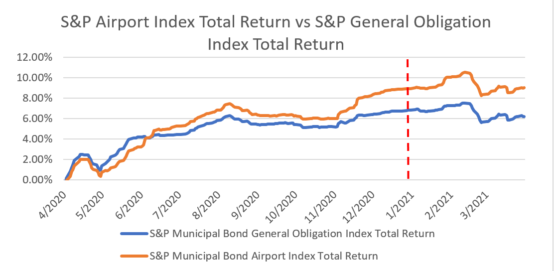 Source: S&P Municipal Bond Airport Index and S&P Municipal Bond General Obligation Index
Other encouraging signs
We'll close with two additional encouraging signs for airports, starting with increased optimism expressed by airlines. First, based on bookings (an indicator of potential future enplanements) American Airlines expects to reactivate virtually its entire fleet of aircraft in the second quarter of this year. Additionally, Southwest Airlines has recently confirmed new aircraft orders and has announced new service at 17 airports. It is hoped that "VFR" (visiting friends and relatives), summer travel and business travelers will lead to a further increase in enplanements.
Another very encouraging development was President Biden signing into law the American Rescue Plan (ARP) Act of 2021 in March. ARP contains $8 billion in funding for eligible airports, to be distributed by the FAA in the form of Airport Rescue Grants. The $8 billion is expected to be allocated as follows:
FAA ARP Airport Rescue Grants

Proposed Funding Allocation

 $8 Billion

 

 

 

 

 

 

 

 

 

 

 

 

 

 

                                                                      

·       $6.5 billion: Primary commercial service airports (greater than 10,000 annual passenger boarding's). Grant to be allocated in a manner similar to the current Airport Improvement Program AIP entitlement funds.

·       $800 million: Primary commercial airports to provide proportional relief for eligible concessionaires
·       $100 million: Non-primary commercial airports and general aviation airports based on categories (ie National, Regional, Local, and Basic).

·       To be determined: AIP grants to fund 100% Federal share and other.

 
Further guidance is expected to be provided by the FAA (including details on allocation amounts) in May 2021.
UMB Bank Public Finance is committed to helping transportation institutions fulfill their growth aspirations. Visit umb.com to learn more about how we can support your organization, or contact us to be connected with a team member.
Disclosures
This communication is provided for informational purposes only. UMB Bank, n.a., UMB Financial Services, Inc. and UMB Financial Corporation are not liable for any errors, omissions, or misstatements. This is not an offer or solicitation for the purchase or sale of any financial instrument, nor a solicitation to participate in any trading strategy, nor an official confirmation of any transaction. The information is believed to be reliable, but we do not warrant its completeness or accuracy. Past performance is no indication of future results. The numbers cited are for illustrative purposes only. UMB Financial Corporation, its affiliates, and its employees are not in the business of providing tax or legal advice. Any materials or tax‐related statements are not intended or written to be used, and cannot be used or relied upon, by any such taxpayer for the purpose of avoiding tax penalties. Any such taxpayer should seek advice based on the taxpayer's particular circumstances from an independent tax advisor. The opinions expressed herein are those of the author and do not necessarily represent the opinions of UMB Bank, n.a., UMB Financial Services, Inc. or UMB Financial Corporation.
Securities offered through the UMB Bank, n.a. Capital Markets Division and UMB Financial Services, Inc. are:
NOT FDIC INSURED | MAY LOSE VALUE | NOT BANK GUARANTEED
UMB Capital Markets Division is a division of UMB Bank, n.a. UMB Bank, n.a., is an affiliate within UMB Financial Corporation. UMB Financial Services, Inc., Member FINRA, SIPC, is a wholly owned subsidiary of UMB Financial Corporation, and an affiliate of UMB Bank, n.a.
Sean Boyea
Sean Boyea joined UMB Bank, n.a. in 2020, as senior vice president in the Capital Markets Division's Public Finance Group. Sean provides particular expertise in funding municipal infrastructure, education and non-profit institutions, utility and project finance, transportation and healthcare initiatives. He received his Executive MBA from the UCLA Anderson Graduate School of Management and holds FINRA Series 7, 53, and 63 licenses.