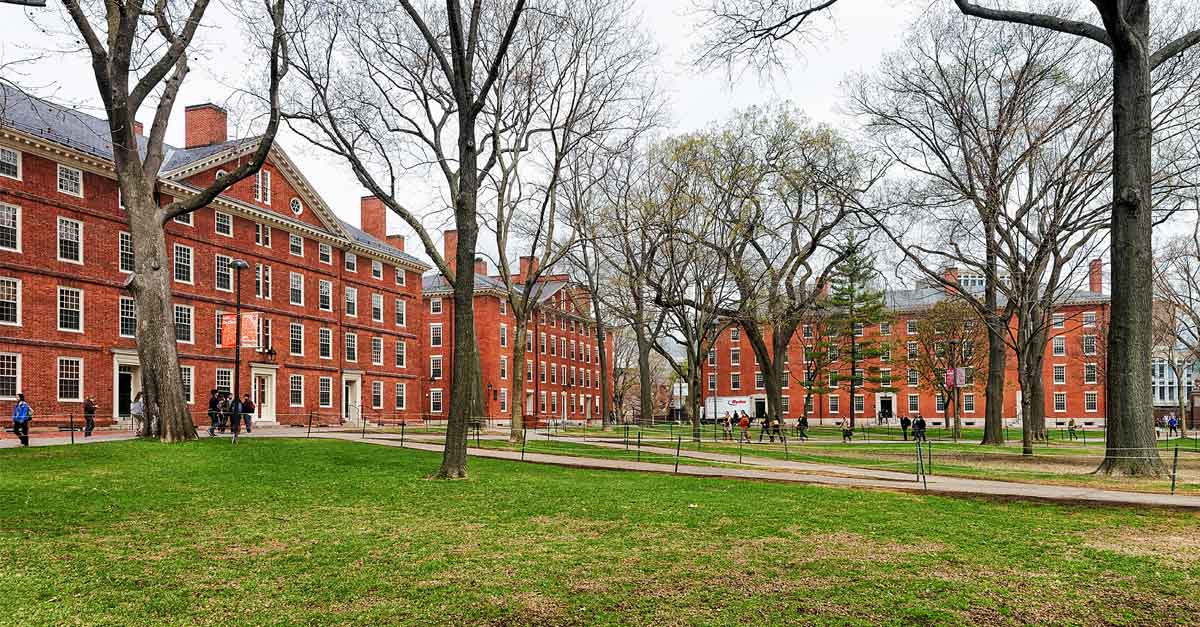 P3 risks emerge as vacancies in student housing rise on college campuses
With colleges and universities shifting from on-campus to virtual classes, the student housing sector has seen a hit to revenue with a drastic drop-off in occupancy. As reported by Moody's Analytics in its report released in September 2020, they state that for the second quarter in 2020, "at the national level, the student housing sector is expected to see vacancies rise anywhere from 80 to 210 basis points, and rents dropping by -4.5% to -5.6%, conditional on subtype." With this looming crisis on the horizon, we outline steps for university finance leaders to consider as they navigate successfully through this crisis.
When colleges and universities enter into public-private partnership (P3) arrangements to build, finance and/or manage facilities, such as residence halls, there typically comes into existence a new, special-purpose entity (SPE) to legally own the assets, enter into third-party contracts or service agreements, and serve as obligor on bonds used to fund the project. This entity has its own governance structure, i.e. board of directors, and, in contrast to the university itself, typically has little financial leeway given its organization documents and obligations to bondholders.
Right now, some frustrated students and parents are coming to understand more clearly that their student housing financial relationship is not with the school itself but with a separate SPE. This may strain relations between families and the P3 sponsor institution and potentially heighten the revenue pressures faced by the host institutions, as they must legally provide support or decide to provide moral support to the P3 project to ensure its viability and solvency.
Document review and scenario analysis
The urgent need now is to open up and review the operative financing documents and third-party agreements to determine the obligations and covenants of the SPE, the institution, and P3 service providers.
Core to this analysis should be an updated budgetary review and modeling of the revenue/cash flow waterfall, which is typically defined in the trust indenture. This review will provide insight and guidance as to how project stakeholders will be impacted by the current state of financial affairs and certain decisions. We suggest that a realistic base-case scenario should be constructed (with dynamic inputs as relevant), then augmented with branching scenarios in order to establish cash flow sensitivities or shortfalls.
With this valuable tool, the P3 parties can determine how to weather the current pressures brought on by the COVID-19 pandemic and establish a financial plan for the current and future semesters. The depth of occupancy declines, along with short-term budgetary cuts, will establish the financial support needed for the SPE and its debt obligations.
The process will prompt questions:
Are there mechanisms in place that can help mitigate current or continuing revenue pressures?
If not, what operational changes are needed to keep the project solvent?
To what extent could specific changes to the P3 structure—"the ask"—provide some level of contingency and fix the problem for the foreseeable future?
Some potential mechanisms might be:
Making debt payments but temporarily underfunding other required, downstream accounts such as those for repair and replacement.
Securing liquidity from the sponsor institution or outside sources as a loan or line of credit.
Evaluate the SPE balance sheet to identify available reserves that may be reallocated and spent. Utilizing monies held in the debt service reserve fund will trigger a technical default on the bonds (public disclosures are required) as well as workout provisions with bondholders (via the trustee). Before reaching this point, altering the documents to allow the reallocation of funds could be a strategy.
"Scooping up" any upcoming principal payments and reissuing those obligations to the market or placing them directly to a bank or other investor. (Note that this would require figuring out where the payments fit along the amortization timeline.)
Some of these approaches might prove to be minor "blips" that allow this seemingly short-term crisis to be averted. Some could be undesirable because they could impact future liquidity and needed reserves for capital purposes. Most likely, the sooner you start analyzing options with your legal counsel and financial advisors, the better your chances of avoiding less-desirable steps forward.
Frustration of purpose
Besides cash flow considerations, another risk that may be necessary to consider is the potential for parties to the P3 arrangement to declare "frustration of purpose" and seek release from existing contracts.
In a prior post on analyzing the P3 risk spectrum during the coronavirus crisis, I raised a question about whether private businesses might seek relief on the grounds that fulfilling a contract is an impossibility, an impracticality or a frustration of purpose. As I wrote then, to answer this question, we suggest careful contract review with trusted legal counsel and advisors as you analyze your specific project and, potentially, prepare for timely notification of the triggering event.
In addition to the P3 parties themselves, however, there are the students to consider. Some students and parents who signed leases may point to a frustration of purpose, arguing that since a student can't be on campus, there is no purpose behind the signed agreement.
Again, one of the challenges here is that while a college or university itself might see benefit in waiving some contractual provisions (perhaps by absorbing the auxiliary revenue provided by a residence hall), there is less "room to move" for P3 SPEs. These entities typically exist for the sole purpose of owning and managing the asset as well as serving as the bond obligor—and bondholders care about being repaid.
These are difficult dynamics. By far the best outcome will be a faster-than-expected return to greater normalcy on campus and back to near full project occupancy. But in the meantime, we strongly recommend a close reading of the operative P3 financing documents and consultation with advisors and legal counsel.
Closing thoughts
I'd like to close with the P3 risk framework offered in a prior post. This framework may be useful in organizing thought and action around the various risk factors now presenting themselves. (For details, please see "The P3 project risk spectrum: Identifying and addressing newly presented risks.")
As you consider these and other categories of risk—and how, as in the graphic below, they are shared across public and private participants—we strongly recommend an in-depth legal review with counsel and advisors to understand contractual obligations and termination provisions. We believe P3 parties should come together to embrace the "partnership" aspect of the P3 and work toward a reasonable and mutually beneficial path forward whereby the contract can survive and stakeholders are not harmed.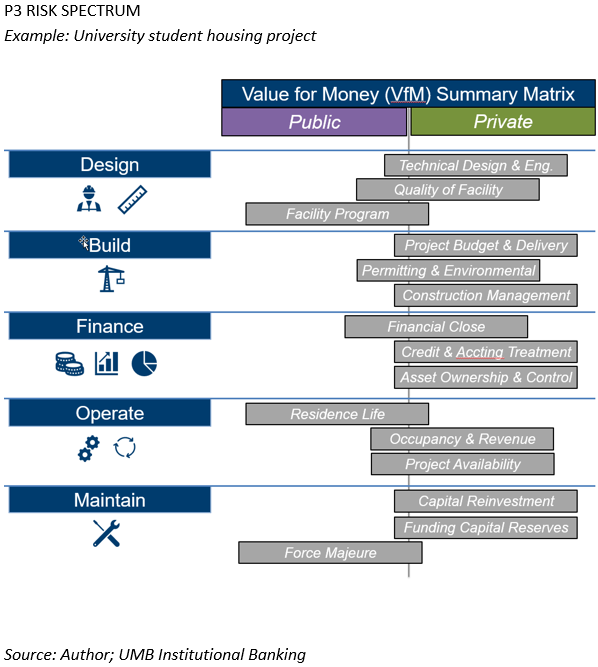 We are committed to serving higher education institutions nationally to maintain their continued financial strength and assist institutions to achieve their growth aspirations. UMB Financial Services, Inc. municipal advisors are well-equipped to assist in the P3 legal review and financial modeling process to help find a quality path forward during these complex conditions. Contact us to connect with a municipal advisor team member.
---
Disclosures
This communication is provided for informational purposes only and is (1) not an offer or solicitation for the purchase or sale of any financial instrument; (2) not a solicitation to participate in any trading strategy; (3) not an official confirmation of any transaction; and (4) not a recommendation of action to a municipal entity or obligated person and does not otherwise providing municipal advisor advice. The opinions expressed in the communications are those of the author and do not necessarily represent the opinions of UMB Bank, n.a., UMB Financial Services, Inc., or UMB Financial Corporation (Combined hereafter as "UMB"). The communication is based upon information available at the time of publication and is believed to be reliable, but UMB does not warrant its completeness or accuracy, and it is subject to change at any time without notice. UMB is not liable for any errors, omissions, or misstatements. You should discuss any information and material contained in this communication with any and all internal or external advisors or other professionals that are deemed appropriate before acting on this information.
Securities offered through the UMB Investment Banking Division and UMB Financial Services, Inc. are:
NOT FDIC INSURED | MAY LOSE VALUE | NOT BANK GUARANTEED
UMB Investment Banking Division is a separately identifiable division of UMB Bank, n.a. UMB Bank, n.a., is an affiliate within UMB Financial Corporation. UMB Financial Services, Inc., Member FINRA, SIPC, is a wholly owned subsidiary of UMB Financial Corporation, and an affiliate of UMB Bank, n.a.
John Wendling
John R. Wendling joined UMB Bank, n.a. in 2019, as senior vice president for the Investment Banking Division's Public Finance Group. John maintains a specialty in the higher education and non-profit sector as well as public-private partnerships, where he provides national coverage for UMB. John has more than 13 years of public finance experience having completed more than $3.5 billion in financings since 2006 across multiple sectors and types of debt offerings. In bringing his extensive experience to UMB, he is proud to provide astute and well-reasoned investment banking services, including structuring and marketing negotiated municipal underwritings and private placements, to UMB's higher education, nonprofit, municipal, healthcare and corporate issuers/borrowers. He is a consistent speaker and contributor at many industry conferences including NACUBO, CACUBO, OACUBO, CDFA and more. John earned his Bachelor of Arts degree in economics from Duke University, and holds FINRA Series 7, 52, 63 and 79.