The new approach to inflation
Federal Reserve (Fed) Chair Jerome Powell is not the only American who had his vacation canceled this summer. The central bank's annual policy symposium, traditionally held in Jackson Hole, Wyoming, was instead held virtually during the last week of August. Powell announced in his speech a new approach to policy that takes a more relaxed stance on inflation. The announcement came out of a comprehensive policy review which will occur every five years going forward.
The Fed will seek inflation that averages 2% over time, a step that implies allowing for periods of overshoots. He also announced that the assessment of the labor market will emphasize that maximum employment is a broad-based and inclusive goal. Powell stated, "This change reflects our appreciation for the benefits of a strong labor market, particularly for many in low- and moderate-income communities."
In his speech, Powell noted three factors that led to this decision:
The potential longer run growth rate has declined
The general level of interest rates has declined along with expectations for the neutral fed funds effective rate
A record long economic expansion led to the best labor market in some time, but did not trigger a sustained level of inflation
The graph below demonstrates the last point. This shows the unemployment rate against the inflation rate (Core PCE). Despite 10 years of tightening labor conditions, we saw little inflationary pressures.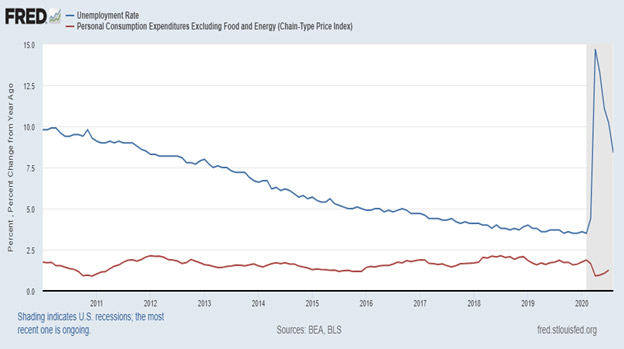 Source: Federal Reserve
So, why would we want higher inflation? Inflation that is consistently too low can be damaging to the economy. We have seen this dynamic set in with other major economies (Japan being the most pertinent example). Inflation also tells us where interest rates are going, and if they never move higher, the Fed will have less room to work with monetary policy in the future.
Much ado about nothing?
The Personal Consumption Expenditure Index, the Fed's preferred measure of inflation, has only averaged a 1.4% annual gain over the past 10 years. Many pundits simply ask, what is the point of a seemingly futile exercise?
The Fed's policy review began well before the COVID-19 pandemic. A surprising and welcomed effect of the record-long expansion was discovered in their review. The marginal labor market tightening toward the end of the cycle had an outsized impact on the employment and wages of lower income cohorts and communities. The recovery from the Great Recession was tepid at best, but the longer it went, the more people it benefited.
Commenting on this new policy shift, Fed Governor Lael Brainard suggested that the Fed may have acted differently in the last tightening cycle under the new statement: "Had the changes to monetary policy goals and strategy we made in the new statement been in place several years ago, it is likely that accommodation would have been withdrawn later, and the employment gains would have been greater." With that discovery in mind, the Fed would like to let that dynamic run in the future, especially if inflation is not an issue.
What could possibly go wrong?
On the other hand, aren't there risks to letting inflation run hot? We have seen unprecedented levels of liquidity and debt recently added to the markets to help combat the COVID-19 pandemic. The Fed's balance sheet sat at roughly $4 trillion before the crisis and has since ballooned to over $7 trillion.  We have also seen over $2 trillion in government stimulus, with more potentially on the way. This raises long-term questions about debt levels, currency stabilization and of course, inflation.
Recent rescue efforts have resulted in an unprecedented explosion in the money supply. Unfortunately, liquidity on its own does little to boost demand and spur growth. The money needs to change hands to cause price pressure. The rate at which money is exchanged in the economy is referred to as the velocity of money (GDP/M2).
With low rates, ample currency and easy credit, money is expected to flow freely through the system and thereby, eventually, lead to some inflation. But the actual result is often much different. Businesses do not expand and invest if they do not feel their return prospects on those projects are insufficient to justify the outlay, no matter how cheap the credit. Likewise, an overleveraged middle-class consumer scared for their job and finances may not make discretionary purchases. They will either pay off debt or sock it away. And just like that, the circulation of that dollar is finished on the spot. So, the velocity of money is arguably vastly more important than the supply. If the liquidity is not moving around the system, the positive economic effect is questionable. We can save the debate on the Fed purchasing corporate bonds and exchange traded funds (ETFs) for another day.
The graph below shows the velocity of money (M2) from 2000 to present. Interestingly, the velocity of money did increase after the financial crisis with the Fed injecting record liquidity. Clearly, supply side monetary policy takes a long time to work, or rather might not work at all.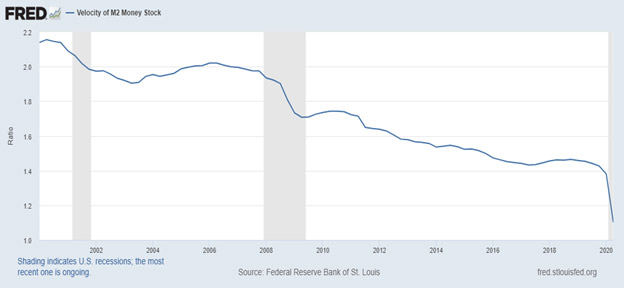 Source: Federal Reserve
The velocity of money has plummeted since the pandemic. With the economy shut down and a rocky reopening thus far, less cash has changed hands (as evidenced by the coin shortage). This should rebound as we dig out of the current crisis and will be something to watch closely.
Parting thoughts
What does that all mean for your balance sheet and portfolio? The Fed has made it clear that it will be erring on the conservative side when contemplating future tightening to monetary policy. The Fed's dot plot recently showed all committee members project the Fed Funds rate to remain pegged at zero through 2022. Additionally, a New York Fed survey of primary dealers in July 2020‡ found that they don't expect the Fed to raise interest rates until 2024.
The Federal Reserve in all its facets is the smartest financial body in the world, with a reserve currency at its disposal, comprised of people like you and me who have real needs, real problems and real goals. There are a lot of questions about this change in inflation policy, and certainly many more questions than answers right now. It is no doubt concerning that the Fed has given themselves ample leeway to continue to juice the system over the short to medium term. However, this policy change also reflects that they realize their systems and policies are imperfect and are willing to adjust for the best economic outcomes as those situations and dynamics reveal themselves.
From the pen of former Alliance Bernstein chief economist, Joseph Carson: "A critical review of the pros and cons inflation targeting will have to wait for the next crisis. It usually takes three crises before policymakers realize something is fundamentally wrong with their framework." Time will tell whether this is the case.
UMB Bank Investment Banking Division delivers a comprehensive suite of solutions, including market data and modeling, technology platforms and fixed income sales. Visit umb.com to learn how UMB Bank Investment Banking Division can support your bank or organization, or contact us to be connected with an investment banking team member.
---
This communication is provided for informational purposes only. UMB Bank, n.a. and UMB Financial Corporation are not liable for any errors, omissions, or misstatements. This is not an offer or solicitation for the purchase or sale of any financial instrument, nor a solicitation to participate in any trading strategy, nor an official confirmation of any transaction. The information is believed to be reliable, but we do not warrant its completeness or accuracy. There are risks associated with all transactions involving investment securities. As with any investment, please read all offering information, prospectus, or any other required disclosures before initiating any transaction. Past performance is no indication of future results. The numbers cited are for illustrative purposes only. The opinions expressed herein are those of the author and do not necessarily represent the opinions of UMB Bank, n.a. or UMB Financial Corporation. Future results may vary.
Products offered through UMB Bank, n.a. Investment Banking Division are:
NOT FDIC INSURED | MAY LOSE VALUE | NOT BANK GUARANTEED
James Carlile and Francis Scheuerman
James Carlile is an investment officer for the Investment Banking Division at UMB Bank. He is responsible for helping institutional clients understand how to best manage their bond portfolios and interest rate risk. He joined UMB in 2013 and has more than 7 years of experience in the financial services industry. He holds a Bachelor of Finance and is a current MBA student at the University of Kansas. Francis Scheuerman is vice president, investment officer for the Investment Banking Division at UMB Bank. He offers transaction and portfolios services for banks, institutions, and financial advisors throughout the Midwest. He joined UMB in 2010 and has more than 10 years of experience in the financial services industry. He earned a bachelor's degree in finance and marketing from the University of Kansas and graduated from the Graduate School of Banking in Madison, Wisconsin in 2018.