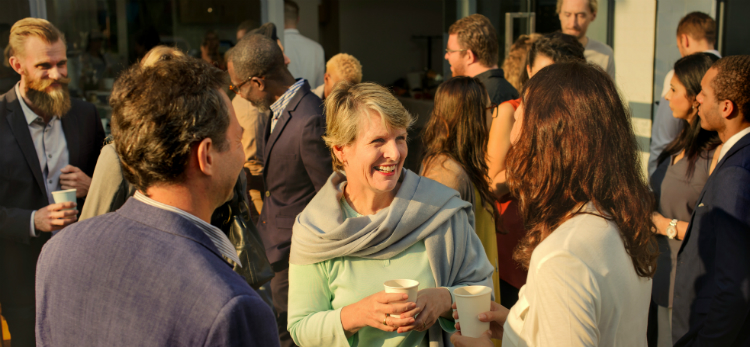 Leadership Denton graduate shares three takeaways
Nathan Stafford, vice president and branch manager for UMB Bank, shares details about his experience and valuable lessons learned as a Leadership Denton participant.
In April, I had the honor of graduating from the Denton Chamber of Commerce's Leadership Denton program—a nine-month program where experienced and emerging leaders attend sessions with local and state governments, nonprofits, and community and business leaders. When I first applied, I wasn't sure what to expect—I had heard extremely positive things, but before becoming a Leadership Denton graduate, I had no idea just how valuable this program would be.
Here are a few of the most important items I learned
Build Relationships and Learn From Each Other
As someone who just moved to the Denton area, I took full advantage of the opportunity to see several different organizations throughout Denton and learn from all the leaders around me. During each session, we had the chance to build deeper relationships with each other and leaders across the city, which was one of my favorite parts of the program.
I connected with current and future city leaders, other finance professionals and many business owners. These are professional and personal friendships that I will carry with me into the future. Finding like-minded individuals who have a passion for the city I work and live in has been a great experience.
Collective Impact Can Change a City
Each month our meetings had a different theme, and each one opened my eyes to what makes a community unique. Experiencing how non-profits, education, arts and humanities, and even economic development work together to help make Denton an attractive place to move, raise a family, etc., really helped me understand what a community can accomplish when organizations focus on the citizens they serve.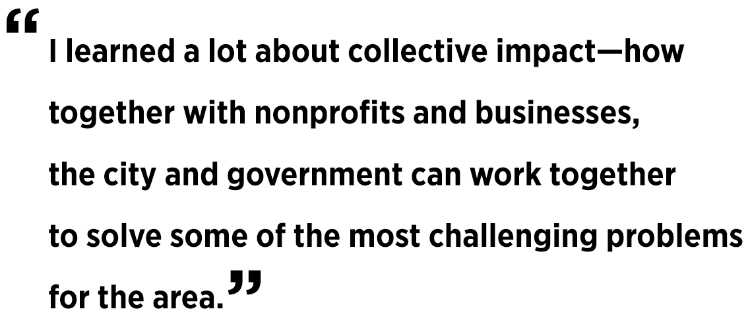 As a Leadership Denton graduate, I learned a lot about collective impact—how together with nonprofits and businesses, the city and government can work together to solve some of the most challenging problems for the area and drive positive change for the community.
For example, think about people who need services from different non-profits and social services in the area—if these organizations are communicating and working together, individuals can receive better and more efficient care that truly meets their needs.
Denton is experiencing a surge of growth. By utilizing this approach, our city can address important issues that will make Denton more citizen- and business-friendly.
Activate Learnings with Community Partners
Now that I am a Leadership Denton graduate, I am excited to become more involved in the community and with some of the organizations I was exposed to. This opportunity gave me new opportunities to volunteer and serve Denton in a positive way.
I have already started serving on the United Way Allocation Committee. This committee helps allocate funds from the United Way to deserving nonprofits in the area. We look at the needs and, together, determine where the funds will make the biggest impact. As I become more involved with the United Way, I look forward to sharing everything I learned during my time in Leadership Denton and from my day-to-day experience in banking.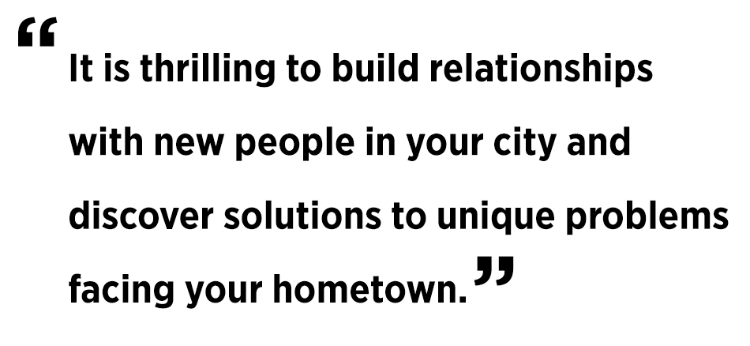 I would highly encourage everyone to explore the local leadership programs in their area and to learn how they can be a force for positive change in their community. It is thrilling to build relationships with new people in your city and discover solutions to unique problems facing your hometown.
Don't be afraid to get involved and discover the impact you can have, because every action helps—and personally, as a Leadership Denton graduate, I can't wait to get started.
Stay informed on industry trends and noteworthy company news by visiting our UMB in the News section on umb.com or following UMB‡ on LinkedIn.
 Follow UMB on LinkedIn‡, Facebook‡ and Twitter‡ to see regular updates about our company, people and timely financial perspectives.


Based on this post, we think you might also be interested in reading the following content:
* Here's why the best leaders support their teams through thick and thin
* From retail to banking: A conversation with Jenna Harris, branch manager
* Meet the Leadership: Shannon Johnson, Chief HR Officer
When you click links marked with the "‡" symbol, you will leave UMB's website and go to websites that are not controlled by or affiliated with UMB. We have provided these links for your convenience. However, we do not endorse or guarantee any products or services you may view on other sites. Other websites may not follow the same privacy policies and security procedures that UMB does, so please review their policies and procedures carefully.