Farmers throughout the Midwest recently experienced one of the wettest springs on record – a unique weather event that will go down in history. The lessons learned – and sometimes relearned – during the past few months have included the importance of planting dates, marketing plans, preparation, and the value of good crop insurance.
I talked about this challenging and opportunistic time recently with Brownfield Ag News‡ and shared some tips that farmers can use during this crop season and for many more to come.  
Know Your Planting Dates
Many farmers spent dreary days this spring wishing that they had gotten to the field just a little earlier, or had put off other work when they could have planted on a sunny day only to have many, many rainy days in a row keep them from the field. it is so important to know your planting dates and make it happen when you can, but this year it has been even more important. The truth is, you never know what tomorrow's weather will bring.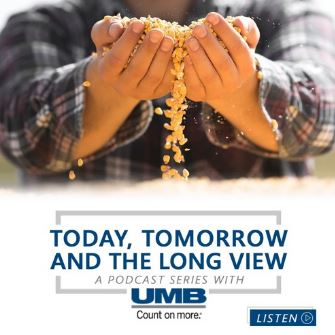 Know Your Costs and Marketing Plan
This spring has offered significant new profit opportunities for farmers across the country. Those with predictable yields (irrigation or reliable weather) can market a portion of the harvest with good profit margins while retaining a piece for potential additional margin capture as the final crop numbers play out across the next several months. It's vital to know your costs and have a marketing plan in place that you can act upon quickly.
Be Prepared for More Changes
This crop season isn't over. Farmers should be prepared for the various changes that the wet spring may still visit upon the crops. The wet to very wet growing conditions have forced both crops and farmers into a nontraditional growing season. Fertilizer, spraying applications, replanting and many other adjustments will be only some of the requirements for the rest of the growing season.
Farmers need to also be sure they have the funds available to pay for these increased expenses.
Yield forecasts for fields may vary widely from a "normal year," and the wet spring may reduce final yields, so prepare an alternative marketing plan accordingly. Those farmers who planted alternative crops from their original plan need to be preparing to address those crops needs in the weeks ahead. 
And if you planted a crop you haven't grown in a while (milo in many areas), consider reviewing your pre-plant soil conditions and plant needs for the complete growing season, and you may need to change your marketing plans to include the new/different crop into your overall cash plan. Harvesting, marketing and cash flow time lines will all change with a crop from the one you originally planned for.
Know Your Crop Insurance Coverage
Farmers need to know their crop insurance coverages and change them to meet the actual final planting plan. Unfortunately, it sometimes takes a crisis to remember that the cheapest crop insurance isn't always the best crop insurance. This will be a year that tests many of the assumptions farmers made last year about what is the right coverage for them.
I invite you to hear more on these tips in my recent conversation with Brownfield Ag News‡, and stay tuned for more ag updates throughout the year.
Our Agribusiness Division serves all areas of agriculture, including producers, processors, suppliers and manufacturers of equipment and goods, throughout a 12-state area. Learn more about what ag means to UMB and see some of our clients in action.
When you click links marked with the "‡" symbol, you will leave UMB's website and go to websites that are not controlled by or affiliated with UMB. We have provided these links for your convenience. However, we do not endorse or guarantee any products or services you may view on other sites. Other websites may not follow the same privacy policies and security procedures that UMB does, so please review their policies and procedures carefully.