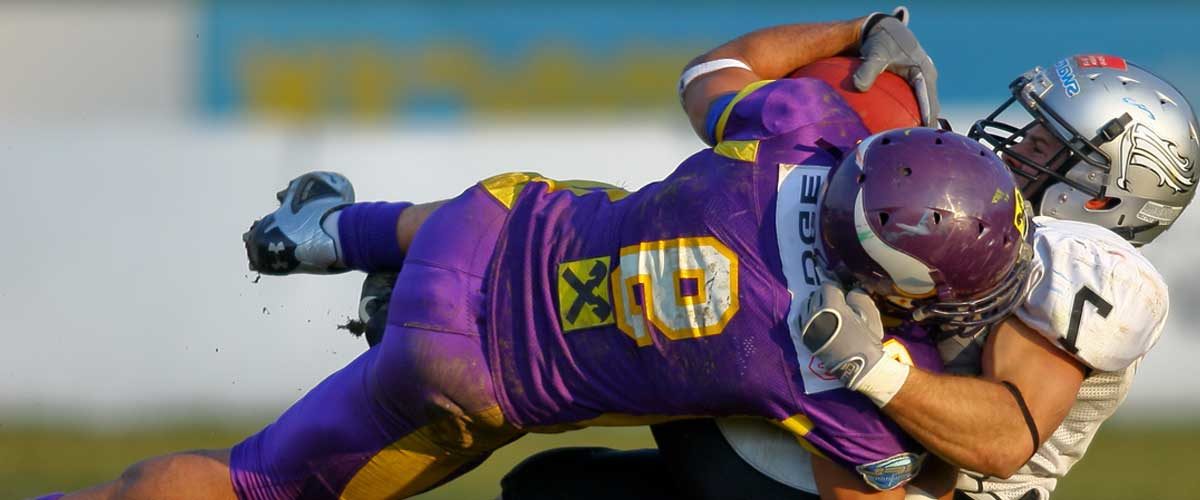 Life lessons learned in high school: Losing is part of winning
Jim Rine, Chief Executive Officer of UMB Bank, n.a. , shares his insights for pushing through difficult times and never giving up. He recently shared his story with the Kansas City Business Journal.
Anyone who knows me knows I don't like to lose. From a deal at work to a round of golf with my friends, I am a competitive guy. Part of that is just who I am, but part of it comes from my high school days playing on a football team that went 0-30 during my last three years there. Despite that losing record, our team never gave up and always showed up—for our fans, our school and most, importantly each other. It would have been easy for any one of us to quit and walk away from the agony of defeat every Friday night. But as much as I dislike losing, I despise quitting even more.
So, 30 years later, I have a few lessons that have stuck with me from my high school days.
Be Persistent
When you go three straight years not winning one football game, you learn the art of persistence. Our team just kept at it. Every practice, every work out and every game, we kept going and never gave up. We maintained a positive attitude through our long practices, and we were willing to put in the work, even when we didn't win.
Having the tenacity to keep going when you feel like everything is against you is an important career characteristic, and one that I try to instill in my teams here at UMB. I remind them that even though you may not land every deal, you must keep going. Keep making the calls and following up. Keep practicing and putting in the work. One day that persistence will pay off.
 Be Honest and Confident
When I started in the banking and financial industry, I couldn't land a client to save my life. It took a few years before I had a growing loan portfolio to manage. To get to that point, I had to sell what made me and UMB Bank different. I had to be confident (not arrogant) and honest, and people had to trust me.
I made a lot of phone calls and I had many long conversations with clients about why they should work with me and UMB. The biggest selling point for me and the clients was that I wanted to establish a personal relationship with them and offer a holistic approach to their business—and I truly believed I was the best person to do this for them.
Today, I still enjoy getting on the phone and talking with customers about how UMB can best help them achieve their goals. Persistence, honesty and confidence. When used in good faith, these three traits will seldom steer you in the wrong direction.
Be Humble
I admire President Harry S. Truman. I grew up in Independence, Mo., which is home to his presidential museum. During his career and presidency, he was always humble. He consistently tried to do what was right for the country and lived with a strong sense of integrity.
At UMB, I remind associates that this work isn't about us. It's about our customers and supporting our company. We have to stay humble while we work to build brand awareness in our markets and work to build relationships across a multitude of industries. As we continue to grow and expand, it is our attitude and work ethic that others will remember us by…and by which we should want to be remembered.
 Read more about Jim's background in this recent Kansas City Business Journal Newsmaker profile. And you can watch Jim in his own words during this video interview.
 See how we can help your business grow responsibly through thoughtful planning, measured growth and partnering with you along the way. You understand your business. We understand your financial fingerprint.
 Stay informed on industry trends and noteworthy company news by visiting our UMB in the News section on umb.com or following UMB on LinkedIn.
Based on this piece, we think you might also be interested in reading the following blog posts:
* Find a cause you care about and make it your passion
* Life is why: Heart-led event raises over $1 million
* Three lessons learned in Washington D.C.
When you click links marked with the "‡" symbol, you will leave UMB's website and go to websites that are not controlled by or affiliated with UMB. We have provided these links for your convenience. However, we do not endorse or guarantee any products or services you may view on other sites. Other websites may not follow the same privacy policies and security procedures that UMB does, so please review their policies and procedures carefully.

Jim Rine
James Rine (Jim) is president and chief executive officer of UMB Bank, n.a. He began his career at UMB in 1994, and has served in leadership roles of increasing responsibility. In his current role, he is responsible for commercial banking, institutional banking, personal banking, business banking, private wealth management, healthcare services, loan underwriting and approval, bank products and services, and corporate marketing and communications.