The Kansas City Business Journal‡ recently profiled Nikki and his return to UMB to lead our Private Wealth Management division, but we wanted to learn more about what inspired him early on to pursue a career in wealth management. Check out the below Q&A to learn more about our newest leader.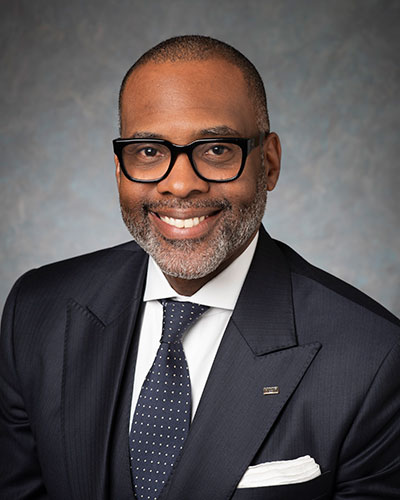 Q: When did you first know you wanted a career in wealth management?
I knew from the time I was 12 years old that this was the career for me, odd as that sounds. As a kid, I believe it's difficult to picture yourself in a career you can't visually see, and that's where my path started.
I grew up in a very small town in Arkansas with limited entertainment options. At that time, we had only a few television channels and programs like "Gunsmoke" and "The Andy Griffith Show" were popular. While I enjoyed those shows, I didn't see myself in those characters whether that be as a sheriff or a cowboy.
One night I stumbled upon a PBS program called "Wall $treet Week with Louis Rukeyser". The host and panelists would discuss the market, investing and the economy in a way that I had never been exposed to. I was immediately hooked. Not only did the subject matter interest me, but there were people who looked like me on this show. They had different panelists weekly, and there was usually at least one African American. To me, this reinforced this was a potential career path and one that excited me.
Q: We heard you actually met one of the investor panelists that inspired you. What was that like?
Yes, and funny enough, it was also on a panel. In 2017, I was on a panel at the National Association of Securities Professionals in Baltimore, and seated next to me was Eddie Brown‡, chief executive officer of Brown Capital Management. He was one of the investors I had watched all those years ago. During a pause in the session, I leaned over and told him he was one of the reasons I chose this profession – it was a truly full circle moment.
Q: Since returning to UMB, what are you most excited about in your new role?  
I believe we are in an optimal time to capitalize on the distinct role a bank can play in a person's life and how advantageous that is for financial planning and investment management. Banks were the first financial institutions and uniquely carry the lifecycle of a person—from a first checking or savings account to their mortgage, brokerage accounts, wealth planning, retirement planning and so on. 
We will continue to be focused on how to bring the utmost value to our clients through active planning – it is an exciting time to be here and in my role.
Interested in learning more about our Private Wealth Management division or our Investment Management group? See what we mean when we say, "Your story. Our focus."