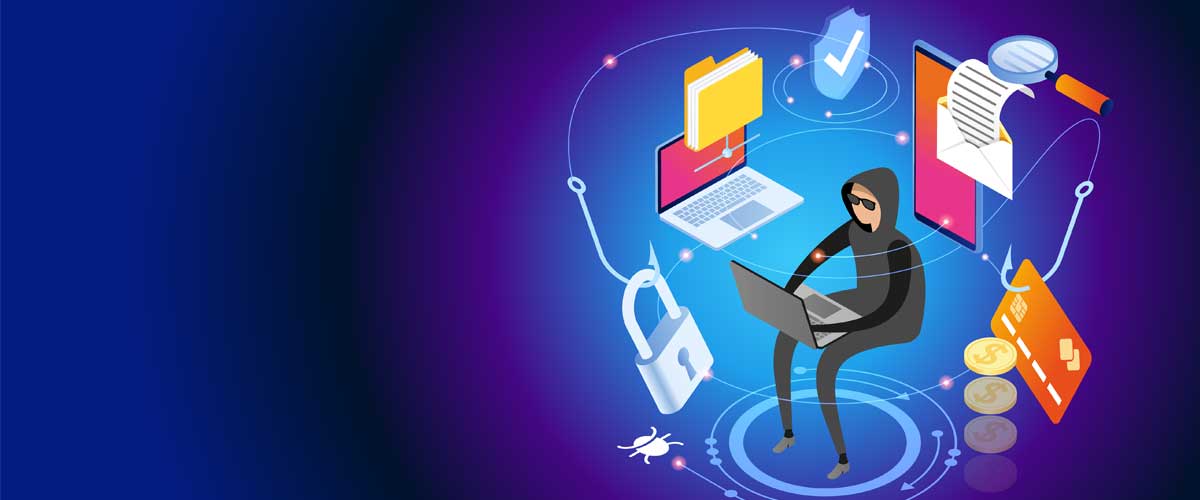 Staying cyber-safe during the COVID-19 pandemic
Cybercriminals use deception and take advantage of fear, which means it's more important than ever to stay aware and vigilant of COVID-19 scams so you can help prevent fraud.
Social distancing, washing hands and wiping down surfaces with antibacterial wipes are all current recommendations‡ for personal care with the rise of COVID-19 (commonly referred to as coronavirus). But this is also a time to be mindful of other ways COVID-19 could impact finances and personal information.
Phishing
Phishing for personal data and online access can take many forms. They can look like emails, texts, social media or other online messages that appear to have been sent from a familiar company or friend. Recent phishing schemes might include impersonating the World Health Organization (WHO), the Center for Disease Control (CDC), and other reputable sources. Never click links in these types of messages and emails—instead, go directly to the trusted source.
Charitable giving
As the pandemic affects the U.S., people may need help, whether for supplies, medical care or something else. But be wary of requests—not matter how they reach you. The Federal Trade Commission recommends‡ researching charities online (not through links provided in an online messages or emails). Be careful how you're being asked to provide funds because a legitimate charity will never ask you to pay in a retailer gift card, and do not let them rush or guilt you into donating.
Elder fraud
According to the AARP Public Policy Institute‡, one in five elderly Americans are victims of financial exploitation each year. Watch for the below types of scams that could impact you or your older loved ones:
A phone call from someone posing as a grandchild or loved one claiming to need money for COVID-19 medical treatment
A special stock market deal
A cybercriminal posing as a non-profit or religious organization seeking donations
Business email compromise (BEC)
BEC scams are a type of payment fraud that involves the compromise of legitimate business email accounts for the purpose of conducting an unauthorized wire transfer. During an unsettling time, it's natural that many Americans will be moving money to different accounts to take care of financial needs. To avoid becoming a victim:
Validate wire transfer requests
Verbally confirm any change in payment instructions (using contact data on file, not any received via email for voicemail)
If you feel you are being baited into a BEC, report it immediately to the Federal Bureau of Investigation's Internet Crime Complaint Center.
Check fraud
Check fraud is a type of scam where a fraudster writes you a bad check to deposit into your legitimate bank account. Your bank has a relationship with you, so many times it will release those funds to you before the check officially clears. When it's a bad check, the money never clears and you owe the money back to your account. If someone asks you to deposit a check for them, or they write you a check for more than you are expecting, be wary of this outcome.
Viruses and malware
You might see a message on your laptop or mobile device that tells you a virus has been detected due to suspicious activity. This message may also instruct you to "Click here to run a diagnostic on your device." Much like a cold virus, a computer virus or malware‡ may come from clicking on a phishing link or as a result of having outdated antivirus protection. In addition to refraining from clicking on urgent pop-ups like these that might appear on one of your electronic devices, be sure to install antivirus protection and keep your hardware and software updated.
Working remotely
An increased number of Americans are working remotely – some for the first time; while in other cases, some are increasing the frequency with which they work remotely. Some important reminders for remote workers:
Do not trust caller ID (especially if you have forwarded your office phone to a personal device).
Refrain from sending any company or sensitive office data to or from your personal email account.
If you do need to send a file or other sensitive data, talk with your company to see if they have an encryption method in place you can use before sending.
Monitoring your account and reporting fraud
It's important to check your financial account balances frequently to monitor activity and keep an eye on your accounts. How quickly you report fraud to your bank could affect whether you are responsible for all or a portion of the fraudulent checks or charges.
It's also important to open and review statements immediately, whether you're receiving them digitally or via hard copy. Also, do not share your PIN, online banking login or password with anyone. If you do, and they commit financial fraud, you may ultimately be responsible for any fraudulent charges or withdrawals because you provided them access to your accounts.
Stay connected
When you click links marked with the "‡" symbol, you will leave UMB's website and go to websites that are not controlled by or affiliated with UMB. We have provided these links for your convenience. However, we do not endorse or guarantee any products or services you may view on other sites. Other websites may not follow the same privacy policies and security procedures that UMB does, so please review their policies and procedures carefully.
UMB Financial Corporation
UMB Financial Corporation (Nasdaq: UMBF) is a financial services company headquartered in Kansas City, Mo. UMB offers personal banking, commercial banking, healthcare services and institutional banking, which includes services to mutual funds and alternative-investment entities and investment advisory firms. UMB operates banking and wealth management centers throughout Missouri, Illinois, Colorado, Kansas, Oklahoma, Nebraska, Arizona and Texas.