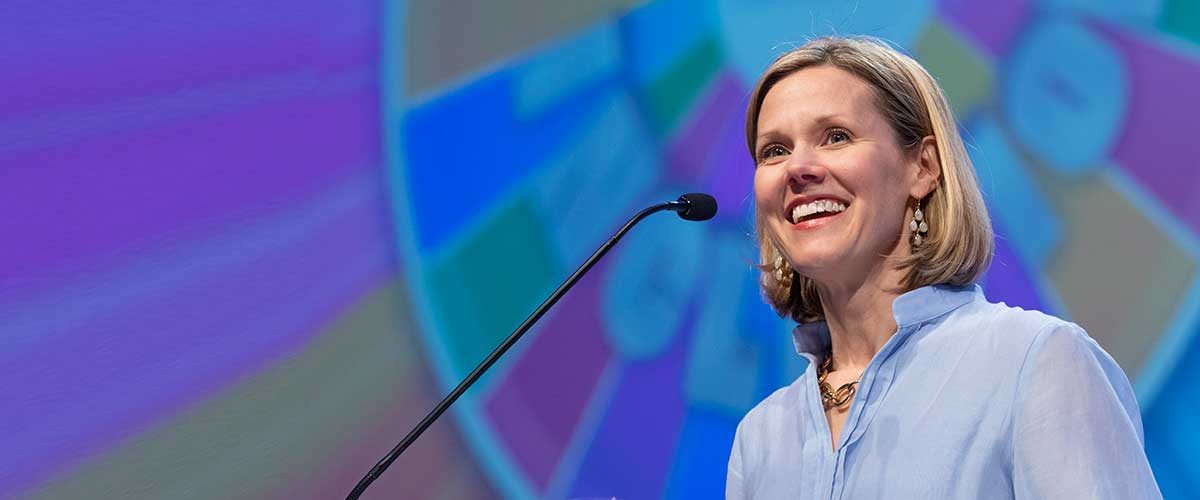 Abby Wendel Talks About Her Career Journey and UMB Consumer Banking
From an analyst with The Federal Reserve Bank of Kansas City to president of consumer banking at UMB Bank, Abby Wendel's 23-year career has been full of opportunity and change. Abby recently talked with the Kansas City Business Journal about her journey and what the future of consumer banking looks like at UMB.
When I became president of consumer banking at UMB last October, it was the perfect time to reflect on my career as well as an incredible opportunity to look forward to the future. I remember thinking that while I was venturing into uncharted territory, my diverse career and passion for leadership during the past 23 years had prepared me for this role.
I had the chance to consider this again during a recent conversation with the Kansas City Business Journal.‡ Walking away from that interview, I was reminded of how fortunate I am to lead our consumer banking team of more than 600 associates and how proud I am to work at a financial institution that can take care of people throughout their entire lifetime – from teaching about money at an early age to planning for retirement to helping an individual leave a legacy that lasts well beyond their time on this Earth. I was also reinvigorated about the prospect of what lies ahead for us as a group and an organization.
While UMB has always had a focus on consumer banking, we are dedicating even more resources toward this business as a part of our corporate strategy. That means exciting changes for our consumers and our associates, some of which include investing in technology and redefining the branch experience.
In addition to those changes, we continue to provide financial education, tools and resources to our customers every day. This includes working together to create a financial roadmap and providing guidance that helps our customers get to where they want to be. Our mission is for everyone who works with us to feel educated, empowered and prepared to meet their financial goals today and long into the future.
You can read more about our work at UMB and my own personal journey in this Kansas City Business Journal profile.‡ It will give you a glimpse into the future of consumer banking at UMB and many of the initiatives we are excited about for our customers and associates.
UMB personal banking solutions offer convenience and simplicity to meet all your past, present and future financial needs. From home loans to auto financing and everything in between, see how UMB personal banking can work with you to find the right products for your life and lifestyle.
When you click links marked with the "‡" symbol, you will leave UMB's website and go to websites that are not controlled by or affiliated with UMB. We have provided these links for your convenience. However, we do not endorse or guarantee any products or services you may view on other sites. Other websites may not follow the same privacy policies and security procedures that UMB does, so please review their policies and procedures carefully.
Abby Wendel
Abigail (Abby) Wendel joined UMB in 2008 and is president of UMB's Consumer Banking division, which includes retail banking, private banking and mortgage banking. She is responsible for leading strategy, managing teams, driving service and revenue goals, and providing customers with innovative solutions while aligning with overarching bank priorities. Abby also serves on UMB's executive leadership team, asset/liability committee and enterprise risk committee.