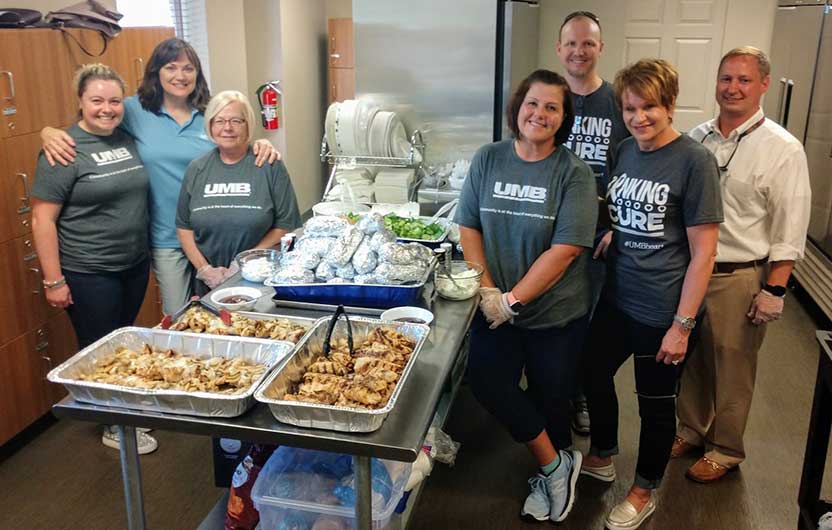 Nearly everyone has been affected by cancer in one way or another. Through volunteerism, fundraising and much more, I and other UMB associates have spent the past year hosting events and activities to support the American Cancer Society (ACS) and its tireless work to stop the disease through research, compassion and action. Here are some highlights of how UMB Bank St. Louis has joined the fight against cancer.
Champions of Hope Gala
It was an honor to chair the 4th Annual Champions of Hope Gala‡, presented by UMB Bank. This year's event raised nearly $1.5 million, bringing the four-year total to more than $5.2 million. Every dollar raised at the Champions of Hope Gala allows the ACS to help people facing a cancer diagnosis today, educate people about how to reduce their risk for cancer or detect it early when it's the easiest to treat, and to fund cancer research that will help protect future generations.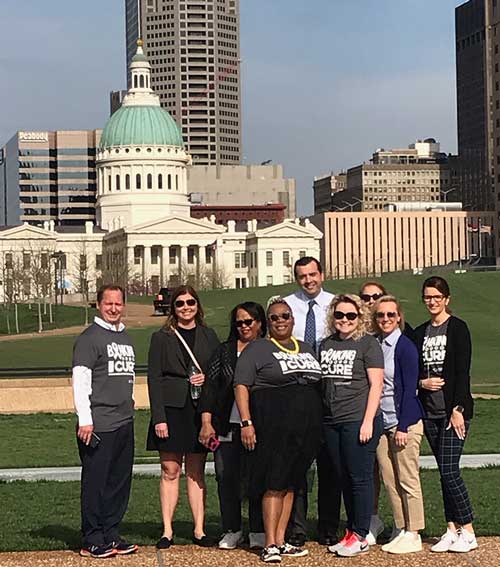 Hope Lodge St. Louis
This summer, associates volunteered at Hope Lodge and helped prepare a fantastic dinner – complete with grilled chicken, baked potatoes, salad, rolls and gooey butter bread – for 60 cancer patients and caregivers. Associates also participated in fundraising activities throughout the year, raising more than $7,500 for the Hope Lodge capital campaign. From jeans days to raffles, including the chance to throw out a first pitch at a Cardinals game, associates had a great time raising awareness and funds for ACS and Hope Lodge. Hope Lodge offers cancer patients and their caregivers a free place to stay when their best hope for effective treatment is in another city. With a goal of $10 million, the Hope Lodge St. Louis capital campaign is well on its way thanks in part to UMB associates and a $500,000 gift from the Enid and Crosby Kemper Foundation, UMB Bank, N.A., trustee.
Mammography van
In addition to involving our associates in our support of ACS, UMB engaged the community by bringing a mobile mammography van to downtown St. Louis. We screened twice as many women this year than we did in 2018. Four women came in for their first-ever mammogram — a fact we are proud to celebrate! It's clear our efforts to promote women's health, and to reach women in need of these screening services, were effective.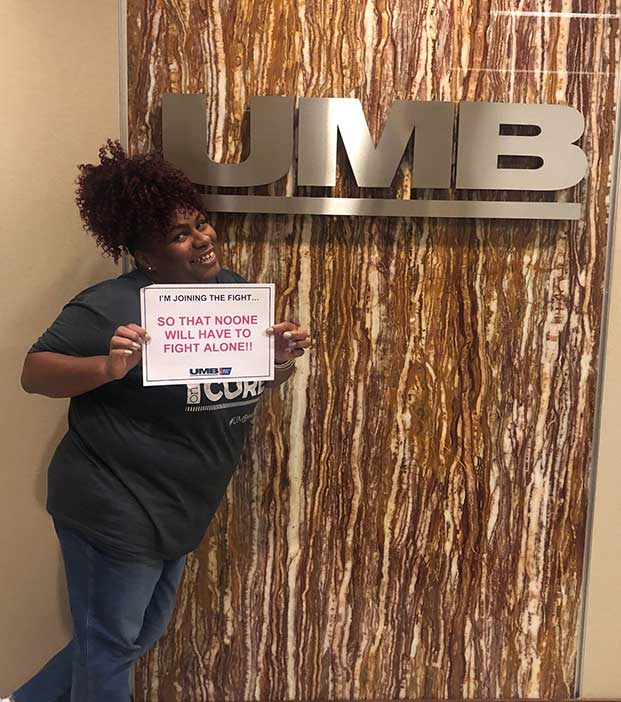 Fit2BeCancerFree
I joined other CEOs in St. Louis to participate in the Fit2BeCancerFree step challenge. For this one-day, nationwide challenge, ACS encouraged people to get active and to promote cancer prevention. That day, all of my meetings were on foot, which helped me to take the top spot in the St. Louis market with more than 80,000 steps!
I'm joining the fight photos
Every day we celebrate our associates' individuality and uniqueness. Building upon the idea of celebrating our identities, we introduced the "I'm joining the fight…" campaign to help bring awareness to the fight against cancer. The responses were emotional and inspiring.
As I look ahead to 2020, I can't help but reflect on what an honor and a privilege it has been this past year to work alongside other leaders in our community and to support the fight against cancer. I encourage everyone to visit the American Cancer Society's website‡ to learn more about how you can get involved.
Stay informed on industry trends and noteworthy company news by visiting our UMB in the News section on umb.com. Follow UMB on LinkedIn, Facebook‡ and Twitter‡ to see regular updates about our company, people and timely financial perspectives.
When you click links marked with the "‡" symbol, you will leave UMB's website and go to websites that are not controlled by or affiliated with UMB. We have provided these links for your convenience. However, we do not endorse or guarantee any products or services you may view on other sites. Other websites may not follow the same privacy policies and security procedures that UMB does, so please review their policies and procedures carefully.