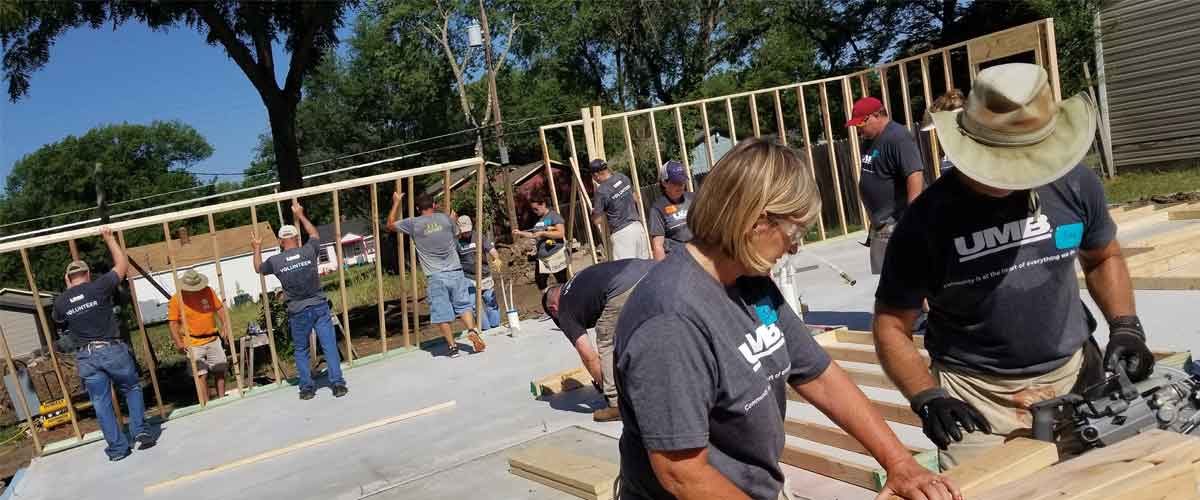 UMB makes a big impact in the community
Jen Houston, vice president and community relations manager at UMB Financial Corporation, shares the nationwide impact UMB associates had in 2018 and the value they brought to their respective communities. Read more to see how our associates are bettering the communities where they live and work.
If you know UMB, you know our associates are proud of where they live and work and are dedicated to the prosperity of their local communities. That's why we are excited to share our 2018 Community Impact Report, which showcases the programs and initiatives that contribute to our communities' vibrancy and success.
Our goal at UMB is simple — allow our associates to be their best, both personally and professionally. We do this by empowering them to get involved and helping them support causes they care about through our volunteer time off and matching gift programs. Each year, we proudly offer our associates two paid days of volunteer time off to spend supporting the qualifying nonprofit organizations of their choice. We also amplifying the impact associates have on nonprofit organizations by matching their personal qualifying contributions.
I have always believed in UMB's commitment to the community and appreciated our dedication to volunteerism. This philosophy guides how the company and our associates invest their time and talent, and it shows. In 2018, UMB associates volunteered with more than 675 nonprofit organizations, logging more than 25,000 hours of community involvement. We encourage our associates to use their various skills and strengths to go out into the community and to support organizations that need their expertise. Based on the value of volunteer time, as calculated by the Independent Sector‡, the time and energy UMB associates spent supporting nonprofit organizations in 2018 is valued at more than $556,000.
In 2018, the program's inaugural year, the UMB Foundation matching gift program amplified the impact of associates' personal financial contributions and donated $75,000 to nonprofit organizations across the nation. The various donations and financial contributions made by UMB in 2018, including the matching gift program, total more than $2.4 million.
Our diverse and talented workforce adds value and perspective to UMB. We are committed to reinvesting in our communities and supporting our associates in the organizations they are most passionate about. That is an essential part of our culture and what makes us stand out.
You can view the full report at umb.com/community.
Stay informed on industry trends and noteworthy company news by visiting our UMB in the News section on umb.com. Follow UMB on LinkedIn, Facebook‡ and Twitter‡ to see regular updates about our company, people and timely financial perspectives.

When you click links marked with the "‡" symbol, you will leave UMB's website and go to websites that are not controlled by or affiliated with UMB. We have provided these links for your convenience. However, we do not endorse or guarantee any products or services you may view on other sites. Other websites may not follow the same privacy policies and security procedures that UMB does, so please review their policies and procedures carefully.

Jen Houston
Jen Houston is senior vice president/community relations manager at UMB. In her role, she works to create volunteer opportunities and to be a resource for associates looking to get involved in their communities. Jen holds a Bachelor of Journalism degree and a Bachelor of Arts degree in Spanish from the University of Missouri – Columbia. She also holds a Master of Business Administration degree, with an emphasis in leading and managing people, from the University of Missouri – Kansas City, in addition to completing the Multimedia Studies Certificate Program at the Kansas City Art Institute.