When we began designing the new School of Economics location at our downtown UMB campus, we wanted to create a space that students, parents, teachers and volunteers would enjoy. No matter which part of the region they live in, they're sure to see familiar landmarks and lifelike storefronts that get them excited for a day of finance made fun. To make this vision a reality, we collaborated with the Kansas City Art Institute (KCAI) MicroAgency‡ to bring to life storefronts and backdrops at School of Economics at UMB.
A familiar and creative space for learning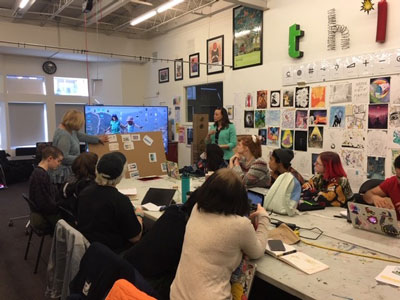 At the onset of this project, KCAI students spent hours brainstorming design details and ideas as they prepared concepts for a city hall, eight storefronts and several background murals. The UMB and School of Economics project team, which was made up of professionals from various backgrounds and industries, asked for the designs to be inspiring, intentional and inclusive.
We felt it was important that the finished designs strike just the right balance between a real-world business district while igniting the imagination and enthusiasm of elementary-aged children. The KCAI students did a wonderful job of incorporating familiar landmarks and cultural references into their artwork so that the cityscape would be welcoming for all students.
Collaboration is key to success

The project didn't just mean the KCAI students would design a real-world space for kids. Working with UMB, a corporation, and School of Economics, a nonprofit, meant these soon-to-graduate artists were able to experience the excitement and challenges of working on a commissioned project. From factoring in brand guidelines to accessibility considerations, the KCAI students had to accommodate several rounds of feedback, permitting and code specifications and many other details into their artwork.
By working with KCAI students, we were able to access local creative talent and to help students gain experience and expand their portfolio as they prepare to find a career that takes full advantage of their artistic abilities.
Versatile for the future
Recognizing that this space will be enjoyed by up to 10,000 students and will be in use more than a hundred days each school year, it was important the design and materials be durable. The finished artwork designed by KCAI students was printed on large vinyl sheets so they could be easily reprinted if they were damaged. This also allows the School of Economics the flexibility to evolve the learning space with the program.
We're so grateful to have worked with KCAI students on this project. It was obvious that SOE at UMB would impact elementary students, but by participating in KCAI's sponsored studio we were able to impact some of Kansas City's older students, too. They poured endless hours of hard work into the designs and artwork that are now on display for students, teachers and volunteer to enjoy and their artwork is helping to inspire creativity and financial learning for thousands of Kansas City's youth.

Stay informed on industry trends and noteworthy company news by visiting our UMB in the News section on umb.com. Follow UMB on LinkedIn, Facebook‡ and Twitter‡ to see regular updates about our company, people and timely financial perspectives.
When you click links marked with the "‡" symbol, you will leave UMB's website and go to websites that are not controlled by or affiliated with UMB. We have provided these links for your convenience. However, we do not endorse or guarantee any products or services you may view on other sites. Other websites may not follow the same privacy policies and security procedures that UMB does, so please review their policies and procedures carefully.