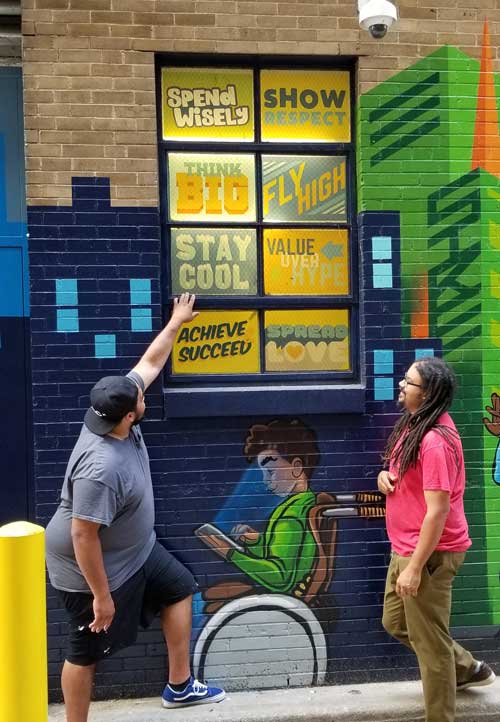 When students first arrive at the School of Economics at the downtown UMB campus, they are greeted with vibrant visuals that energize their day. School of Economics and UMB want students to be excited to learn economic and financial principles from the moment they arrive. The big, bold exterior mural does just that, but there's more than meets the eye when it comes to this collaborative project of three murals by JT Daniels‡ and Phil Shafer‡ for School of Economics at UMB. 
The magic's in the details
The exterior mural is a statement piece full of symbolism. Whether it's their first visit or they've been to School of Economics at UMB several times, students and teachers continue to explore and discover elements of the artwork. Phil's geometric and graphic backdrop includes a yellow and orange "KC" tucked into the cityscape and represents a gold standard of excellence. Inspirational phrases like "achieve and succeed" and "show respect" cover the building windows and seamlessly integrate into the mural.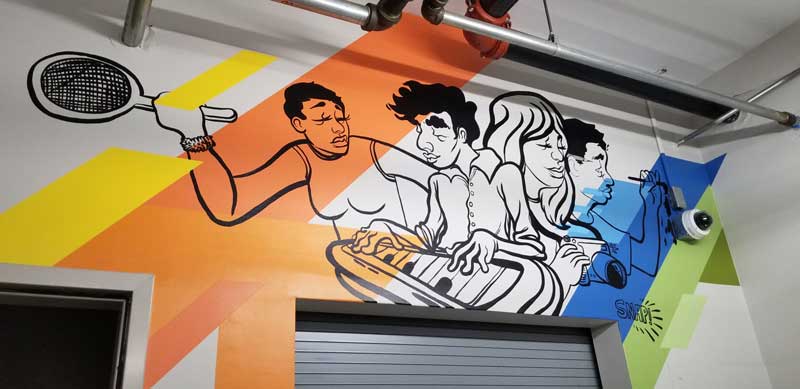 The people in the mural come from various backgrounds with different races, occupations and abilities. And the number of people featured in the exterior mural is no coincidence. JT was intentional about including six people to symbolize a six-figure salary, potentially an aspiration for students visiting School of Economics at UMB.
The exterior mural can be enjoyed by all, as it's located on the back wall of 928 Grand.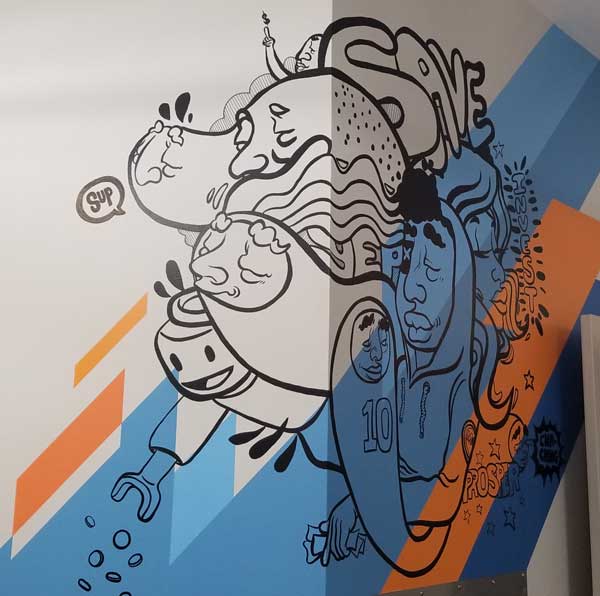 Thoughtful details continue inside
JT and Phil's attention to detail continues in the artwork inside UMB leading to the School of Economics. Characters are diverse in appearance and occupation. We know not everyone will grow up to work in financial services – although we can't wait until a few years pass and we hire a student who attended School of Economics at UMB — so we asked JT and Phil to also highlight professions in construction, sports and the arts.
In addition to financial and economic terms like invest, save and prosper, "yep" and "sup" are incorporated into the murals. A JT Daniels signature,
"yep" is a reference to Midwest vernacular and "sup" stands for surviving under pressure.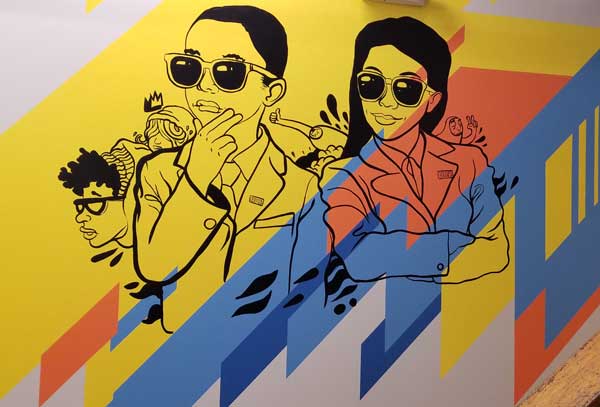 The third mural is the last the students see before they enter the 4,000-square-foot space inside UMB and operated by School of Economics. It features two young people who look determined and ready to get to work. If you look closely, you'll notice on their collars a UMB lapel pin — something every UMB associate receives on their first day of work.
Every stroke of these three murals at School of Economics at UMB is meaningful. We're so grateful to JT and Phil for their work on this project and we know students, teachers and volunteers‡ will enjoy exploring the details of this original artwork for years to come.
Stay informed on industry trends and noteworthy company news by visiting our UMB in the News section on umb.com. Follow UMB on LinkedIn, Facebook‡ and Twitter‡ to see regular updates about our company, people and timely financial perspectives.

When you click links marked with the "‡" symbol, you will leave UMB's website and go to websites that are not controlled by or affiliated with UMB. We have provided these links for your convenience. However, we do not endorse or guarantee any products or services you may view on other sites. Other websites may not follow the same privacy policies and security procedures that UMB does, so please review their policies and procedures carefully.