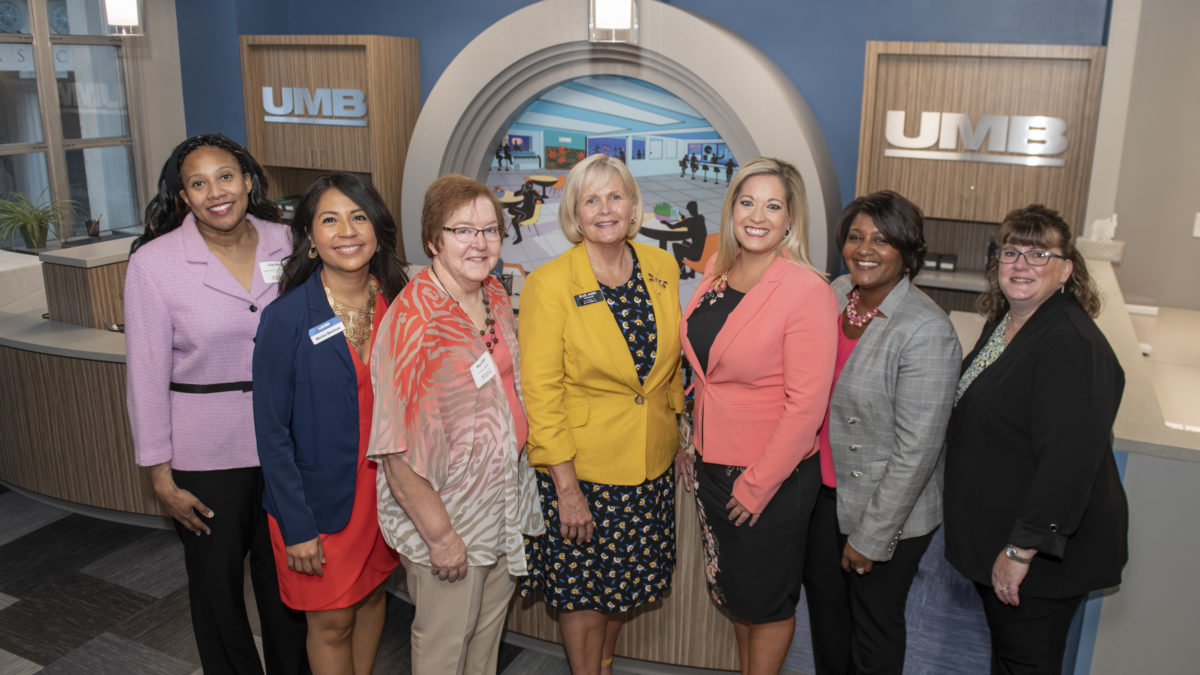 School of Economics: Making Big Changes Amid the Pandemic
School of Economics provides financial education programs to thousands of students from across the Kansas City metro area. To celebrate National Financial Capability Month, Jennifer Matney, director of operational risk management and the current board president tells us about UMB's involvement with the School of Economics, what it's been like to help lead this organization through a pandemic and the big plans she has for the nonprofit's future.
I was first introduced to the School of Economics‡ through my work at UMB and quickly realized how impactful the nonprofit is. It provides an immersive experience for thousands of children from across the Kansas City area and addresses a gap in financial education opportunities. By collaborating with UMB, School of Economics was able to expand and opened a second location for the 2019-2020 school session. UMB leases the space to School of Economics for just $1 a year, and provides an additional grant to help subsidize the cost of the program so that schools, including those in low-income areas, are able to attend. This allows School of Economics to provide the same level of service, fun and financial education, to schools and students in the urban core, that wouldn't be possible with only the original Blue Springs location.
Over the past two years, I've gone from a volunteer, to a board member, to president of the board. We are ready to further our reach and real-world teaching and we can't wait to welcome students back just as soon as schools are able to take field trips.
Leading through the pandemic
Community involvement is such an important part of my life. I've served on nonprofit committees and boards for more than a decade. This past year has included some of the most challenging nonprofit work I've ever experienced, but also the most rewarding. The pandemic has tested me as a leader, forced me to think outside the box, and to find new ways to motivate and encourage a different type of productivity, from a staff perspective, with the downtime. When we had students in the buildings, it was nonstop Monday through Friday. But the pandemic allowed us time to slow down and to tackle the items on our to-do lists such as the organization's structure, new technology opportunities, and enhancing our board development.
With the expansion to downtown Kansas City, there was a real need to focus our attention on creating not only an engaged board of directors, but also strong leadership within the board. In addition to setting fundraising and development goals, we were able to create marketing materials via video vignettes, and to audit our finances. When evolving and updating our board, we wanted to make sure we were focusing on diversity—and I'm pleased to share that 45% of our board members are people of color and 73% are women. To accomplish this, I created a matrix to help identify the gaps in our board make up from skillset to race, ethnicity, gender, geographic location in the metro, and the companies and industries represented. And, we had such an overwhelming response from people who wanted to join the board, we were also able to establish committees such as development and events, strategy, data and technology to name a few, something we've not had in the past.
Embracing technology
Operationally, the pandemic gave us a moment to level set and to evaluate program improvements so that it is a new and exciting experience when students are able to return. We connected with Young Americans Center for Financial Education‡ in Colorado to share ideas and to learn from each other's experiences in a challenging year. We were impressed by Young Americans' new technology system and have been looking for ways to incorporate similar technology into our program. For example, currently, students at School of Economics receive and deposit paper checks. We're exploring ways students can use a tablet to see the money transferred directly into their bank account through direct deposit, which is more in line with the realities of today.
With students learning virtually and both School of Economics locations sitting empty, we decided to produce videos to keep bringing real-world learning to kids. From setting the stage for what to expect your first day on the job, to covering economic basics like supply and demand, School of Economics collaborated with locally-owned businesses and other organizations to produce videos‡  that cover real life experiences.
Expanding the impact
The goal for School of Economics at UMB, our downtown campus, was to operate at 50% capacity the first year and I'm excited to say that we blew that out of the water, booking 75% for the school year. We would have been even more successful, surpassing every goal we had, if it weren't for the pandemic shutting us down in March 2020.
This program is so special and has an enormous impact on students. For me, it's been wonderful to watch kids flourish through our program. Each day the goal is for students to apply grade-level knowledge as they take out a business loan from the bank, run shops that produce and sell food and craft items, and try to pay off the loan — with interest — by the end of the session. A memory of one little girl stands out. Her job for the day was to be the shop's accountant. When she arrived at School of Economics that morning, she was extremely shy. With a little guidance, she was able to figure out her job and by the end of the day she was the "boss lady," distributing everyone's paychecks. The School of Economics not only teaches children about personal finances, it also develops leadership skills and encourages teamwork. While it's been sad to see the space sit empty, I'm glad this time allowed us to focus on making our programs even better. We can't wait to open our doors again soon.
To learn more about the School of Economics, read these other posts:
Stay informed on industry trends and noteworthy company news by visiting our UMB in the News section on umb.com. Follow UMB on LinkedIn, Facebook‡ and Twitter‡ to see regular updates about our company, people and timely financial perspectives.
When you click links marked with the "‡" symbol, you will leave UMB's website and go to websites that are not controlled by or affiliated with UMB. We have provided these links for your convenience. However, we do not endorse or guarantee any products or services you may view on other sites. Other websites may not follow the same privacy policies and security procedures that UMB does, so please review their policies and procedures carefully.
Jennifer Matney
Jennifer Matney is senior vice president/director of operational risk management at UMB. In her role, she leads the contracts management and model risk management teams as well as oversees the corporate insurance program. Jennifer holds a Bachelor of Arts in Finance and Business Management from Missouri Western State University, a Master of Arts in Economics, and a PhD in Economics and Public Administration, both from the University of Missouri – Kansas City.