UMB is proud to hire veterans in our local communities. Here we chat with Randy Rodgers, vice president, senior relationship officer on our practice solutions team and member of the National Guard.
Tell us about yourself.
I am a third-generation military member. My grandfather was a fighter pilot, and at one point, both of my parents served in the military. I was born in San Antonio, Texas and grew up in Wichita Falls, Texas, as well as Las Vegas, Nevada. It was normal for us to move every three years or so when my father would get his next military assignment. I moved to Mascoutah, Illinois in the sixth grade and have remained in the metro east area ever since.
How did you make your way from the Air National Guard to banking?
My mother helped me get my first job in banking back in 1997 as a bank teller for Magna Bank in Belleville, Illinois. I was going to college and it was the perfect job at the time. After two years of college, I realized how expensive school was and decided to join the military to help pay for my education. After all, it was in my blood. I knew I didn't want to move around a lot like my father did when he was in the service, so I joined the Illinois Air National Guard at Scott Air Force Base in 1999.
When I was done with my initial training, I came back to banking, and back to my previous job at Magna Bank, which became Union Planters not long after my return. I have worn two hats as a banker and National Guardsman ever since.
How have your experiences in the military shaped you as a banker and a leader?
In the military, I have been able to serve in progressive levels of leadership and experienced all facets of teamwork, accountability, and service before self. I have been called to active duty in support of emergencies both domestically, like floods, and overseas for conflicts like Iraqi freedom.
The one theme that is constant in both of my careers is the importance of valuing people. If you treat people with respect and make them feel appreciated, they will take care of you in turn. The importance of effective communication is also another valuable skill I have worked on in the military that helps me in my civilian life. I have always strived for excellence in everything I do, and that military-instilled trait helps me the most in my banking career.
Do you have any story or moment that stands out to you in your time of service?
I have a lot of great memories from my many deployments and trips for the military, but I think that my most memorable moment for me was when my parents pinned my 2nd lieutenant officer bars on me, and my grandfather read me my oath of office after I transitioned from being an enlisted member to an officer.
What do you do in your spare time?
This is a funny question, because after two jobs, it doesn't leave a ton of spare time. When I do have some, I am typically spending it with my family. I have three kids who are all extremely active. My son will soon be a sophomore in high school and is a three-sport varsity athlete, which means tons of games and practices. My middle daughter golfs in Junior PGA, and my youngest dances several nights a week at a local dance academy. My favorite thing to do with my wife is visit local beer breweries.
Is there anything else you'd like people to know about you?
I think I would like people to know that I extremely grateful for all the friendships and relationships that I have made over the years and look forward to seeing everyone when I return.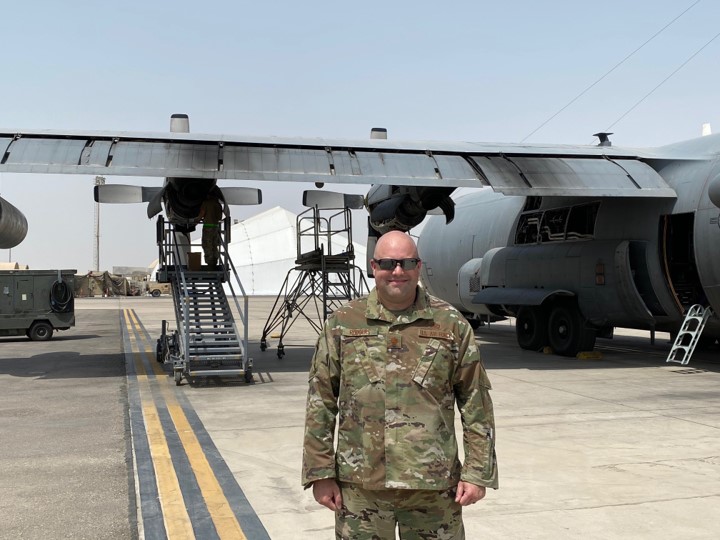 UMB is proud of Randy's service in the National Guard and all of our veteran associates who serve our country. If you are interested in learning more about how UMB can help your business as a financial partner, visit our website.
Stay informed on industry trends and noteworthy company news by visiting our UMB in the News section on umb.com. Follow UMB on Facebook‡ and LinkedIn‡ to see regular updates about our company, people and timely financial perspectives.