Leadership development is an important part of UMB culture. Every year, UMB presents Leadership Awards to a select group of associates who best demonstrate the attributes and behaviors our company values the most. While many of our associates admire, learn from, and are inspired by award winners like Vicky Hales – who was recognized this year in the "Actively Promotes UMB in the Community" category – it's easy to think of them only as the person they are in the present. However, the narrative of her career has an origin story and an arc that is anchored to the events, experiences and mentors that she has encountered along the way.
In 1990, Vicky started her career with UMB as a teller in Belleville, Illinois, and in mid-1993, she moved North to the Swansea, Illinois UMB branch to work as the assistant manager. It was there Vicky says she met the first of her mentors, Cathy Hayden who introduced Vicky to the concept of "the unparalleled customer experience."
"Of course we didn't call it that back then," she says, "but that's exactly what we were doing. Cathy, helped me develop the skills that enabled me to think outside the box in order to be able to provide 'TUCE' for my clients."
Several years later, Vicky continued to build on her career successes, and earned a role as a regional trainer with the responsibility of developing a training program from scratch. This is where she met her next mentor, Joe Thompson.
"Joe was the regional manager of the St. Louis region at the time. He trusted me to take ownership of the creation of a training program that, before I started, had not existed. Joe also helped me to understand and develop the skills to navigate the different dynamics in a work place in order to accomplish goals."
While many think of navigating group dynamics as only applying to teams you're working on, Vicky says that it also applies to teams you're leading, and an important component of that is understanding how to set expectations.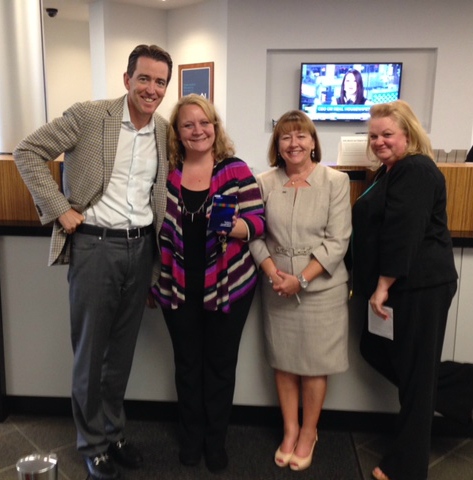 "If you're out at night and see people on the street, you'll notice that they naturally shy away from following poorly lit paths because it's unclear about what's at the end or how it will get them to where they want to go. Similarly, in my role, I always want illuminate the path to our goal so that people see clearly how we can get there. That means setting clear expectations, and gaining buy-in, from the team about the best way to reach a target.  If you are successful at setting the expectation and gaining the team's buy-in then driving performance is simply encouragement and celebrating the milestones along the way.  Regular coaching helps too so that you can help remove roadblocks as they arise."
Most recently Vicky has worked with Consumer Director of the West Territory, Alex Rasmussen.
"Since I've met him, he's always inspired me to reach for the top.  Once he challenged me about why I wasn't number one in the company, and guess what? I became #1 in the company that year.  He is the very definition of a great leader."
Today, Vicky says that she has several management philosophies that she tries to live by.
The first of which is next to her desk, and pinned to the right of a picture of Michael Jordan. It states, "The first responsibility of a leader is to define reality.  The last is to say thank you.  In between, the leader is a servant."
-Max De Pree
Leadership is an Art
The second one is paraphrased to use the feminine pronoun vs the masculine one and says, "A good manager is a woman who isn't worried about her own career but rather the careers of those who work for her."
-H.M.S. Burns President
Shell Oil Co.
"By keeping these close to my desk," says Vicky, "it helps remind me that I'm most proud when I'm serving my team to help them reach goals that are meaningful to them.  Whether it's a production goal or a promotion, it's gratifying to me to see their success, and that I'm hopefully passing on the lessons that I've learned from the many great leaders who have inspired me."
Interested in learning more about careers at UMB? See what we mean when we say, "Be Part of Something More."
When you click links marked with the "‡" symbol, you will leave UMB's website and go to websites that are not controlled by or affiliated with UMB. We have provided these links for your convenience. However, we do not endorse or guarantee any products or services you may view on other sites. Other websites may not follow the same privacy policies and security procedures that UMB does, so please review their policies and procedures carefully.