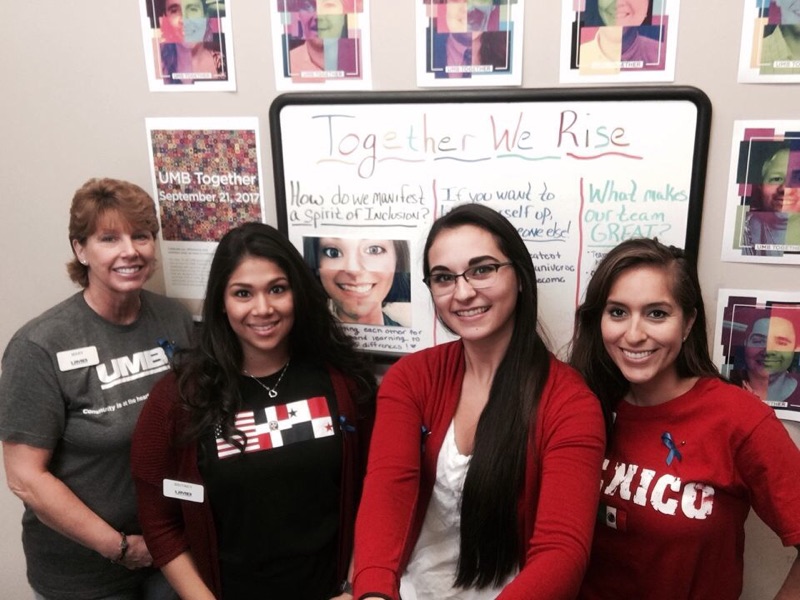 UMB Together: associates unite for unique event
UMB associates recently participated in a new annual event called UMB Together. The event involved diversity and inclusion workshops and activities across the company's footprint for associates in branches and regional offices. The intent of these activities is to increase associates' understanding of each other's differences and to encourage having conversations about these topics. With that in mind, UMB Chief Diversity and Inclusion Officer, Vanessa Sims, explains that UMB Together is about more than one day.
UMB Together is a collaborative effort among our Business Resource Groups, with a number of the ideas for the event day coming from associates. UMB Together creates experiences for associates to engage and learn about each other and become the best we can be as people, an organization and as a society.
However, UMB Together extends past one day. We encourage each person to think about what this means every day. We're providing ongoing resources for associates to utilize in approaching difficult situations, getting to know someone different from themselves and more.  Even though we are always working to build a diverse workforce, it's only when we create an inclusive workplace that we realize ongoing progression toward that goal.
At UMB, we want to continue to cultivate an environment where it's okay to believe what you believe and to express yourself in a respectful way. UMB Together provides a platform for associates to learn more about each other and how we can all play a role in making the world a safer and better place for all.
UMB Together is also meant to convey a feeling of unity. You never know what your co-workers, neighbors or acquaintances are going through. As associates often describe our company as a family, we want to make it clear that no person is alone in the unique struggles he/she might face. We are together in the effort of conveying understanding, empathy and kindness in all that we do.
We're working to turn "talk" about embracing diversity and inclusion into action. We believe each person has the power and ability to impact the world in which we live, whether it be at work, in our community, or elsewhere. We encourage everyone to help send a message that working together from a place of kindness and understanding is powerful.
"We can learn to see each other, and see ourselves in each other and recognize that human beings are more alike than we are unalike." – Maya Angelou.
Learn more about UMB's diversity and inclusion efforts on our Careers page.
UMB Financial Corporation
UMB Financial Corporation (Nasdaq: UMBF) is a financial services company headquartered in Kansas City, Mo. UMB offers personal banking, commercial banking, healthcare services and institutional banking, which includes services to mutual funds and alternative-investment entities and investment advisory firms. UMB operates banking and wealth management centers throughout Missouri, Illinois, Colorado, Kansas, Oklahoma, Nebraska, Arizona and Texas.