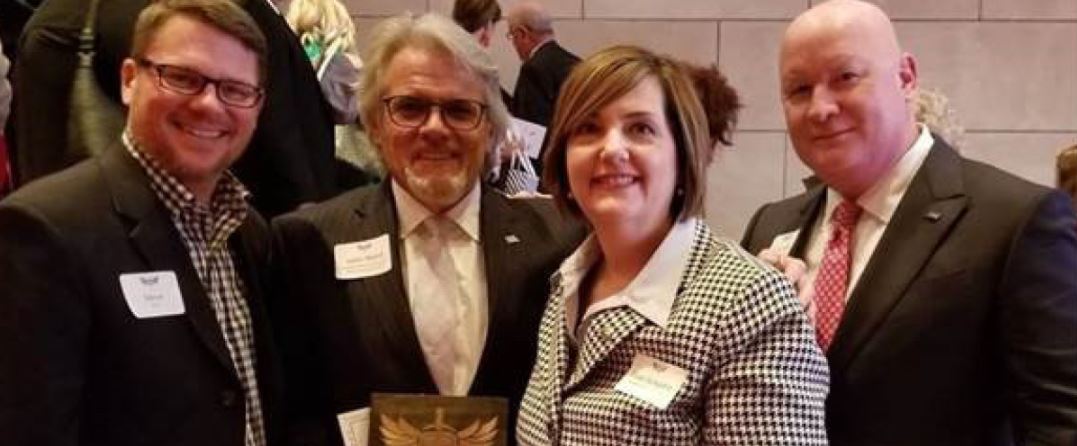 UMB Team Honored with Award for Veterans Support
UMB's Veteran Engagement Taskforce was recently honored with the Guardian Award from St. Michael's Veterans Center.
As an army veteran, the motto "Duty, Honor, Country" still guides me today, which is why I am lucky to work for an organization with similar values. Five years ago, UMB recognized the immense need in our community to support veterans. Our company decided to form the Veterans Engagement Taskforce (VET) to help serve the veteran community, both internally and externally.
Internally, the group is focused on helping recruit veterans to become UMBers and supporting veteran associates at work through career development opportunities and mentorships. Veterans bring many transferable skills to the workplace from their experiences in the military and UMB recognizes the value of these skills. Externally, VET is committed to working with organizations that encourage veterans as they reenter civilian life and to assisting with events and fundraisers. During the past few years, the group has grown to include associates across UMB's footprint, hosting more than 40 events in 2018.
Earlier this month, UMB was honored with the Guardian Award from St. Michael's Veterans Center‡ for our commitment to the veteran community. The award is given based on a company's significant and recognizable influence in serving the veteran community with a demonstration of leadership. At UMB, we are proud to support veterans in several different communities through various events and local partnerships.
UMB has been a strong supporter of St. Michaels both financially and through volunteer efforts. We were honored to be recognized with this award. The Veterans Engagement Taskforce gives me a sense of belonging both at work and in the community.
Supporting our community
Across UMB's footprint, associates host collection drives and volunteer events to support veterans. A few of our most recent events include:
Mail Call: Our Fund Services VET in Milwaukee recently set up 'mailboxes' to collect letters and postcards. The mail was sent to veterans who receive a mail call on their Honor Flight. Our Fund Services associates and their families generously supported this campaign and look forward to doing it again.
Pack Shack: The Kansas City VET participated in a successful The Pack Shack‡ event, which helped local organizations supporting veterans and the community at large. The group assembled 20,000 meals during two events for local nonprofits like Foster Adopt Connect‡, Clinton County Food Bank‡, Project MRE, Sherwood Center‡ and Catholic Charities‡. 
HERO Box: UMB's St. Louis VET sponsored a HERO box drive to send items to service men and women to support them during the hot summer months. Some common items requested by service members include lip balm, wet wipes, snacks, drink mixes, games, holiday decor, recorded sermons and music CDs. The goal of this drive was to give service men and women comfort items from home they miss while overseas.
Community groups 
UMB works with several organizations across our footprint to support veterans. In Kansas City, we work with the Kansas City Veteran Coalition‡, which serves as a centralized hub for area corporations to hire or help veterans transitioning out of the military.  
We also work with American Corporate Partners‡ (ACP), a national nonprofit organization focused on helping returning veterans find their next careers through one-on-one mentoring, networking and online career advice. UMB is a proud sponsor and participant in ACP's mentoring program which we have been a part of for five years—our associates are currently mentoring 30 veterans. According to ACP, more than 1 million veterans are expected to transition from the armed forces to civilian life during the next five years.  
In addition, UMB associates spent more than 600 volunteer hours with the Veterans Community Project, a development group that builds "tiny houses" for veterans. The group is expanding into St. Louis and Denver which will give UMB VET groups even more opportunities to give back to the veteran community.
Thankful for veterans
At UMB, we are honored to have a thriving group committed to veterans in our communities. We understand the enormous sacrifice our service men and women make to keep our country safe and will always welcome the opportunity to support them.
 Stay informed on industry trends and noteworthy company news by visiting our UMB in the News section on umb.com or following UMB on LinkedIn.
 Follow UMB on  Facebook‡ and Twitter‡ to see regular updates about our company, people and timely financial perspectives.

John Ward
John Ward has been with UMB since 1994, most recently serving as a senior project manager in UMB's Enterprise Project Management Office. John also serves as the Chairman of the Veterans Engagement Taskforce (VET) Business Resource Group, which focuses on supporting veteran causes inside and outside of UMB. John is a US Army veteran, serving active duty from 1980-1990 and spent 7 years stationed overseas in Berlin and Frankfurt.