Rotation toward higher rates
The economic rotation into reopening activity, when combined with continued massive stimulus packages, has re-ignited fears of possible inflation overshoots. Consequently, interest rates moved sharply higher during the quarter. The 10-year treasury note rose nearly 70 basis points to finish at 1.74%—back to pre-COVID-19 levels. This sharp rise sent returns firmly into negative territory for the year-to-date.
Despite inflation concerns and the upward shift in rates, the Federal Reserve continues to pledge that short-term rates will be on hold until at least late 2023. Treasury yield curves are indicating that the Fed will be moving rates higher next year, so we've rotated into a situation where the bond market is at odds with Fed guidance.
Additional Federal stimulus was approved during the quarter, pushing total stimulus to the $5 trillion range (thus far). With the jobs market healing, incomes steady and growing, COVID-19 vaccines rolling out aggressively, a massive wall of excess savings and more stimulus dollars ready to be unleashed, it is quite rational to assume that demand is likely to increase dramatically during the second half of the year. Given that there are several million Americans who have yet to be drawn back into the workforce (perhaps because they have stimulus dollars to pay the bills), it is likely that our ability to produce goods and services will not ramp up as quickly as demand increases. This sets the stage for broad-based inflation as we move into 2022. We're already seeing pockets of serious inflation in some parts of the economy— such as lumber, commodities, real estate. Broad inflation will only occur once wages begin to push higher, causing a sustainable spike in overhead costs.
We do not believe that inflation will become a serious issue this year. We do believe that it has a high likelihood of becoming a hot spot as 2022 unfolds, and that the Fed is likely to start reducing its asset purchase program (a form of tightening) and increase overnight rates earlier than they are currently projecting. We also think that the risk to the inflation outlook is most likely to the upside, so we may be dealing with higher inflation and a Fed that is forced to dramatically revise their forecasts within the next 12-18 months.
High-yield spreads
High-yield followed the equities markets, capturing strong positive returns as the vaccines began broad distribution and the economy showed signs of solid recovery. High-yield spreads dropped to new cyclical lows, having fully recovered from last year's sell-off. With the Fed and Congress promising (and delivering) massive ongoing monetary and fiscal stimulus, the high-yield markets succeeded in delivering strong positive returns when the rest of the bond market was hampered by rising rates. The phenomenal performance of the first quarter is not at all likely to be repeated throughout the rest of the year, but we believe the yield carry of roughly 4.00% should sustain reasonable total returns going forward.
Forecast
Despite growing concerns over inflation, we believe the Fed will stand firm on its pledge to keep rates anchored near zero—at least through 2021, perhaps longer. Given the powerful upward shift in rates that already occurred during the first quarter, we believe that rates are likely to grind slowly higher going forward. This should allow fixed income to generate modest positive returns. However, this also means that the decades-long run of 5-10% total returns from bonds has likely come to a close. We are much more likely to be facing several years of returns in the 1.0% range.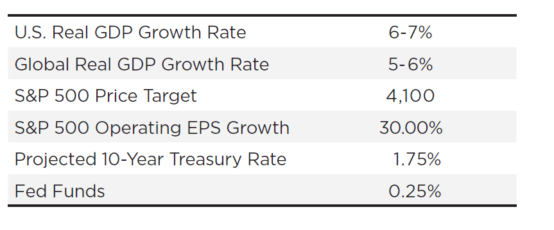 ---
This article is for informational purposes only and is not intended to be investment advice. The projections in this article are based on information as of a specific time and are subject to change. Please contact your investment advisor with any questions.
Follow UMB‡ and KC Mathews‡ on LinkedIn to stay informed of the latest economic trends.
Disclosures
UMB Investment Management is a division within UMB Bank, n.a. that manages active portfolios for employee benefit plans, endowments and foundations, fiduciary accounts and individuals. UMB Financial Services, Inc.* is a wholly owned subsidiary of UMB Financial Corporation and an affiliate of UMB Bank, n.a. UMB Bank, n.a., is a subsidiary of UMB Financial Corporation. This report is provided for informational purposes only and contains no investment advice or recommendations to buy or sell
any specific securities. Statements in this report are based on the opinions of UMB Investment Management and the information available at the time this report was published.
All opinions represent UMB Investment Management's judgments as of the date of this report and are subject to change at any time without notice. You should not use this report as a substitute for your own judgment, and you should consult professional advisors before making any tax, legal, financial planning or investment decisions. This report contains no investment recommendations and you should not interpret the statements in this report as investment, tax, legal, or financial planning advice. UMB Investment Management obtained information used in this report from third-party sources it believes to be reliable, but this information is not necessarily comprehensive and UMB Investment Management does not guarantee that it is accurate.
All investments involve risk, including the possible loss of principal. Past performance is no guarantee of future results. Neither UMB Investment Management nor its affiliates, directors, officers, employees or agents accepts any liability for any loss or damage arising out of your use of all or any part of this report.
* Securities offered through UMB Financial Services, Inc. Member FINRA, SIPC or the Investment Banking Division of UMB Bank, n.a.
Insurance products offered through UMB Insurance Inc.
SECURITIES AND INSURANCE PRODUCTS ARE:
NOT FDIC INSURED • NO BANK GUARANTEE • NOT A DEPOSIT • NOT INSURED BY ANY GOVERNMENT AGENCY • MAY LOSE VALUE