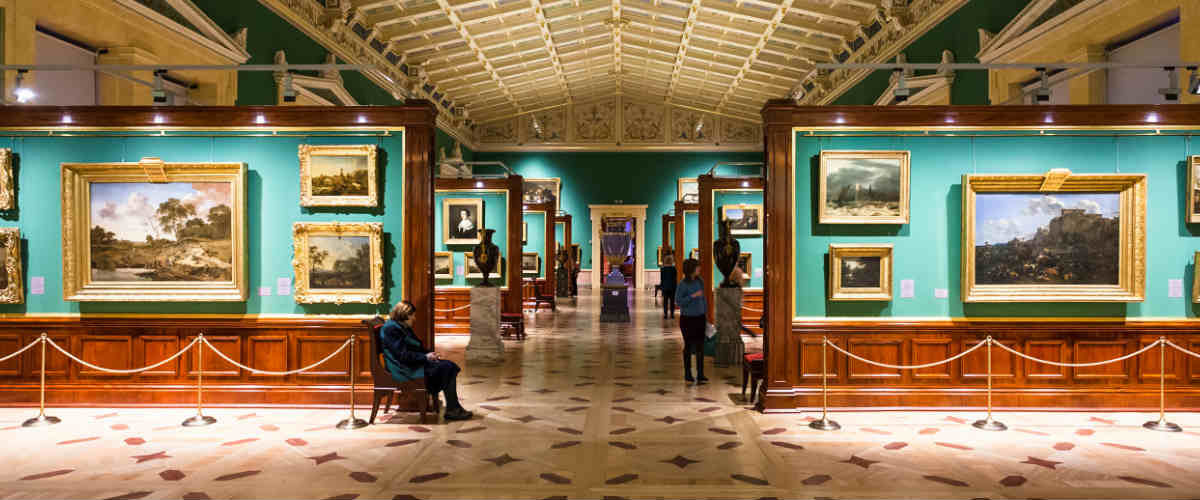 What does an art curator do? A behind-the-scenes tour with Carol Sturm
Carol Sturm spoke with us about her 29-year journey from bank teller to vice president and corporate art curator at UMB …and all that's happened in between.
UMB exhibits one of the most highly regarded collections of American art in the Midwest.  There are more than 1,200 major pieces, from colonial to contemporary, that are on permanent display at UMB's offices in Missouri, Kansas, Colorado and Oklahoma.
During my time at UMB, I've had the unique privilege to serve as the art curator for the entire collection. I like to tell people I work in an art museum that also has a bank in the lobby! To me, it's really exciting that our bank patrons and our associates can be exposed to the same caliber of art they would find in a world-renowned museum. I've been on this remarkable journey for the past 29 years and have learned many things, not only about the art collection, but also about myself.
You never know where opportunity lies
I began working at UMB Bank in a much different capacity, first as a teller and then as a branch manager. Becoming the art curator was a "right place, right time" situation. My supervisor at the time worked closely with Crosby Kemper, and he was looking for someone to care for his beloved collection. That was the day my role as UMB's art curator began.
I think they chose me because I have a true love for art–I enjoy taking care of things, and I know how to get people in order! Over the years, I've learned that you never know where your next opportunity may lie, so it's best to always have an open mind and put your whole heart into the job you're doing.
The stories matter
It's been a fascinating ride since the beginning. I had the opportunity to work closely with Mr. Kemper over the years, and I learned an immense amount about the collection. Mr. Kemper actually found and collected a lot of the art himself. He never bought art based on market value – instead, he simply bought what he liked. I think this adds so much personality and character to the collection.
Because it started as a personal collection and grew over time, there wasn't the sophisticated inventory system we have in place today. In fact, when I took over management of the art collection, the only recordkeeping system that existed was a little sticker with a number on the back of the pieces that correlated to notes on a yellow note pad.  As such, one of my first tasks was talking through every piece with Mr. Kemper and creating a more detailed record of the pieces, which included his personal thoughts on why and where he bought each piece.
Being able to learn why he chose the pieces he did and how he came to own them adds so much charm and personality to the collection, as well as value as we know the path they've been on. There are pieces of art that, at first, I would look at and not really like – but after I learned the personal stories and history behind them, I grew to love and appreciate them in a new light. The same concept can be applied to people. After spending time with someone and learning a little bit about them, your perception will often be changed.
Fast forward to current day, and I've been working with our current CEO Mariner Kemper, Mr. Kemper's son, in the same way for the past 15 years. He has been adding to the collection for quite some time, and while he buys different pieces, his process is the same as his dad's. And so, there is still a steady stream of new pieces and stories to learn. Each time something new arrives, I can't wait to see what we're adding to our space and how it will complement the collection.
Seek inspiration everywhere
One of my favorite parts about this job is being able to give art tours to groups who come through the bank. Everyone has a different interpretation of what the art is supposed to symbolize, and art evokes different feelings in everyone. Being able to talk to people about those theories or the emotions that arise from the art is fascinating. Children are probably the most fun tour group– they are so open to everything! The creativity and imagination that comes from giving a group tour to children continues to inspire me every day.
I feel truly grateful that I am allowed to care for and protect UMB's art inventory. I have come to love this collection and take great pride in keeping it in pristine condition so that others can enjoy what the Kempers hold so dear. My hope is that through art, others can learn some of the amazing life lessons I've been able to discover through my journey of caring for UMB's collection.
Stay informed on industry trends and noteworthy company news by visiting our UMB in the News section on umb.com or following UMB‡ on LinkedIn.
When you click links marked with the "‡" symbol, you will leave UMB's website and go to websites that are not controlled by or affiliated with UMB. We have provided these links for your convenience. However, we do not endorse or guarantee any products or services you may view on other sites. Other websites may not follow the same privacy policies and security procedures that UMB does, so please review their policies and procedures carefully.

Carol Sturm
Carol Sturm been in the banking industry for more than 40 years. She joined UMB in 1989 and as vice president and corporate art curator of more than 1,200 paintings and sculptures, she merges all disciplines associated with fine art curatorial work. Responsibilities include coordinating insurance, installation, conservation and exhibitions or client art collections. She also conducts fine arts tours for visitors, students, employees, and art groups, with a mission to educate and enhance the experience of UMB's fine art collection.