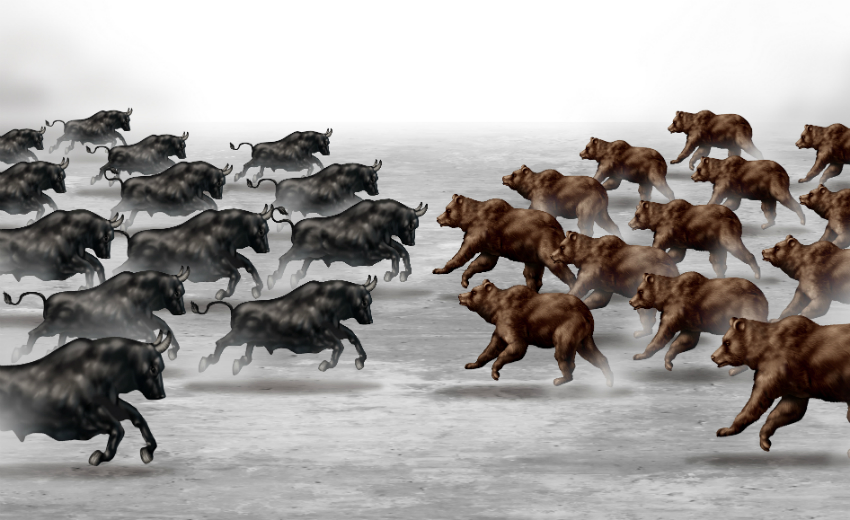 When will the bull market end?
When I was a young man, my grandfather taught me about investments. During one of our first lessons, he explained the difference between bull and bear markets. To help me remember which was which, he told me bulls gore up and bears claw down. After that, I never forget the direction of a bull and bear market.
Today, the lesson is a bit more complicated. Rather than defining terms, we're looking to anticipate changes—specifically, when does a bull market end and a bear market begin? We know the market is cyclical. Sooner or later we will see a bear market, an equity market, down 20 percent or more. The question is, will your portfolio be ready?
When Does a Bull Market End? Use The Bear Market Checklist
We study numerous variables, searching for the signal of an oncoming equity bear market. Our Bear Market Checklist consists of four categories: credit, fundamentals, sentiment and technical.
Within these four categories there are 10 indicators, which, historically, we have found are triggered ahead of a bear market. When eight or more of these indicators are "in the red," we're moving toward a bear market. Seven or fewer signal a bull market.
Credit: Fed Funds and High-Yield Spreads
Signs of increased risk typically show up in the bond market initially. Monitoring changes in high-yield spreads and the slope of the yield curve, among other variables, can give us clues on the future direction of the equity market.
Two of our favorite credit indicators are the slope of the yield curve and high-yield spreads. Together these two variables have an outstanding track record of predicting economic recessions, which is important, because recessions are associated with bear markets.
Currently, the only credit variable that is flashing red is increasing Fed Funds. Short-term interest rates have been moving higher, but on a very moderate glide path.
Fundamentals: Leading Indicators and Peak Earnings
One of our favorite macro indicators is the Leading Economic Indicators (LEI) index, a basket of 10 leading economic variables. The LEI six-month rate of change has an almost perfect track record of predicting economic recessions, which as shared earlier, is critical as these are associated with equity bear markets.
Also in this category is earnings, which drive stock prices. Corporate earnings have a 90 percent correlation to stock market returns. Historically, earnings tend to peak at a level that is 50 percent higher than its previous peak.
Today, the economy continues to grow at a robust pace. Earnings benefited from tax reform, and we do not think the market is at peak earnings yet. However, it is close to being triggered.
Sentiment: Consumer Confidence and Valuation
The legendary investor Sir John Templeton (who is well-known for his Templeton Growth Fund) once stated that bull markets are born on pessimism and die on euphoria. Sentiment or confidence is an important market driver, because nearly 70 percent of economic activity is driven by the consumer. It can be a contrarian indicator, meaning when most people are optimistic, it's time to become cautious in the financial markets, and when most people are pessimistic, it's time to become more positive.
Two of our favorite sentiment indicators are consumer confidence and valuation. At the tail-end of an economic expansion, the consumer typically feels very confident, as jobs are plentiful, wages are increasing, and asset prices are moving higher. Therefore, when the consumer confidence index rises above 100, it raises a red flag.
We categorize valuation as sentiment, because it is how much investors are willing to pay for earnings. Adding the trailing Price to Earnings (P/E) ratio with the headline consumer price index inflation rate, gives us an indication on whether the market is set for a correction. This metric needs to be above 20 to suggest valuation is stretched and a bear market is possible.
Technical: Trailing S&P Returns and Market Trend
You may have heard the old adage, "The trend is your friend." In the case of gauging recessions, this is important. Our checklist helps us identify trends versus fads. Historically, bear markets are preceded by a strong run up in stocks. Since 1937, the median S&P 500 return in the preceding 24 months before a market peak is 45 percent, and the minimum return is 30 percent. As of April 24, the S&P 500 has returned 35 percent over the past 24 months.
Will the Clawing Down Bear Overtake the Goring Up Bull?
Given the data, it appears the bulls will continue to run. While our checklist is quantitatively driven, we believe that forecasting the market is part art and part science. We think the bull market will continue to run throughout 2018, and our forecast for the S&P 500 remains 3000 by the end of the year.
Currently, only three of our 10 indicators are signaling a looming bear market. This is significantly below the historically needed eight indicators that suggest a bear market is imminent.
Interested in learning more about our Private Wealth Management division? See what we mean when we say, "Your story. Our focus."
Stay informed on industry trends and noteworthy company news by visiting the UMB In News section on umb.com, which is updated weekly for timely viewing.

Based on this post, we think you might also be interested in reading the following content:
* Economic update 2018: Check the rearview, but stay focused on the windshield
* From Goldilocks to the Big Bad Wolf: What to watch in the stock market
* Five things to know about bonds
When you click links marked with the "‡" symbol, you will leave UMB's website and go to websites that are not controlled by or affiliated with UMB. We have provided these links for your convenience. However, we do not endorse or guarantee any products or services you may view on other sites. Other websites may not follow the same privacy policies and security procedures that UMB does, so please review their policies and procedures carefully.

KC Mathews
K.C. Mathews joined UMB in 2002. As executive vice president and chief investment officer, Mr. Mathews is responsible for the development, execution and oversight of UMB's investment strategy. He is chairman of the Trust Investment, Asset Allocation and Trust Policy Committees. Mr. Mathews has more than 20 years of diverse experience in the investment industry. Prior to joining UMB, he served as vice president and manager of the portfolio management group at Bank of Oklahoma for nine years. Mr. Mathews earned a bachelor's degree from the University of Minnesota and a master's degree in business administration from the University of Notre Dame. Mr. Mathews attended the ABA National Trust School at Northwestern University and is a Chartered Financial Analyst and member of the CFA Institute. He is past president of the Kansas City CFA Society and a past president of the Oklahoma Society of Financial Analysts.