We have always been committed to helping build and better the communities we serve—from our start in 1913 to now, this is a part of who we are and how we operate. We are always looking for new ways to focus and channel our efforts, both through giving time and financial support.
We understand this continues to be a challenging time for all, and we are humbled to have been able to give some additional support at the end of 2021. We've had a strong year as an organization and are proud of the results we have been able to achieve. As such, we are providing much-needed funding to key local organizations‡ supporting underserved communities' housing needs, small business efforts, education and emerging talent.
These organizations include three Kansas City groups—CHES, Inc.‡, The Porterhouse KC‡ and KC Scholars‡, who have received $400,000, $350,000 and $500,000, respectively, to support their missions—and two Denver organizations, NEWSED‡ and Rocky Mountain MicroFinance Institute‡, who each received $375,000, bringing the total of these five, year-end donations to $2 million and UMB's 2021 donations to more than $6 million.
It's our honor to support these organizations that are doing such tremendous work in our communities. As our nonprofit partners begin to utilize these funds, we plan to continue sharing stories from each of these organizations in the year ahead. For now, here is a small glimpse of who they are, what they do and how these gifts will be used.
CHES, Inc.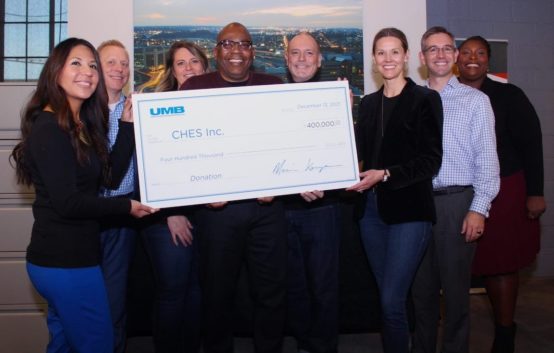 CHES, Inc. is a U.S. Department of Housing and Urban Development (HUD) approved housing counseling and financial empowerment organization dedicated to helping clients maintain the knowledge and skills needed for long-term credit, financial and homeownership success. The donation will support CHES, Inc. programs including CHES Financial Empowerment and Kansas City Bank On.
"The team at CHES, Inc. is grateful for UMB Bank's generous support," said Coley Williams, president of CHES, Inc. "We are excited about the positive impact this donation will have on stabilizing households facing financial roadblocks and providing homeownership opportunities to families who never before dreamed it was possible."
The Porter House KC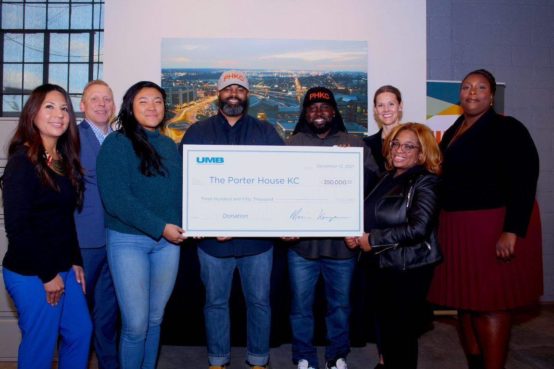 The Porter House KC is an inner-city-based, co-working community that provides entrepreneurship access and resources to underserved populations in the Kansas City Metro area. The Porter House KC resolves to assist in the representation of entrepreneurs of color by providing an affordable business space that can be used to grow an idea into a full-fledged business.
"The Porter House KC team is so humbled and appreciative of the support from UMB," said Daniel Smith, co-founder and principal of The Porterhouse KC. "These resources will be used to continue our current work and implement another program that will assist small businesses with direct support, creating additional inroads to success."
KC Scholars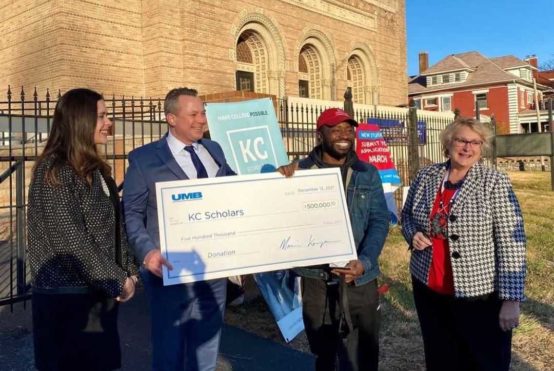 KC Scholars is a college scholarship, college planning and persistence support, and college success program designed to increase the college completion rate for low- and modest-income students and adult learners across the six-county, bi-state service region. The donation will help provide scholarships, financial incentives to promote college savings, and support services for low- and modest-income students and adults needing access to pursue and complete a postsecondary credit-bearing credential or degree.
"It is absolutely tremendous to see community partners stepping up in such a dramatic way, as UMB has done," said Dr. Beth Tankersley-Bankhead, president and CEO of KC Scholars. "The UMB funding gift will provide opportunities for earning a postsecondary education – to be followed by staying in our region to live and work – for talented, home-grown students participating in the KC Scholars program. This level of gift from a financial institution is ground-breaking. On behalf of our now more than 5,000 Scholars, KC Scholars thanks UMB—we are grateful and appreciative and proud to call UMB our community stakeholder."
NEWSED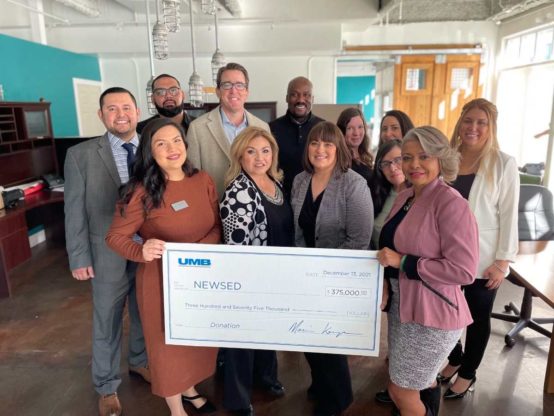 NEWSED is a Community Development Corporation (CDC) that has served the Denver community since 1973. NEWSED's primary focus has been solving long-term economic problems in disadvantaged communities by securing and coordinating resources for neighborhood revitalization, developing needed shopping areas and services, and more. The donation will support housing counseling, financial education and small business programs.
"The support from UMB Bank is truly transformative for NEWSED," said Andrea Barela, president and CEO of NEWSED. "This is the first time in NEWSED's long history that we've received a grant that gives to all areas of our vital community programming. On behalf of NEWSED's board and staff, we are so appreciative of this funding, especially during this difficult economic time. It's clear that UMB Bank values all communities and the types of programs that build assets and self-sufficiency for low-income individuals and families, and for that we are grateful."
The Rocky Mountain MicroFinance Institute (RMMFI)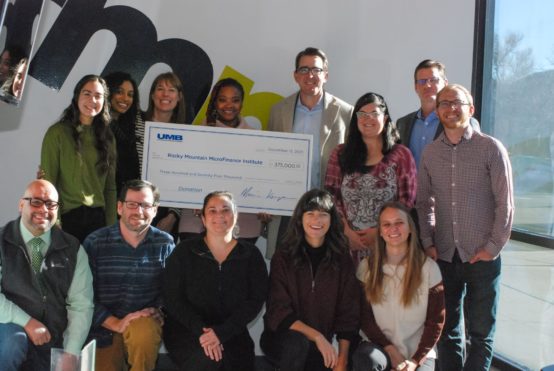 The Rocky Mountain MicroFinance Institute (RMMFI) is a Community Development Financial Institution (CDFI) that creates the space for communities and people of all backgrounds to realize their unique potential through the power of entrepreneurship. RMMFI understands that personal foundations are essential for success, and they work with entrepreneurs to focus on personal stability, entrepreneurial spark, and business feasibility through a holistic mix of education, mentorship, capital, and community support. The donation will be used to help entrepreneurs develop both personally and professionally to create an impact for their business, their household, and their community.
"When everyone has the ability to realize their unique potential, we all thrive," said Rob Smith, CEO of RMMFI. "This incredible gift from UMB Bank gives us the opportunity to strengthen our work and give more people the chance to activate the possible through business ownership."
Stay informed on industry trends and noteworthy company news by visiting our UMB in the News section on umb.com. Follow UMB on Facebook‡ and LinkedIn‡ to see regular updates about our company, people and timely financial perspectives.
---
When you click links marked with the "‡" symbol, you will leave UMB's website and go to websites that are not controlled by or affiliated with UMB. We have provided these links for your convenience. However, we do not endorse or guarantee any products or services you may view on other sites. Other websites may not follow the same privacy policies and security procedures that UMB does, so please review their policies and procedures carefully.