Our Denver office was approached by Free Range Beehives, we were excited to partner to help grow the local bee population.
Honeybees pollinate a huge percentage of our wild and agricultural plants and represent a critical component of the ecosystem. At the same time, changes in our environment and new diseases are pressuring honeybees more than ever. Sadly, more than 40% of honeybee colonies in Colorado were lost in 2020 due to a number of factors such as climate change, disease and pesticide use.
Facing another warm and dry winter, Free Range Beehives‡ is stepping in to ensure the bees have the resources they need to survive until spring by establishing and maintaining urban beehives.
Through a partnership with Free Range Beehives, UMB Bank's Denver office is now home to three beehives that provide an optimal location for the hives to flourish. Urban environments are very supportive of foraging honeybees and the diversity of pollen from urban settings is much greater than that from agricultural locations. Rooftop settings are, in many ways, ideal for honeybee hive location as they are above traffic, out of the way of most human traffic, and predators such as skunks and bears cannot reach them. Since bees will travel up to two and a half miles in all directions to find nectar and pollen, a rooftop location offers an ideal launch point for foraging.
In addition to housing the hives, UMB team members can interact with them in person. Employees are invited to join hive inspections when appropriate, watch the bees at work in an observation hive during events, and receive fun and informative written reports on the status of the hive after every inspection.
In 2022, each hive weighed 15 pounds and had 10,000 bees in it. Now, with bees, wax and honey that has built up over the year, each hive weighs more than 120 pounds. At their peak, the hives at UMB each had 70,000 bees in them, meaning 210,000 bees called UMB their home in 2022. Today, Free Range Beehives has harvested 300 pounds of edible honey and six pounds of wax from the UMB hives.
With the help of Free Range Beehives and UMB, these hives not only support the local honeybee population, but also educate people on the important role bees play in our ecosystem.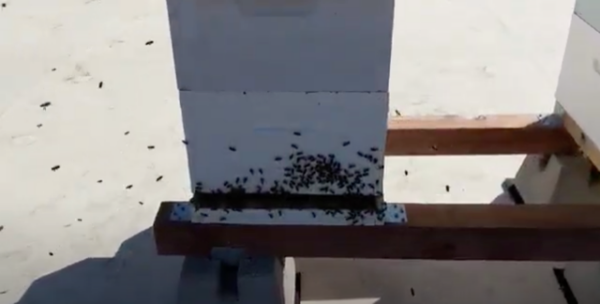 Stay informed on industry trends and noteworthy company news by visiting our Industry News section on umb.com. Follow UMB on LinkedIn, Facebook‡ and Twitter‡ to see regular updates about our company, people and timely financial perspectives.
---
When you click links marked with the "‡" symbol, you will leave UMB's website and go to websites that are not controlled by or affiliated with UMB. We have provided these links for your convenience. However, we do not endorse or guarantee any products or services you may view on other sites. Other websites may not follow the same privacy policies and security procedures that UMB does, so please review their policies and procedures carefully.