Along with harvest planning, pre-harvest is a critical time of the year for farmers to take a good look at their marketing and financial situation. It can be a good time to review your crop projections to see how they align with your pre-planting estimates and turn that into a fall harvest cash flow.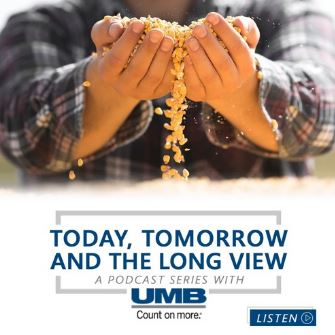 Instead of worrying about the unknown and your ability to make all your debt obligation, spend your energy checking yield and price estimates, as well expected cash outflows for the rest of the marketing year. Cash outflows need to include paying back the line of credit balance, payables, cash rent and term debt payments that are coming due.
I talked about this emphasis on planning with Brownfield Ag News‡ and shared some considerations for farmers during pre-planting, harvest and marketing.    
Don't wing it: planning is crucial
Agribusiness is not a "wing it" industry – farmers should absolutely make a cash flow plan and partner with professionals to make sure it works for the year, and the next one. If you can identify potential shortfalls in advance, you can have a strategy in place to address the cash flow issue—if and when it appears.
Keeping a keen eye on your projections, obligations and harvest estimates help ensure you aren't surprised once the yield is in. And, if your tax and financials professionals are well informed, they can start developing a tax strategy plan for the current tax year well in advance of deadlines.
Marketing and pricing
While farmers are working on the cash inflow section of their fall harvest projection, it's also a good time to review their marketing plan. Evaluate prices and decide if additional contracting should be done prior to harvest. Also, if you have concerns with loss of yield due to a challenging planting and growing season, review the current contracts to make sure you will be able to fill those contracts. If not, talk to your local elevator for alternatives.   
For future seasons, make sure to develop a marketing plan early in the year and make someone accountable for selling a specific amount of investor at a set price to help make sure all debt obligations can be made. Making someone accountable to execute the agreed upon marketing plan can help take the emotional side out—as long as you stick to the plan.
Facing challenges
Given the current challenges for agriculture, having a strong handle on your cash flow is just as valuable as having a strong marketing plan. During these times, it's tempting to hold out for the next 10 to 20 basis points, but hitting singles and doubles rather than homeruns can be a better bet at the moment.
And, finally, it's important to always compare the cash flow projection to the actual farm income for that year. This will help you adjust your expenses moving forward, which enables you to have a better handle on the financial side of your operation. Expense control is extremely important and even more so during these challenging times.  
There are many financial decisions to be made as we finish out 2019, so start planning and reviewing today.
Our Agribusiness Division serves all areas of agriculture, including producers, processors, suppliers and manufacturers of equipment and goods, throughout a 12-state area. Learn more about what ag means to UMB and see some of our clients in action.