Justin Rainey shares his unique journey to the information security and privacy industry and how he continues to learn and lead in the banking industry.
I know what it is like to have a career journey filled with twists and turns that ultimately leads to an unbelievable destination. I've learned a lot from more than two decades of experience in information security, privacy, physical security, continuity and resilience, technology risk and crisis management. I am excited to share with you the experiences that led me to my role as a chief information security officer (CISO) and chief privacy officer (CPO) at UMB Financial Corporation and how I continue to learn and lead in the industry.
A road less traveled
While many immediately pursue a college education, I recognized after my first year in college that the information security and privacy fields were so new, college curriculum had not yet been formulated to support my career aspirations. My interest in the information security and privacy field was sparked in middle school, transitioned into a professional career while in high school as part of an internship with the school district, and my career continued for more than 18 years before I completed a college degree.
In a choice that differed from my peers, I stepped away from college after my first year to pursue direct experience in the world of information security and privacy. This enabled me to dive deeper into the industry, obtain advanced security and privacy training, gain invaluable hands-on professional experience, work with and for leading experts in the field, and publish a book on healthcare information security and privacy.
This divergence from my traditional college path provided the opportunity to obtain National Association of Corporate Directors Directorship Certification (NACD.DC), Certified Information Systems Security Professional (CISSP), and Certified Information Privacy Professional (CIPP/US) designations earlier in my career. It also allowed time for college curriculum to evolve and enabled me to make a more informed decision about a college degree that would support my career. As part of fulfilling a commitment to myself and my family, I returned to college nearly a decade later and simultaneously attended classes (evenings and weekends) over nine years to complete a bachelor's degree in political science (pre-law) from the University of Houston. While I recognize this path is not for everyone, I would not have done it any other way as it led to where I am today.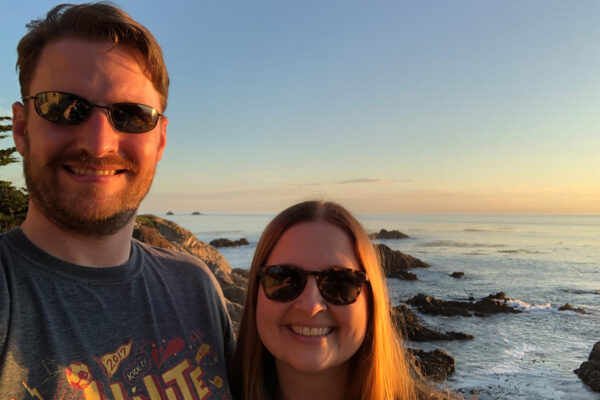 Justin Rainey and his wife, Jill. 
The journey to UMB
My first introduction to UMB was through their LinkedIn‡ account. I saw a post for an open position that was of interest, and, after researching the company, I decided to explore the opportunity further. I was attracted to UMB's inclusive culture, mission and community engagement throughout their national footprint. The decision to join UMB's team was easy. I had an excellent recruiting and interview experience and was given the opportunity to hear directly from executive leadership on why UMB is so special—which is unique for a company of its size. I immediately saw how I could add value and accepted the role in information security and privacy.
A glimpse into my role
As a CISO and CPO, I have the privilege to work with great people to keep our customers, associates and assets safe, as well as uphold privacy rights and maintain both a secure and resilient business. My role includes navigating the rapidly evolving landscape of technology and business, while keeping up with an everchanging world. Over the years there have been a mix of geopolitical, global conflict, economic, and pandemic factors that are inextricably linked with the information security and privacy field—and have created a challenging environment for this industry. However, while the complexities are significant, they are what drives my passion for continuous learning and the work I have the privilege to do every day.
Be a lifelong learner
In a career path that requires me to constantly think about the "what ifs", I choose to embrace a lifestyle of continuous learning and surround myself with people who bring diversity of thought to the table. I find if you listen first with the intention to understand instead of immediately responding, you will learn more from those around you and have better outcomes. I also set aside time to develop as a leader and learn how to better protect our business by studying evolving threats, geopolitics, economics and innovative technologies.
Work hard to live fully
I have always believed in the philosophy that we work to live, rather than live to work, and this has driven me to find a balance between my personal and professional life. I am fortunate that UMB also embraces this idea and provides the opportunity to grow both professionally and personally. Outside of work, I enjoy spending time with my wife and our two rescue dogs, reading, watching sports (big soccer fan), and spending time outdoors and with our neighbors. I also continue to travel the world to immerse myself in and learn from different cultures and environments.
My career has been filled with unexpected challenges and pivots that provided the opportunity for me to contribute to the industry and meet some fantastic people along the way. If you take anything away from my experiences, don't be afraid to take the road less traveled, trust your passion, surround yourself with those who think differently, and never stop learning about the world around you.
Please visit our Privacy and Security web page and read our fraud prevention content to learn more about our programs and resources for customers to help protect themselves against evolving threats.
Stay informed on industry trends and noteworthy company news by visiting our Industry News section on umb.com. Follow UMB on LinkedIn, Facebook‡ and Twitter‡ to see regular updates about our company, people and timely financial perspectives.
---
When you click links marked with the "‡" symbol, you will leave UMB's website and go to websites that are not controlled by or affiliated with UMB. We have provided these links for your convenience. However, we do not endorse or guarantee any products or services you may view on other sites. Other websites may not follow the same privacy policies and security procedures that UMB does, so please review their policies and procedures carefully.