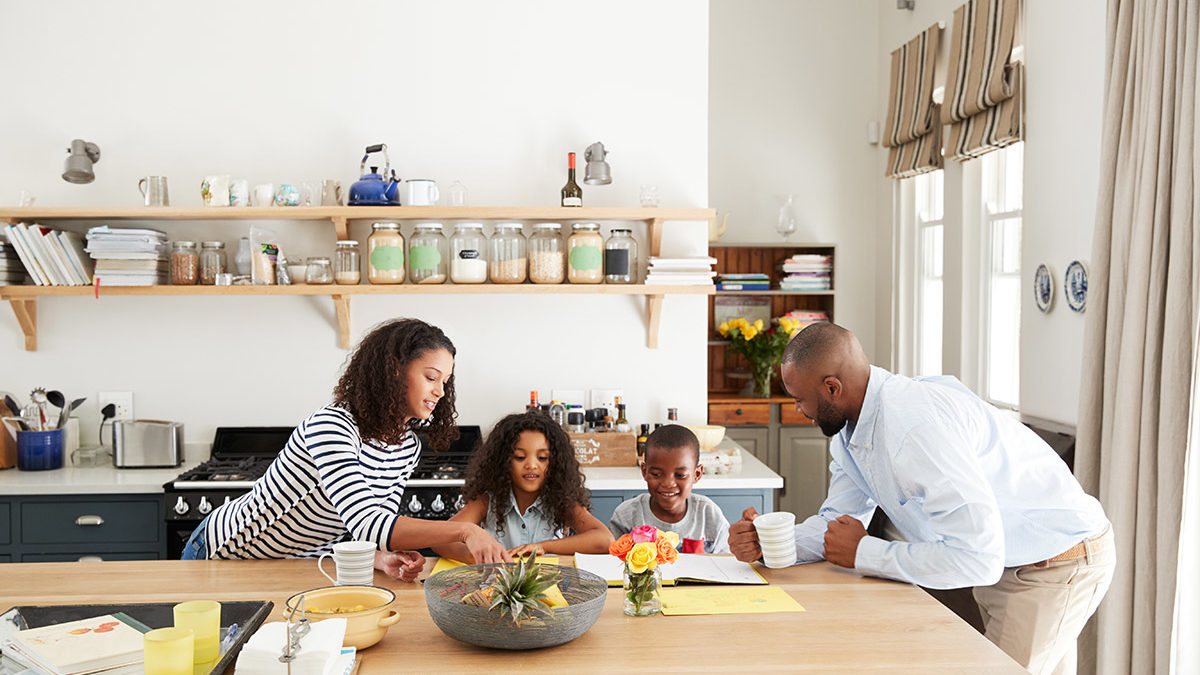 Planning for your home down payment
While finding your dream home is exciting, saving up the money for a down payment can be a bit intimidating. An old standard for homebuying was that you should save at least 20% for your down payment. But times have changed and so has the average down payment amount. Some programs now require down payments as low as 3%.
According to NerdWallet's 2019 Home Buyer Report‡, 32% of current homeowning Americans put 5% or less down on their home, compared to the 62% of Americans who believe a 20% down payment is typical. But, no matter what percentage you're aiming for, it's important to think critically about your long-term finances, the housing market and what you need.
Timing is everything
Is now the right time to buy? This year has been full of unexpected events, most notably the COVID-19 pandemic, which has a significant impact on the economy. While buying in challenging economic times is still an option, the most important items for home searchers will be stable income and a good amount of savings. If you have those and your future includes a home of your own, house shopping may still work for you.
And, the good news is that current interest rates are low and most down payments are usually saved in deposit accounts, which are less impacted by market changes. This could mean it's still a good time to buy despite the market taking a big hit. Going into your house hunt with an idea of what to expect and knowing your budget can help you create a solid game plan towards saving up for home ownership. Below are some tips for planning your down payment.
1. Understand financing and the big picture
You already know that purchasing a home is a substantial investment, and you'll need to ensure you can afford the monthly mortgage payments. Unless you have a large amount of cash saved, you will most likely need to get a home loan, known as a mortgage. A home purchase loan translates into monthly mortgage payments over the course of a set amount of time (15, 20 or 30 years are typical loan terms), during which you pay down the loan balance and become a full owner of your property. Because a mortgage is a loan from a mortgage broker, bank or lender, interest will also be applied to the amount of money you've borrowed.
So, to plan your savings goal, you'll also want to consider the amount of money you'll need to have for a down payment as well as other associated expenses, such as home inspection costs, appraisal fees, closing costs and how much interest will end up costing you over the life of the mortgage. And, while not directly related to the purchase cost, it can be helpful to save a little extra to account for expenses like home maintenance, improvements and repairs.
While you don't always need to supply a 20% down payment due to programs and resources available for qualified borrowers, the higher your down payment, the better it may be for future finances. With a larger down payment, your monthly mortgage payment will be lower, and you may qualify for better rates or terms. A larger down payment allows you to retain full ownership of the home faster and can save you money through a lower interest rate on the mortgage.
2. Determine a goal
You should take a look at your finances to determine what kind of home is affordable. A financial expert or mortgage loan consultant can help figure out the best budget for your current financial situation. In addition, online calculators can help you estimate how much house you can afford. Also, a mortgage loan consultant can be helpful in looking at:
A pre-approval for a home loan
Which loan type you prefer or are qualified for
Whether mortgage insurance will be required
An idea of how much the closing costs and total monthly payment will be
You can also reach out to real estate agents in your area to ask about the average listing and selling prices of homes in different neighborhoods you're considering. If you know you want to move to a specific area and homes typically sell for $300,000, you can use that information to tailor a down payment goal specifically to that amount. In this scenario, a 20% down payment would equal $60,000 and a 5% down payment would be $15,000. Again, those numbers are only the down payment—the other expenses of home buying, like closing costs, would also need to be accounted for.
3. Find ways to save
When you are focused on saving for a down payment, look at ways to decrease expenses and increase income. A popular strategy for saving money is to automatically put a portion of your paycheck into your savings account. You may find you miss the money less if you don't get a chance to see it in your checking account in the first place.
Even if you already have a budget, it's a good idea to reevaluate to see how much money is going in and out of your household every month. Make a list of all required expenses, such as rent, food and monthly utility bills. Any extra expenses should be listed in order from most to least costly. By cutting out the least important expenses, you can develop a budget that helps you increase your monthly savings.
Temporarily increasing total income can also help you reach your down payment goal quickly. Your second stream of income could be something you like to do already, like freelance writing, creating and selling items online, or video tutoring.
As you set a plan and start saving for your home down payment, keep your long-term dream in mind: finding the right home for you and your family.
UMB personal banking solutions offer convenience and simplicity to meet all of your past, present and future financial needs. From home loans to auto financing and everything in between, see how UMB personal banking can work with you to find the right products for your life and lifestyle.
Boost your financial know-how and sign up for our personal banking newsletter. We'll send informative articles right to your inbox.