In 2016, UMB Financial Corporation partnered with the agriculture education nonprofit, American Royal, to create the UMB Market, a grocery store and financial education simulation that encourages students to practice healthy shopping on a budget. After shifting to a virtual format in 2020 due to COVID-19, UMB Market saw new growth across the U.S. and internationally. In recognition of this program, UMB Financial Corporation was named Financial Education winner of the 2021 American Bankers Association (ABA) Foundation Community Commitment Awards‡, an honor that recognizes educational initiatives that promote financial inclusion and help impacted audiences build personal finance knowledge.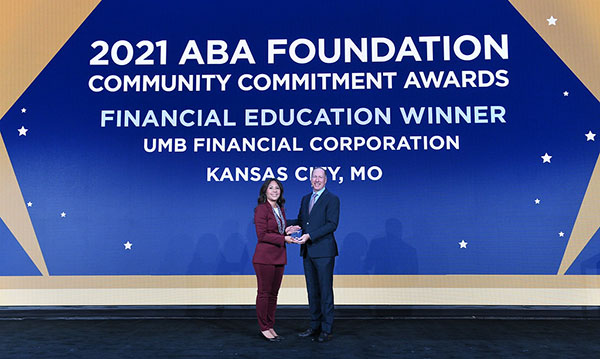 Banking and barbecue collaborate
In Kansas City, barbeque and banking are two of the oldest and strongest economic engines of the community. So, it seemed only natural when the two came together to create a program that would benefit thousands of children. Thus, UMB and American Royal‡ created the UMB Market at the American Royal Field Trip.
The UMB Market deputed September 2016 and was designed to teach children the value of money and its relation to food. The exhibit directly ties together two of UMB's community involvement emphasis areas — agriculture and financial education. This interactive financial education exhibit simulates shopping and checking out at a grocery store. The activity combines what students have learned about nutrition, limited resources and needing to purchase foods from the five main food groups to maintain a healthy diet—all while sticking to a budget.
Transitioning the market to a virtual learning experience
Prior to 2020, children would split into small groups and partnered with UMB volunteers to shop around the market with $20. Once they're finished shopping, students go to the register, where a UMB volunteer/cashier reviewed the student's math and checked them out. The students counted out the money to pay their total, and if necessary, the UMB volunteer gave them change — ringing a cowbell when the group successfully purchased items from all food groups for $20 or less. If a group miscalculated or overspent, UMB volunteers helped them adjust their shopping selections and to recalculate their math.
In 2020 still eager to provide this same high-quality financial education to students, in spite of the global pandemic, UMB and the American Royal took the UMB Market virtual and was able to reach 9,065 estimated students across 26 states – and even had participation from two foreign countries. The virtual market was modified so it could be completed by kids independently at home or together in a classroom. The conversion to a digital program transitioned the physical field trip of more than 4,000 students participating over four days, to a virtual format with monthly lessons that took a deeper dive into agricultural and financial education topics.
Approachable financial education videos
The UMB Market includes several short videos and worksheets to simulate budgeting and grocery shopping scenarios similar to what students experienced in-person. In the first video, students were able to discover money management at any age with tips from UMB associates. When it comes to developing money skills, a critical first step is developing a budget. In the video, basic, money-saving concepts are covered through the "spend, save and share" method where you can allocate 50% of a five-dollar allowance to a spend jar, 30% to a save jar and 20% to a share jar. This budget demonstrates how you can ensure you have enough money for the things you need and want.
The next three videos provided different scenarios where fictional families demonstrated how they use these tools to successfully stay within budget and buy groceries from the MyPlate food groups. Participants could immediately put into action the concepts they learned through the virtual UMB Market by using the budget worksheets to plan a meal and make a grocery list for an in-person trip to the store or to order online. While the program was designed for students in third grade through sixth grade, kids of all ages could join in and have fun learning and practicing shopping on a budget with the video lessons.
UMB Bank is proud to support the American Royal and its mission to be a national platform for agriculture that inspires future leaders and creates an arena for agricultural learning. Children need to understand the value food plays in their life, the significance it has on their well-being and the vast impact food and agriculture have on the global economy. The American Royal believes it's important to teach children about the need for food and agriculture in their everyday lives especially as children move further away from rural and agricultural roots.
---
When you click links marked with the "‡" symbol, you will leave UMB's website and go to websites that are not controlled by or affiliated with UMB. We have provided these links for your convenience. However, we do not endorse or guarantee any products or services you may view on other sites. Other websites may not follow the same privacy policies and security procedures that UMB does, so please review their policies and procedures carefully.